You have your costumes created, house decorated, menu prepped and candy purchased. The only thing left is figuring out what to sip on this Halloween. Whether you are hosting a gathering of friends this week, or simply greeting trick-or-treating kids at the door, you'll need a spooky libation to celebration the day. Here are a few suggestions. (Some samples were sent for cocktail creation and consideration.)
Dia de los Muertos
Created by Eddie "Lucky" Campbell
2 oz. Snow Leopard Vodka
1 oz. of Crab Apple Purée
0.75 oz. Fresh Lemon
0.5 oz. Caramel Syrup
Top with Ginger Beer
Top with Chai Spice Infused Port
Sprinkle with a pinch of sea salt
Preparation: Add top four ingredients & shake vigorously, strain into an ice filled Collins Glass, top with Ginger Beer, then top with a float of Chai Spice infused Port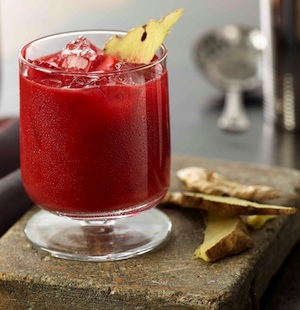 Bloodline
1 part Solerno Blood Orange Liqueur
1 part fresh beet juice
1 part fresh carrot juice
1 part orange juice
.5 part lemon juice
.5 part fresh ginger juice
Preparation: Roll ingredients with ice in a shaker and strain over fresh ice in a rocks glass. Garnish with a slice of ginger.
Jack's Lantern
2.0 oz elit by Stolichnaya
1.0 oz Apple Cider
0.25 oz fresh lemon juice
0.75 oz Allspice Spiked Agave*
Preparation: Shake all ingredients with ice and strain into an ice filled highball or double rocks glass.
*To make Allspice Agave: take 1 cup agave nectar and add 1/2 cup all spice powder. Mix until blended.
Basil Hayden's Pumpkin Bourbon Cider
Created by Larry Piaskowy
2 parts Basil Hayden's Bourbon
¾ part Fresh Lemon Juice
½ part Sweet Vermouth
¼ tsp. Superfine Sugar¾ part Pumpkin Puree
6 dashes Angostura Bitters
2 parts Dry Hard Cider, like
1 piece of Fresh Nutmeg (for garnish)
1 Cinnamon Stick (for garnish)
Preparation: Combine pumpkin puree, superfine sugar, sweet vermouth, bitters and lemon juice into a mixing glass. Stir until sugar is nearly dissolved. Add Basil Hayden's Bourbon and ice. Stir well and strain into a cocktail glass. Top with dry hard cider. Garnish with grated nutmeg and a cinnamon stick.
Smokey Pear and Pumpkin Sour
2 ounces Bombay Sapphire East Gin
3/4 ounce Pumpkin Puree
1/2 ounce Xante Pear Brandy
1/2 ounce Simple Syrup
3/4 ounce Lemon Juice
1/2 ounce Egg White
Preparation: Shake hard and serve up or down in a rocks glass.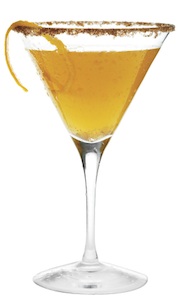 The Apricot Haunt
1 part Courvoisier VS
1 part Fresh Lemon Sour
.5 part DeKuyper Apricot Brandy
4 parts Apple Cider
Preparation: Shake all ingredients with ice and strain into a cocktail glass. Garnish with a lemon spiral twist and a dash of fresh ground cinnamon.
Jack Candy Corn
2 oz. Jack Daniel's Single Barrel
½ oz. Candy Corn Syrup*
2 small dashes of Angostura Bitters
1 dash of Regan's Orange Bitters
Preparation: Add all to a double old-fashioned glass. Add a large ice cube. Stir. Mist an orange peel and garnish. Add candy corn garnish. *Candy Corn Syrup: Cut candy corn and measure in a mixing glass. Add to a small saucepan. Add equal parts water. Heat and stir until candy is dissolved in water. Let cool and store in a glass bottle.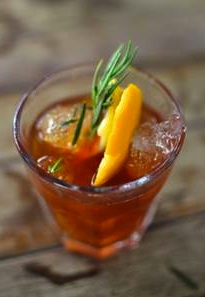 Portón Autumn Sparkler
2 oz. Pisco Portón
0.5 oz. Fresh lemon juice
1.25 oz. Fig preserves
2 oz. Sparkling wine
Fresh rosemary sprig and orange peel
Preparation: Combine Portón, lemon juice, and preserves in a shaker and shake with ice. Double strain over large ice in rocks glass. Top with sparkling wine. Garnish with rosemary sprig and orange peel.
Milky Way
0.5 oz Patrón XO Cafe Incendio
0.75 oz Milk
Brandy soaked sour cherries
Preparation: Muddle cherries in a shaker. Add remaining ingredients and shake with ice. Strain through a fine strainer into a rocks glass filled with a fresh ice. Garnish with cherries on a stick.
There is something about autumn that sings apple cider to me, and a hard cider with a bit of a kick is always better. Leprechaun Hard Cider was born out of a love for European Cider, but made in America with hand-picked Vermont apples, but giving a nod to the Old World by using yeast traditionally used for Champagne to ferment the premium product. A range of styles and flavors are available, but for fall the Leprechaun Pomegranate & Cranberry Hard Cider, with 6.9% alcohol and a fresh, red fruit and spice filled palate, pairs beautifully with anything from burgers to pasta to Thanksgiving dinner. $9 for 4 – 12oz bottles, available at Total Wine and More.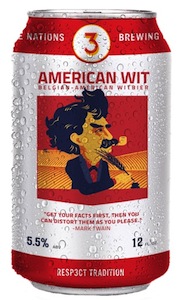 If you care for beer more than spirits, consider one from one of the newest kids on the block, Gavin Secchi (the handsome middle son of Jane and Francesco Secchi, owners of Ferrari's Italian Villa) launched 3 Nations Brewery earlier this year and since then his goal to produce some of the highest quality, authentic, Old World style beer with character and, of course, great taste. Two products are currently available, his 3 Nations Brewery GPA, German Pale Ale and 3 Nations Brewery American Wit. The elevated GPA is filled with floral and citrus notes, with just the right amount of bitterness you would expect from a pale ale, without overpowering. The American Wit, a Belgian style witbier, is filled with spice and citrus for a refreshing take on a classic. Both are available at Total Wine and More for around $10 a 6-pack.

If wine is your go to and you are hosting a gathering, there are many festive and affordable options to put you in the mood for Halloween. Freixenet ($10) was born ready for Halloween as their black bottle showcases the spirit of the season. Pick up a few glow in the dark paint pens and draw your own skeleton or pumpkin bottles before your party starts to welcome guests for the night.  For all the candy in the house, pick up a few bottles of SIP Moscato ($12,) a fruit filled, slightly effervescent, low alcohol wine perfect for pairing with any fruit filled candy in the house. For chocolate lovers try a red berry, ripe cherry and woody herb filled Lo Nuevo Old Vine Garnacha ($12) from Calatayud, Spain, or consider The Arsonist ($22,) a dark chocolate, black cherry and toasted caramel filled Petit Verdot, Cabernet Sauvignon and Merlot blend. For a wine that can pair as easily with barbecue as it can with Halloween candy try an old vine Zinfandel like a new product from Gnarly Head, 1924 Double Black ($12) blending old vine Zinfandel with smoky Syrah and fruity Merlot for a spice, black fruit and cocoa filled wine, or Ravenswood Besieged ($22) blending Petite Sirah, Carignane, Zinfandel, Syrah, Alicante Bouschet and Barbera for a bold red that is perfect for cold nights and pairing with rich stews, steaks or hearty pastas. These wines are available throughout Dallas at stores like Total Wine and More, World Market and many grocery stores, or through the winery websites.
Get the SideDish Newsletter
Dallas' hottest dining news, recipes, and reviews served up fresh to your inbox each week.