I first tasted tepache at the Austin Food & Wine Festival two springs ago. I was one of a few people clustered around tables at a makers' panel where the brewers from Austin's Argus Cidery introduced us to this, their latest obsession. It was a project they'd tinkered with, clearly one born of passion and perhaps trips to Mexico City, where tepache is peddled from street carts and sold at markets in plastic baggies tied off at the top, from which you drink with a straw.
The lightly alcoholic brew is made by fermenting pineapple rinds or at times the whole fruit. Sweetened with piloncillo, brown sugar, or agave, and often infused with cinnamon or cloves, it's all tropical brightness, with a slight, pleasant fizz. It's almost completely unknown outside the Latin community, but think of it as a sparkling pineapple cider—sweet and crisp, with a bright finish and an extra depth, a note of something both floral and funky. It absolutely charmed me.
I waited to see if it would hit Dallas. I entertained dreams of tropical shandies. I kept tabs as it appeared at places like the avant-garde Broken Spanish in LA and hoped that here, too, it would graduate from home-brew status and have its moment in the sun.
Lo and behold!
Last weekend, I found house-made tepache at Resident Taqueria, the new taqueria in Lake Highlands, where the tell-tale rinds sat in jugs over churning tumblers of house Margarita and grapefruity Paloma.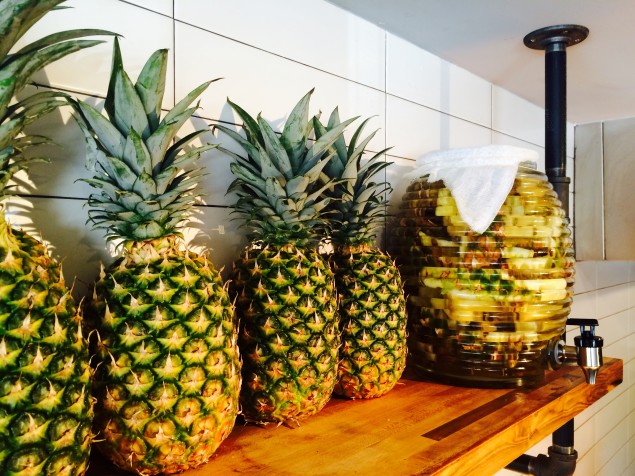 The idea arose naturally for chef and owner Andrew Savoie as he contemplated the wealth of rinds on hand from breaking down the fruit that goes into pineapple agua fresca, pineapple sorbet, and the braised pork shoulder taco, where pineapple brings caramelized sweetness to cabbage and earthy guajillo. He'd looked into tepache, and several of his cooks from Mexico City could tell him about their experiences from street vendors. "What are you doing?" he says they asked him. "I'm making tepache." "No way!" Savoie flavors his simply with cinnamon and agave, and starts the four-to-five-day fermentation by adding beer. This is similar to the recipe Lesley Téllez includes in her book Eat Mexico, published earlier this year—a beautiful book that takes you through the markets and street stalls of Mexico City. The result at Resident is a refreshing, friendly, fizzy, only slightly alcoholic take that's perfect to wash down an order of tacos.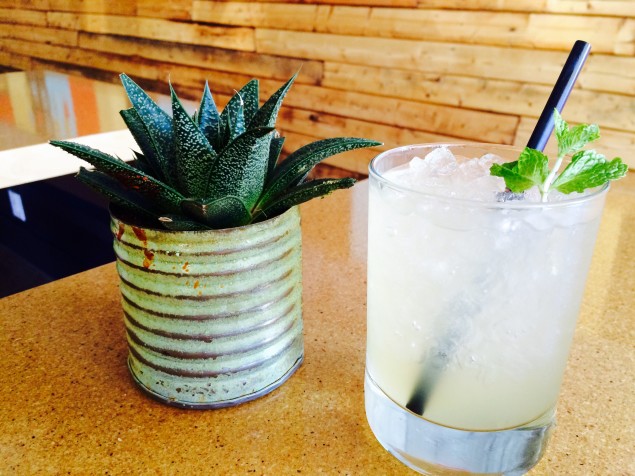 Meanwhile, at Victor Tangos, Matt Ragan features house-made tepache in his Tomar de los Muertos cocktail.
From a bartender's perspective, "It's one of the most interesting and fun ingredients for cocktails I think I've seen in a long time," he says. "It brings this tropical freshness, but it also brings this earthy, woodsy, forest-floor complexity to it. It's got depth and character and nuance for days."
The tepache I had in Austin was strong and funky. The brewers at Argus experimented with fermentation times for various effects. I was fascinated by the gamut of flavors.
In Victor Tango's version, the woodsiness that comes from the pineapple rind is amped up by the tamarind pods Ragan adds, split open and left to macerate, to what is otherwise a straight adaptation of the family recipe from bartender Alejandro Galindo, who grew up in Guerrero, Mexico. The mixture of pineapple and tamarind, along with cloves, allspice, and cinnamon, develops its own yeasts as it ferments for a week at room temperature, then for five days in the walk-in refrigerator with piloncillo, the flavors mellow and blend.
Tweaks to the ultimate cocktail were all about showcasing the tepache. Using lemon juice, not lime; holding back on the smoky mescal and going half-and-half with tequila. "You get the pineapple fun and the mescal up front, and then the earthy notes and all those flavors that the fermentation develops, you get that all on the back end," Ragan says. "I like that the cocktail has movement to it. It's got layers."
For a taste of what became of Argus Cidery's experiment, you can find bottles of their Tepache Especial at Spec's. But I'd hunt down our local versions first.
"It's such a fun time to be doing this," Ragan says. "Finding these centuries-old processes and rediscovering and revitalizing them. It's like, let's experiment, let's play a little bit."
Get the SideDish Newsletter
Dallas' hottest dining news, recipes, and reviews served up fresh to your inbox each week.