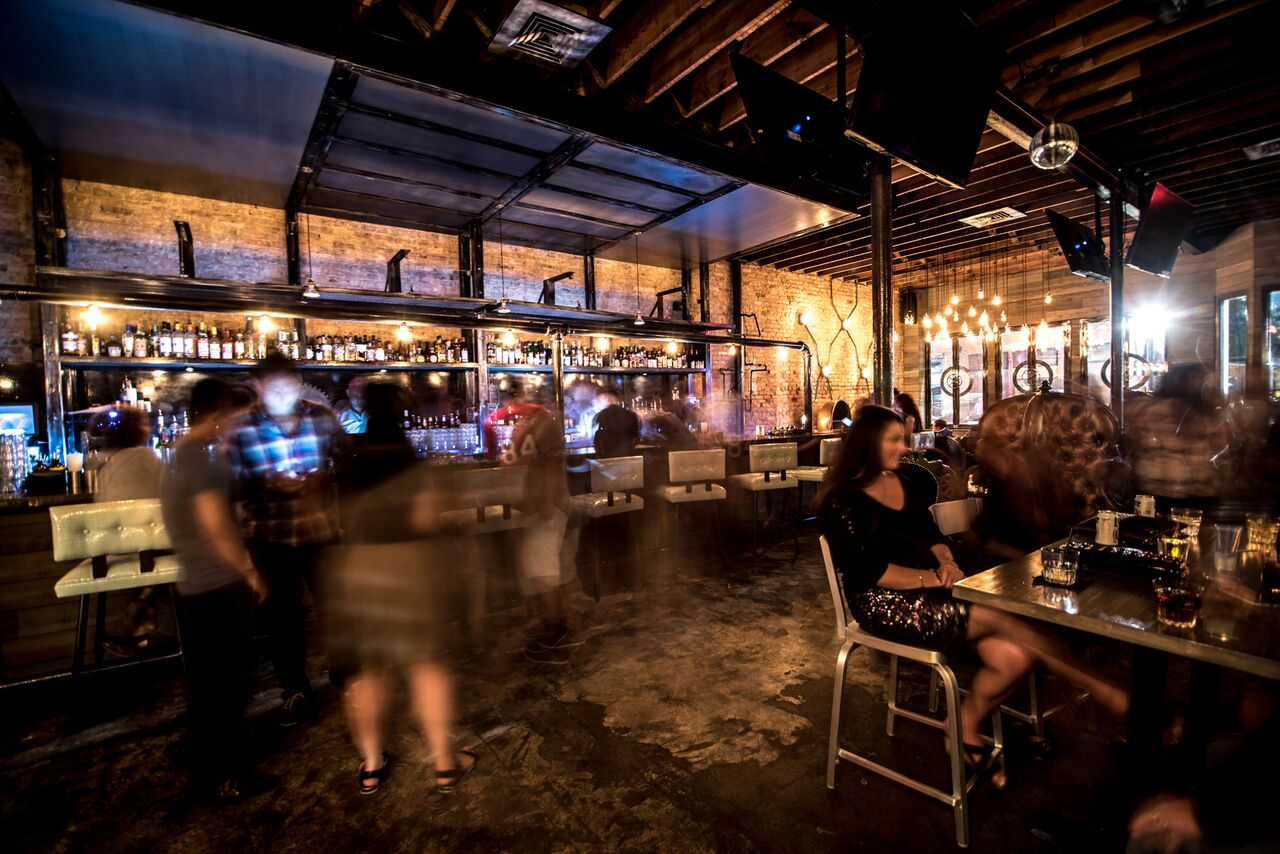 Keeping Tabs: On Premise in Deep Ellum
This bar is almost too perfect.
It seems like every new bar these days is painstakingly planned by seasoned food-and-drink folks. This creates a certain expectation: that the décor and vibe will be just-so; that the cocktails and bar bites will be tasty and creative. On Premise, brought to you by restaurateurs Chris Beardon and Adam Salazar (of The Mitchell) and Chef Brian Zenner (formerly of Oak), does not disappoint. In fact, it's almost too perfect.
The Atmosphere: The interior is an eye-catching mix of exposed brick, metal, and wood; the color scheme is mostly slate and metallic copper with pops of teals and blues. The steampunk touches – machine-cog décor, above-the-bar pipeline, gorgeous Victorian parlor chairs – create a classy, stylized atmosphere without being too theme-heavy. The low lighting and chilled-out music make it a great place for a weekend date or weeknight after-work drinks.
What to Drink: The venue has an eclectic food menu with items like the Thai green papaya salad, coconut churros, and fish and chips. But the cocktail menu alone is worth walking in for: On Premise combines different flavors, juices, and liquors for truly inspired beverages. You'll find potions with watermelon juice and Thai chili syrup (On Deadly Ground) and ginger beer and antique gin (Brotherhood of the Wolf). My favorite: an apple-tastic stoli cocktail called The Last Dragon. And if you're befuddled by all the ingredients, fret not: the bartenders are helpful, knowledgeable, and eager to make suggestions.
Who's There: The clientele is a good mix of regular Deep Ellum-goers with an extra helping of well-dressed young professionals. On Premise seems to be a favorite for ladies' nights out, and the usual age range is mid '20s to early '40s.
What I Didn't Like: There's something too polished about On Premise – there's not much warmth in all those cool tones and metallic hues. In other words, it seems too-obviously a professional endeavor as opposed to a labor of love. Also: Parking in Deep Ellum is always less than convenient.
What I Did Like: Besides the fact that the lounge is gorgeous and the drinks are delicious? There's a patio space with plenty of seats out back, which, if the temperature ever decides to drop a little, will be awesome.
Random Detail: Amid all the splendid Victorian aesthetics, there's a little bit of '70s spinning overhead. Gotta love a place that rocks a disco ball!
Tara Nieuwesteeg is the "Keeping Tabs" columnist for D Magazine.