The film Burnt opens tonight, starring Bradley Cooper as Adam Jones, a once-high-powered chef in the world of high-end restaurants. His history, hinted at, is clearly that of a golden child turned bad-boy à la Anthony Bourdain in Kitchen Confidential—his talent flamed out in a haze of drugs and misbehavior. Throughout the film's first scenes, Jones swaggers in black leather and opaque shades, looking very much the bad boy. His ego is super-charged. He burned bridges in Paris; ambitious and arrogant, he's seeking to regain glory in London and ultimately claim his third Michelin star.
Critics have roundly criticized the film. They accuse it of predictability, of platitudes, of harvesting a star cast—Sienna Miller, Emma Thompson, Omar Sy, Uma Thurman—and not doing enough with them.
I obviously have a different angle on the whole thing. As a restaurant critic, not a film critic, I'm happy to focus on what it shows of the world of dining and chefs.
While film critics wince at unsubtle deliveries, I'm chuckling at Thurman's forbidding cameo as a restaurant critic and finding it hard to believe that a Michelin-caliber restaurant wouldn't employ an executive pastry chef. (Why is Jones making cakes?! Not even a megalomaniac chef has time mid-service to blow gold dust over a painstaking chocolate-lacquered creation.) But that world is realistically depicted here, at least on the level of food styling, logistics, and setting.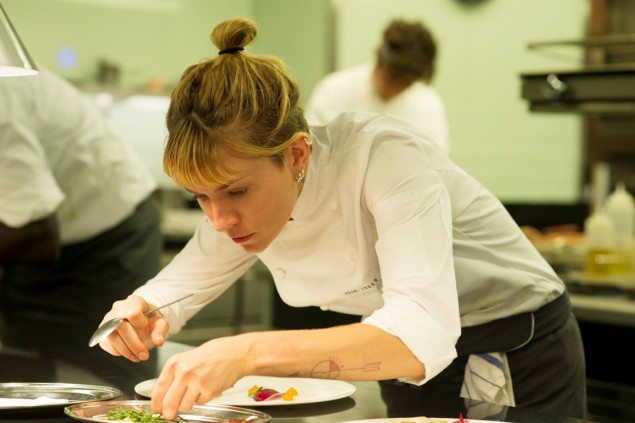 The idea of perfectionism is not new. That chefs should be obsessive — of course they are. The craft requires it. What we get here is a close-up vision of the kitchen as a place of violence. Violence and temper. It's fitting that one of the main characters, Miller in a well-played role as sous chef, has a chef's knife tattooed on the nape of her neck, in that tender spot just below the ear—the place where a lover might place a kiss. To love the brigade-style kitchen is to embrace, on some level, an intimacy with violence. It's a place of sharp steel and fire. And isn't eating, after all, a violent act—an act of breaking down?
Violence is also in sharp relief because of the film's focus on the high-stakes quest for coveted Michelin stars. The fear of the "Michelin Men" reaches apocalyptic dimensions. There's plenty of plate-throwing and table-upturning as pressure rises in Jones' quest for a perfection recognized and certified by that elusive and fickle creature, the outside ranking. Bullying; yelling; public shaming–the pent-up tensions burst out like machine-gun fire.
Awards aren't—thankfully—all that drives most chefs. There is beauty in cooking as well as violence. It aims on some level, always, to transcend matter and reach for the intangible, whether that's comfort, nostalgia, or transcendent taste revelations.
There are many examples of films in which feeding is an act of tenderness. To take a recent one, the grilled cheese sandwich Jon Favreau makes for his son in the movie Chef. Or the omelet two brothers eat together in the wonderful 1996 film Big Night with Stanley Tucci. In films like Eat, Drink, Man, Woman, food takes on symbolic dimensions, suffused with culture and mores. Food as taboo, feeding as metaphor.
Burnt's lesson, ultimately, is just such a lesson.
That the brigade isn't simply—in fact, cannot function if it is merely—a place of tyranny and megalomaniacal micromanagement. This, of course, is the lesson Jones must learn. The film ends on a scene of "family meal," the dinner a kitchen staff might share before service. These meals, pulled together from what's on hand, are one way a brigade might bond. They're the subject of recent cookbooks like Off the Menu and Come In, We're Closed.
Is it predictable? Yes. The film doesn't really cover any new territory as it explores the question of what, really, we cook for. And for whom.
But it does offer two things.
One, it taps into our perennial pull-back-the-curtain fantasies. Open kitchens let us catch a glimpse. The chef's counter has always been my favorite seat in the house. There's no end to our curiosity about how things are done.
And then there are the undeniably gorgeous food shots. Mario Batali consulted on the food styling. Plates are tantalizing, all the more so because they flash before your eyes so quickly, whisked away almost before your mind has time to register the luscious-looking forms and textures, the swathes and swizzles of color. Things ooze and gush and glisten. Poached lobster and delicate fennel fronds and a scene with an omelet so perfect and fluffy you could cry. Don't forget this is a Michelin-star restaurant.
You may leave grumbling about predictable plot-arcs and squandered star talent. But you will definitely leave hungry.
Get the FrontRow Newsletter
Get a front row seat to the best shows, arts, and things to do across North Texas. Never miss a beat.