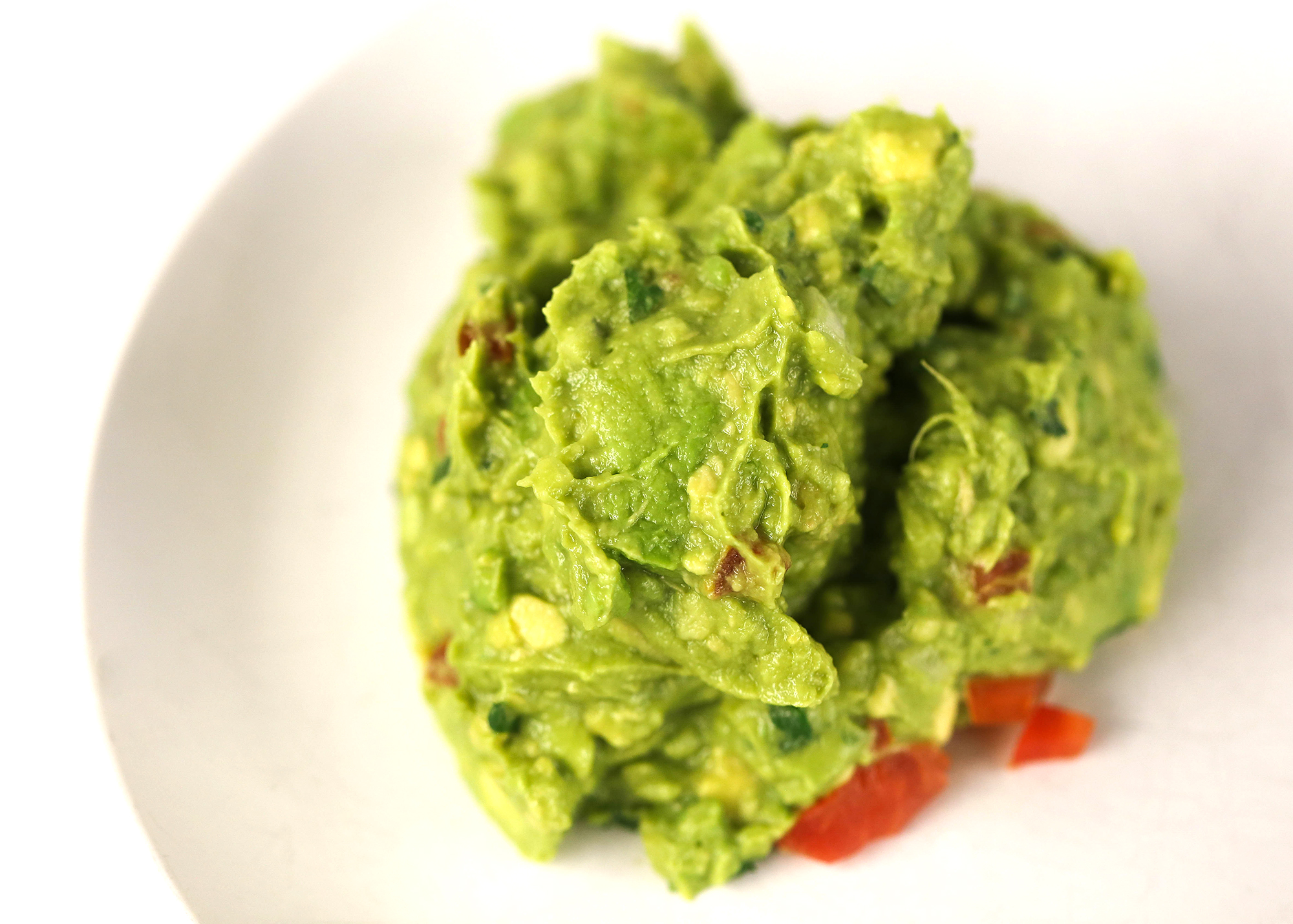 Taste Test Thursday: Guacamole
Holy guacamole!
September 16 is National Guacamole Day and in honor of the food "holiday" we tasted six versions of the creamy appetizer from a handful of local Tex-Mex restaurants. Here's what happened.
[Editor's note: There were no professional guacamole experts on hand for this taste test.]
The guacamole:
A. Gloria's
B. El Fenix
C. Mattito's
D. Mia's
E. Meso Maya
F. Mi Cocina
Tasting notes:
I love the tomato chunks and cilantro.
This is peppery and bright, with a creamy texture.
Doesn't seem like the freshest avocados, but there are several layers of flavor.
Cilantro is a little too strong, diced tomatoes over-represented.
Good, a little mushy.
Solid. Onions come across strong.
Creamy. Not particularly flavorful. Like gooey avocado goodness.
I want more onion!
This tastes just past ripe, especially after how bright A was.
Very bland.
Like that the avocado flavor comes through, but would like a little more spice to it.
Not enough flavor.
Kind of unremarkable, but even unremarkable guacamole is better than no guacamole.
OK, this one really isn't flavorful. A is looking better now. I appreciate chunks of avocado, though.
Loving the crisp bowl and excited for the cheese on top. I can taste the lime, which I love.
Rich and sweet, likely from the sprinkle of cheese. Could use salt.
I think this is just old mashed avocado.
Best seasoned of the bunch. Still would like some heat, though.
Boring.
Also a little too safe.
There's definitely more going on with this guy. Though it's not crazy phenomenal or anything. I'd definitely eat my weight in this at a Tex-Mex restaurant.
Onions! They really stand out, which I love. But I'm weirdly obsessed with onions. I like this one.
This one has an almost meaty flavor? I wish it had some heat, and I'm not a fan of the onion chunks.
Better avocado but no crunch.
Like the chunkiness of this one.
Strong lime flavor. Good.
Now we're talking. Chunky and salty, like God intended.
Yes! I dig the spiciness.
Holy tomatoes. I usually don't like too many tomatoes in my guac but those are good and fresh.
Nice and acidic, a compliment to the avocado.
Hints of lemon and lime. Minimal salt.
A little too chunky. They've barely smashed the avocado.
OK, I like the tomatoes.
Good but it doesn't linger long enough to make an impression.
Not the prettiest. But definitely tasty.
This one has a strong kick to it. Onion, cilantro, garlic? I don't know, but deliciousness.
The onion overpowers the avocado.
My favorite. Hints of sweet, a little crunch.
Has the best spice, but onion is overwhelming.
Most flavorful.
Second best of the bunch, has a pretty distinctive thing going on.
The taste is disappointing. There was an honorable amount of chunkiness, though. Respect.
Tally up:
Gloria's 1
El Fenix 0
Mattito's 1
Mia's 3
Meso Maya 0
Mi Cocina 2
The winner is:
Mia's Tex-Mex is the winner of this week's taste test with three out of the seven votes. The longstanding restaurant's mashed avocado provided the perfect balance of creamy yet chunky texture, and packed an onion-y punch.
So do you agree with the outcome? Where will you be celebrating National Guacamole Day? Let us know in the comment section below.