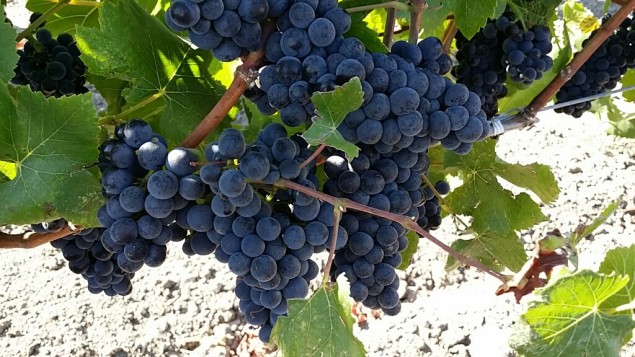 A 5 a.m. wake-up call is not my norm. But when it's harvest time, grapes must be picked in the cool hours of the early morning to ensure fermentation is not triggered to start as they travel from vineyard to winery. Early hours are a requirement, and the way of life, for harvest workers all over the world.
I recently received that early morning call from the gracious staff at the charming MacArthur Place Hotel, just off the Sonoma square in California, and got ready for a day in the vines with Gloria Ferrer Caves and Vineyards.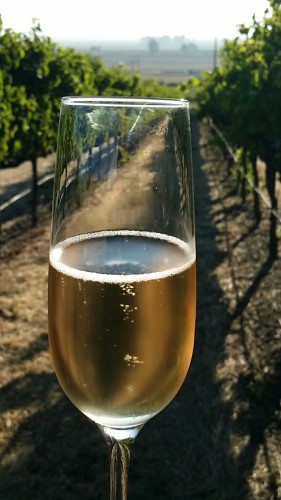 Though I have picked grapes before during harvest season, this was my first full day of taking grapes from point A to B in Gloria Ferrer's full "hands on harvest" experience. (I attended as a guest of the winery.)
In its 14th year, the two-day day experience is a short and sweet guide to wine making in the heart of California during harvest season, inviting members of the trade to learn the art of both still and sparkling wine making, from vine to glass.
This year added an additional something special as it was a celebration of the women who have influenced the winery over the years, inviting an entirely female group of attendees. I'll give away the end at the beginning, the girls picked more fruit than has ever been picked before in any all male or male/female group. The strong influence women have had that have been a part of the history of Ferrer had to have something to do with it.
Gloria Ferrer  started almost 30 years ago and  was named after the wife of Jose Ferrer, owner of Spain's Freixenet, Ferrer Family Wines and several others, including another traditional method sparkling favorite of mine, Segura Viudas. Gloria Ferrer was the first sparkling wine house in Sonoma, Carneros, and also the first to plant Champagne clones in the region. Today, with 335 acres under vine, many of the same people who began with the winery in the 1980's are still working with them, celebrating the family atmosphere that is carried throughout the company. Many of the Ferrer wineries in Spain have a similar story.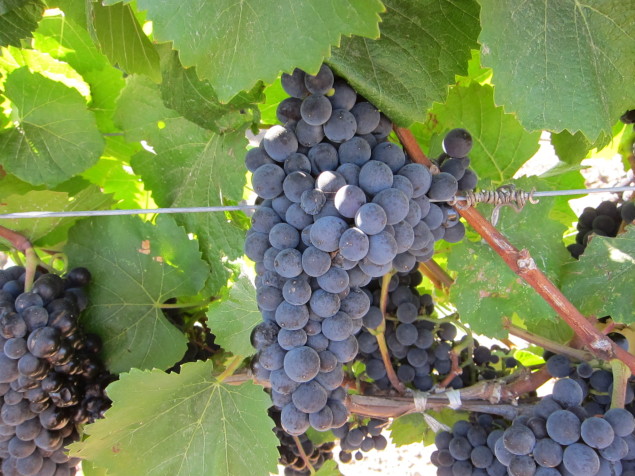 In the vineyard just before sunrise our group of 20 received a quick tutorial on how to cut the fruit from the vine, including the most important tip from VP of Production, Mike Crumley, "don't cut off your finger."
And we were off into the top block of one of Ferrer's estate vineyards, Circle Bar Ranch, in Carneros. We were picking some of the last fruit of the season. The winery started harvest very early this year, July 31, and finished picking for their sparkling wine on August 24 (including all the fruit for the blend, both Chardonnay and Pinot Noir, the only two varieties the winery uses in there traditional method sparkling wine production.) Harvest of everything, including the fruit for their still wines, ended just a few days later, an average of around 2-3 weeks early.
Our variety was Pinot Noir clone Colmar 538 for their still wine production, which will be blended with 7 other clones of Pinot Noir planted throughout their estate for one of the three Gloria Ferrer Reserve Pinot Noir wines. The clone conversation around Pinot Noir has become increasingly popular for wine lovers to understand, as every variety has many clones.
The technical definition of a clone is a genetically uniform group of individuals derived originally from a single individual by propagation from cuttings, grafting, etc. The key take away from this, to my understanding, is that there is an overall parent variety, in this case the Pinot Noir. Within that variety mutations occur over time, each taking on different personalities, resulting in a new clone of the variety, but still with the basic characteristics of the grape.
Though most clones can't stand up on their own, needing a touch of something else to round out the flavors, Colmar 538 can. For instance, as Dijon 115 from Burgundy is big, tannic and rich, filled with black fruit and spice. Wadenswil UCD 2A, a clone with Swiss origins, is much softer, lighter and delicate with juicy red berry and soft floral notes. Blending the two can create a balanced wine filled with texture, flavor and richness. The Colmar 538 Pinot Noir clone is quite balanced on its own, blending fruit, earth, wildflowers and spice, enhancing anything it is mixed with, but also able to stand on its own. The winery has recently begun bottling this clone on its own, especially during high yield/quality vintages like 2012 and 2013.
Sadly, 2015 doesn't look to be the same size as the past few years, with 2012 and 2013 in particular known in Napa and Sonoma as high yielding and high quality years. The difficulty California has had with weather over the past year, including the drought and the small amount of rain they did see occurring during the flowering of the vines, have made the overall yield for this year smaller than in years past. However, smaller bunches and smaller berries on the grape bunches has concentrated the flavor in the fruit, meaning (hopefully, based on all evidence so far) the quality of the 2105 vintage should be incredible.  As a wine lover, I'll take quality any day, however it will mean you'll need to buy up what will be available fast as there may not be as much of it.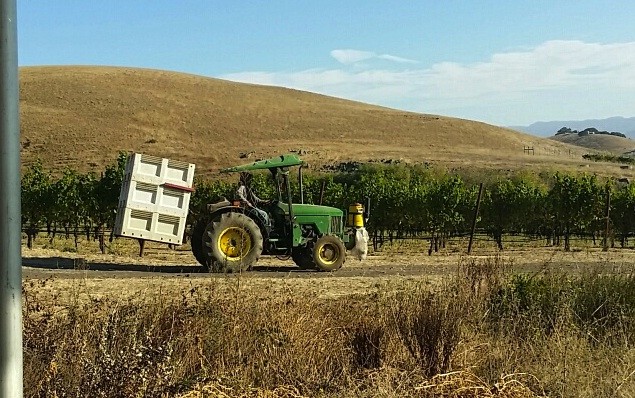 Back in the vines, our work went rather quickly in our opinion, gently cutting the delicate fruit from the vine, filling our bins with pride and care. However, not far from our vines we watched the skilled pickers on Ferrer's standard crew working through the vineyard with the speed of lightning. Their fingers moved with precision and care, gathering bunches without breaking the fruit like a ballroom dancer skimming across a stage. Though it is hard and labor intense, their work was beautiful to watch. And, quickly made me sure I shouldn't find full time work as a vineyard hand.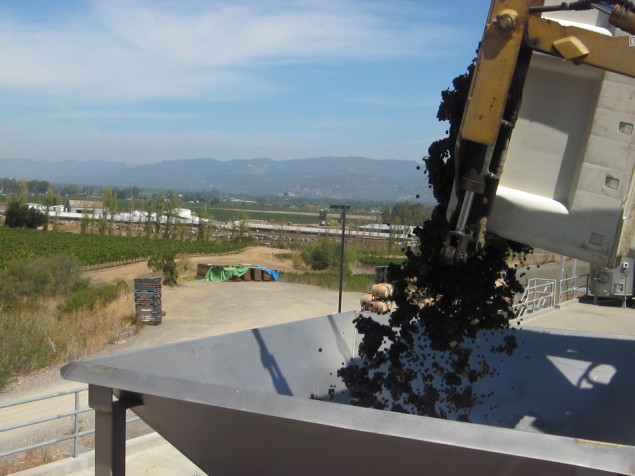 After we had filled our bins we moved on to help with grafting vines. (I say we helped, I did lean on a shovel at one point because this is skilled work, that highly trained hands must be responsible for.) Grafting became a requirement for vintners all over the world when the phylloxera virus spread destroying classic, old world, international varieties. Thankfully, a gentleman in North Texas at Grayson College, T.V. Munson, figured out a cure to save these classic vines. By grafting Old World vine cuttings on to American rootstock, that he found was resistant to the soil louse, the vine could survive.
Grafting is basically cutting a piece of wood out of the healthy American root and then taking the bud of the plant you want to populate and "grafting" or fitting the two together, securing them and replanting the root under the ground and the new variety grows.
It is also the way vintners can change their vineyards. Often, vintners will take vines cuttings from one variety and graft them on to old established rootstock from another variety to populate their vines with something new, for instance when Merlot became popular in California, vines were grafted over throughout the state to quickly produce fruit that could be made into wine fast, cutting down the time from root to fruit for normal production (usually upwards or 4-6 years.)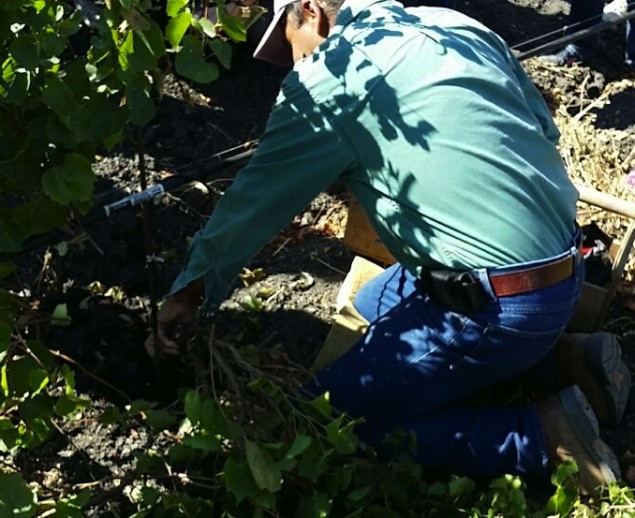 I have learned about grafting in doing my wine studies, have read about grafting, understand the importance of grafting, I had never seen grafting done in the vineyards. It is precise, it is difficult and truly a skilled practice.
Vineyard Manager Alberto Robledo grew up learning how to graft. His father, grandfather, uncles and cousins are vineyard grafters, learning the skill in their youth. Alberto was taught how to graft as a child by his elders, and spent years practicing on willow trees by the Russian River close to their home near Healdsburg. Now, it is one of the many skills he brings to the Ferrer estate vineyards.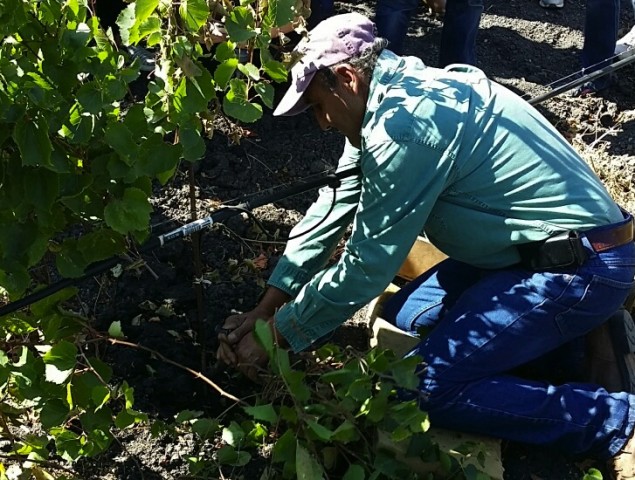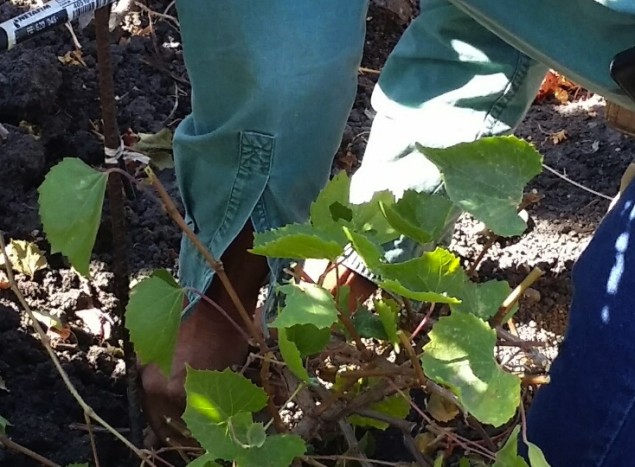 Quick, focused and efficient, even with 20 women looking over his shoulder, he grafts Pinot Blanc used for one of the Gloria Ferrer small production still wines on to American rootstock planted last year. The variety is not common for the property but they have found it can thrive in certain parts of their clay filled estate vineyards, so producing a few hundred cases to sell to their club or in the tasting room has become popular.
Increasing this production may allow for it to become available to a larger distribution. (Fingers crossed in this as I have found the Pinot Blanc from nearby neighbor Ram's Gate to be an incredible, textured, lively and delicious white wine, perfect for warm weather enjoyment.)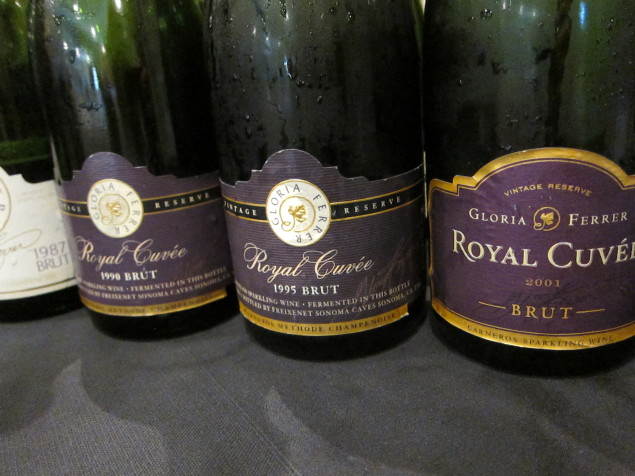 Sipping a bit between all the work, we tasted through a vertical of Gloria Ferrer Royal Cuvee ($37) from the first vintage in 1987 to the most recent, 2007, just bottled 6 months ago and releasing now.  Made with the same process and similar blends, aging, etc. over the years there is a note of consistency throughout the wines, needed with sparklers creating a "house style" all over the world. However, as a product with a noted vintage year, you will have some vintage difference based on what Mother Nature gives the vines each year, and stylistically over the years the wines have changed a bit, moving towards more freshness, richness and ripe fruit flavors.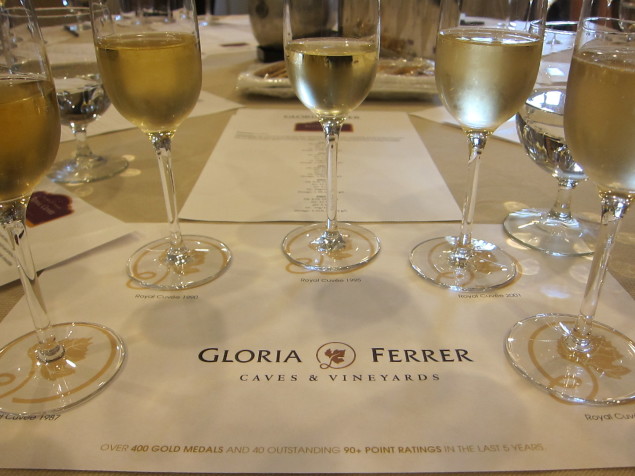 Fermentation yeast used from the start of this wine included a proprietary blend from parent company, Spain's Cava producer, Freixenet, but over the years as fruit has become riper and crisp acidity in the wine isn't as much of a focus for American palates, the wines have become softer, juicer and fruit filled. Brut in style, yet the sparkler is fresh, vibrant and approachable upon release.
This approach of being ready to enjoy upon release is how many of the Gloria Ferrer wines are made.  Though, the 1995 Royal Cuvee, with 7 years on the yeast pre-disgorgement and 15 years now under cork, was the clear favorite for everyone in the room. Filled with creamy brioche and almond notes with hints of red cherry and apple from the Pinto Noir dominant blend with complexity and beautiful texture.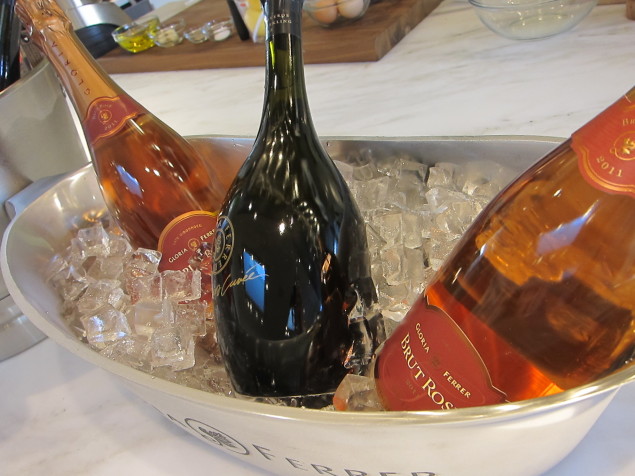 2004 Carneros Cuvée, the flagship Tête de Cuvée sparkling wine, is an almost equal blend of Pinot Noir and Chardonnay that has been aged 9 years on the yeasts in the bottle and another 6 months under cork before release. Juicy, creamy, brioche a d honey filled and quite balanced, with distinct freshness. A beauty, elevating anything it is paired with from soft cheese to roasted chicken to a juicy grilled peach and arugula salad.  Sold exclusively through the winery for $75 a bottle.
Va da  Vi, one of the off dry, low alcohol options from the winery is perfect for Sunday afternoon brunch, where their zippy, citrus, orchard and stone fruit filled Sonoma Brut is perfect for sunset bubbles as an aperitif to start an evening.  Though only available through their website, their Rosé is quite a luscious berry, cherry and grapefruit filled bubbly, carrying your palate through an evening from salad to dessert, especially if chocolate is involved. $22 a bottle.
Clean, crisp and very dry, Gloria Ferrer Sonoma Brut is the sparkler to sip from day into night. A perfect aperitif on its own, or easily mixed into a mimosa or a bellini, this is a great go to at a great price, usually retailing around $22 a bottle.
One of the shining star still wines, made from a blend of the Pinot Noir clones, is the Jose Ferrer Barrel Select Pinot Noir. Created from a very special blend of the best barrels of Pinot Noir, with each clone individually harvested, fermented and aged, then blended to create a rich, balanced and easy Pinot Noir named for the founder of Gloria Ferrer, and head of the expansive Ferrer family of wines. A beautiful wine, retailing for $50 a bottle.
Carneros Estate Reserve Pinot Noir melds the red and black fruit flavors found in the various clones of the variety with mineral, floral and spice notes that fill the soils of the region. $27 a bottle.
Gloria Ferrer wines are widely available throughout Dallas at wine shops and grocery stores, including Spec's and World Market.
Get the SideDish Newsletter
Dallas' hottest dining news, recipes, and reviews served up fresh to your inbox each week.