I once heard the wines of the Languedoc described as a "type of family unit." As the blend comes together, each and every part of the family is required to make the perfect wine. Smoky, spicy, robust Syrah acts like the father, the leader and head of the family, often dominating the blend. Inky Mourvedre plays a support role, but can stand on its own making it a critical element in the blend, much like a mother. Sometimes difficult, often misunderstood Carignan acts like the child, with great potential but needs guidance and recognition. And, friendly and approachable Grenache is the generous uncle, adding depth and harmony. Each can work on their own, but when blended in various percentages and from various soil types they have the ability to create the perfect wine.
I posted earlier this week about the region of Languedoc and why the wines now, after years of being known more for their bulk wine production, are truly special. Shifting into the mainframe of quality and innovation. Here is a bit more about some of the wines and wineries that stood out when I traveled to the region as a guest of CIVL, the joint trade Council of the wines of Languedoc.
I learned a long time ago to trust certain importers, with Kermit Lynch being one of the best from France. Again, in traveling throughout the region, I found myself gravitating to the wines Lynch imports as his well trained palate is a solid go to if you ever need help deciding to buy one bottle over the other. The wines he represents consistently tell the story of the region, as well as made with impeccable quality, often with a great personal story as well.
One of the best examples of this is Didier Barral of Domaine Léon Barral in Faugères. Didier is one of the most dedicated winemakers to his craft I have met, with a gentle spirit, a dedication to biodynamic sustainability and highly innovative mind. When Barral started his winery in 1993, which he named after his influential grandfather, clean, organic and sustainable farming methods were at the forefront of his philosophy on winemaking. But, Barral wasn't looking to simply follow the path that others had taken before him. He was more methodical, and more green, in his thinking, making him more of a maverick in the region. He has gone beyond biodynamic, noting that nature existed before biodynamic farming, abandoning the traditional in order to create a harmonious environment for all creatures in his vineyard, from earthworms in the ground to bats in the sky. Each of these work together amongst an untamed field of cover crops, which Barral gently pushes over with a specially designed piece of farm equipment without cutting to ensure safe passage through the vines. He does not cut the cover crops as that would disturb those precious earthworms. To remove the cover crops when they have grown too high Barral uses a team of twenty cows, horses, and pigs that graze the crops in and around the vineyards, moving them to a new area in the vineyard weekly, creating healthy microbiological activity in his vineyard soils, adding nutrients while aerating the soil in a completely natural way.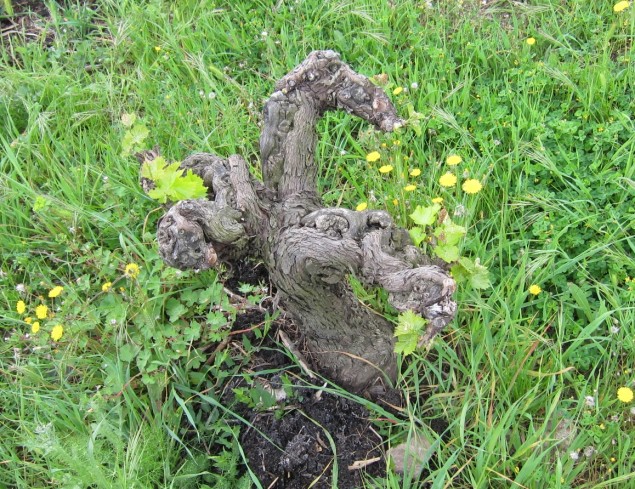 As he said during my visit, "nature existed before biodynamics." Following the path that nature set out for itself ensures he is farming at the highest level, fulfilling his philosophy and producing intense, concentrated and elegant fruit. Over the last 20 years he has found this sustainable farming, with each organism relying on the other while maintaining independence, allows his precious, old vine Grenache, Mourvedre and Syrah to thrive, resulting in inky, bold, textured wines with character, elegance and personality, much like their owner.
The wines are hearty, chewy, dense, but maintain a balance of freshness and acidity even with a very tannic, powerful nature. Domaine Leon Barral Faugères "Valinière" is a blend of predominantly Mourvedre with Syrah. Earthy and dense, with layers of pencil lead, black tea and spice mingling with smoke and black fruit. Big and intense, and truly special. $72, available here.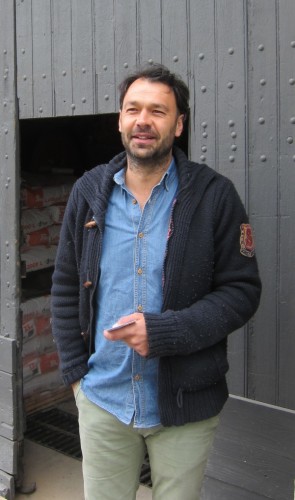 Maxime Magnon is one of these winemakers with both a great story, and a true dedication to crafting quality wines from the Languedoc in an environmentally focused way. Even more impressive, from vine to bottle, he does it all himself. Magnon grew up in Burgundy and fell in love with wine at a young age, though didn't have a Domaine to call his own. He moved to Languedoc, where land was much less expensive, to be a part of the new wave of young, enthusiastic winemakers proving that quality vines, and wines, could be produced in the region. He quickly found a mentor in Didier Barral, as they share a similar naturalist philosophy and dedication to preserving a holistic ecosystem respecting the land.
When he arrived in Languedoc Magnon began purchasing prime parcels of old vines, particularly Carignan, from abandoned plots near his Corbières AOC cellar, starting his winery in 2002. Today he has 9 different parcels of land over about 32 acres of steep, rock and gravel filled soils of limestone, schist and clay. He is certified organic, but farms most in a more biodynamic way. Sheep are used to control weeds throughout the vineyards and provide manure for fertilizing vines, all natural yeasts are used, along with techniques like whole cluster fermentation and carbonic maceration to create fresh, lively and approachable wines from highly concentrated fruit. Though his production is quite small, they are worth seeking out as they celebrate both quality winemaking and dedicated vineyard management, but also the whole new wave of young, determined and dedicated winemakers who are making a name for themselves while employing healthy winemaking practices.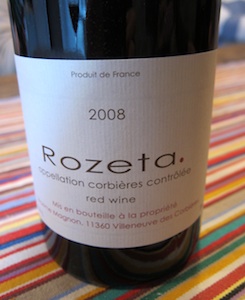 A nontraditional favorite, his Campagnès ($36) is a field blend of 95% 100 year old vine Carignan co-planted and co-fermented with Grenache, Syrah, Grenache Gris, Macabou, and Terret. Inky, intense, and bold yet fresh and vibrant, the hearty wine is an exclamation point on the quality of these 100 year old vines that still dot the landscapes of Languedoc. His Rozeta ($39) blends predominantly 50-60 year old vine Carignan,with Grenache, Syrah, Grenache Gris, Macabou, and Terret grown in mineral rich limestone and schist soils. The wine is fermented in whole clusters then aged in second use French oak from Burgundy to create a well rounded wine filled with black cherry, dried barry, woody herbs, sweet spice and a touch of smoke. Both are available here.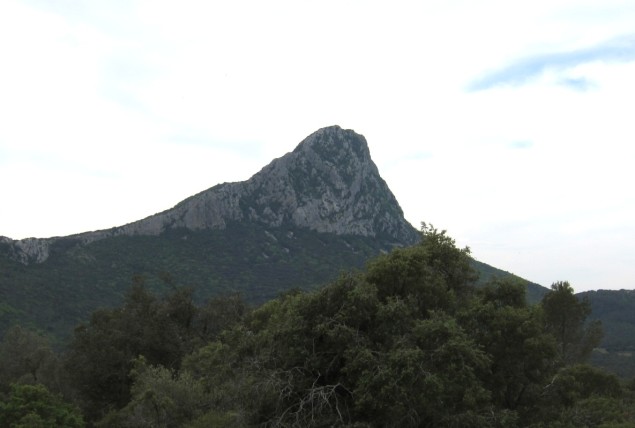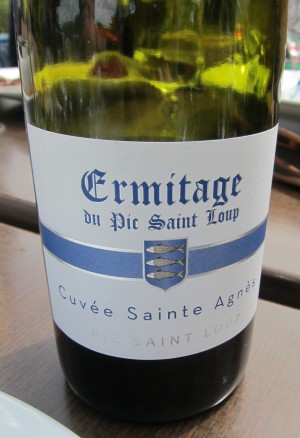 Along with Chateau de Lancyre, that I wrote about in my last post, in the Pic Saint-Loup AOC, Ermitage du Pic Saint-Loup, built their esteemed winery in land that had been used for sheep farming and cheese production for much of its existence. In 1992 the Ravaille brothers (Xavier, Pierre, and Jean-Marc) joined together for plant their vineyard under the watchful eye of the limestone peak or "pic" perched above the vineyards. The wines produced by Ermitage du Pic Saint-Loup are some of the best, as vines benefit from a slightly different microclimate thanks to their location in the region. Though summers are very hot and dry, like most of Languedoc, late fall and winter sees a higher amount of rainfall, allowing for long ripening of the grapes. A non-interventionist approach helps the fruit maintain itself as a true reflection of the terroir. Ermitage du Pic Saint-Loup Rouge "Sainte Agnès" melds smoke, spice and earthy minerality with ripe black berry, cherry and cassis notes with supple tannins that make this wine both interesting and approachable now, but also one that can be held and enjoyed over the next few years. $25, available here.
The Saint-Chinian appellation within the Languedoc is known for its schist filled soils that literally can crumble in your hands, allowing old Grenache, Syrah, Carignan and Mourvedre vines to dig deep into the earth to retrieve their required nutrients. Jean-Marie Rimbert of Domaine Rimbert farms 40 different plots of vines centered around Saint-Chinan, particularly around the high elevation village of Berlou, filled with these schist soils.
The Provence born and raised winemaker arrived similar to Magnon, in the new wave of winemakers hoping to change the face of Languedoc wines. At home in Provence he had grown up farming and knew Languedoc was the place he could truly make a name for himself, celebrating the true character of the vines and the unique qualities of the terroir, while farming in a clean, sustainable way.
The region is difficult to farm as it is one of the driest in the Languedoc with low yields, very nutrient poor soils and relative remoteness. But, with these poor soils and a dry climate comes very concentrated fruit with depth, minerality and distinction. Domaine Rimbert Le Mas de Schist is the benchmark wine in his portfolio and one of the best expressions of who he is as a winemaker in the area. Made from hand harvested 40% Carignan, 30% Syrah, 30% Grenache from predominantly 60 year old vines, the wine is filled with black cherry, red berry, savory olive and herbal notes with a hint of dark chocolate on the finish. $24 at East End Wines in Austin, available here.
Also in the region, Chateau Boissezon-Guiraud 106 vineyard acres are filled with loose pebble and gravel soils over clay and schist, adding a depth of character and minerality to their dried herb and black fruit filled, bold wines. Their Chateau Boissezon-Guiraud Grande Réserve melds the typical varieties from the region in a blend to create an intense, aromatic and robust wine, great for pairing with juicy steaks or stews. Black fruit, black licorice, hearty rosemary, thyme and sage rise from the glass, softening as the wine opens a bit. $20, available at Whole Foods.
Other wineries to keep an eye out for from the Languedoc include Domaine Clavel producing wines from throughout the AOC, Domaine de L'hortus from the Pic Saint-Loup region, and from Terrasses du Larzac AOC, overlooking the Herault Valley in the Languedoc, winemaker Marie Chauffray biodynamically farms her high altitude vineyards for her Domaine de La Reserve d'O. With blackberry bushes, woody herbs and aromatic wildflowers mingling with Syrah, Grenache and Cinsault planted in gravely, limestone rich soils, her wines take on an expressive nature, while maintaining an elegant touch and refinement. One of the best known from the region that consistently maintains high quality and distinct character is Bila-Haut by Michel Chapoutier, highlighting the approachability of these wines from Languedoc.
Larger negotiants and cooperatives also thrive in the region, as fertile soils and relatively consistent temperatures allow many varieties to thrive, from the classic Rhone style varieties, to anything from Merlot and Cabernet to Sauvignon Blanc and Chardonnay. Gerard Bertrand and Paul Mas produce wine from throughout Languedoc-Roussillon, and are quite widely available throughout Dallas.
Get the SideDish Newsletter
Dallas' hottest dining news, recipes, and reviews served up fresh to your inbox each week.