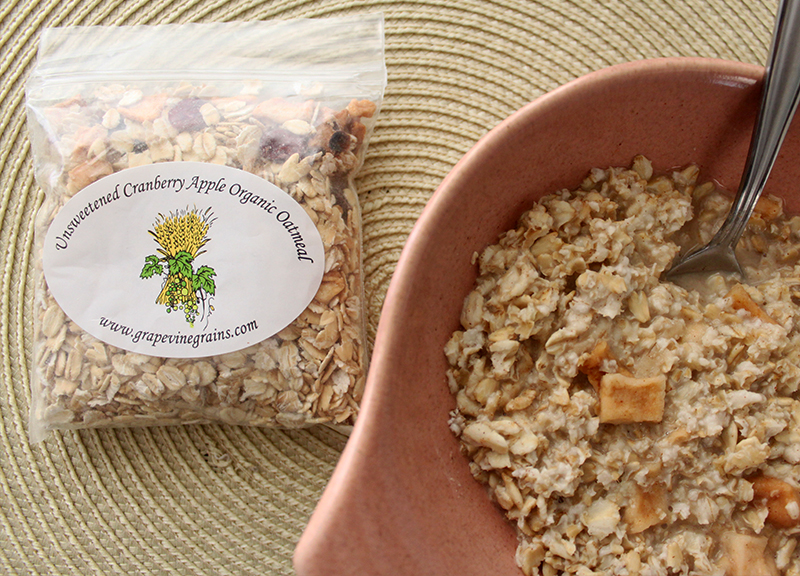 The Localist: Grapevine Grains Organic Oatmeal
Fresh rolled oats.
With school back in session, healthy, quick breakfast options are a must. Grapevine Grains (out of Yantis, Texas) has you covered with a variety of fresh rolled oats. My favorite is their organic instant oatmeal. The oatmeal comes in four different flavors: wild blueberry, cranberry apple, pecan cinnamon, and apple cinnamon. All flavors are unsweetened and contain organic rolled oats, real dried fruit, and/or nuts. They are individually packaged and take only one minute to prepare in the microwave.
The vision for Grapevine Grains began when owner Vickie Smolek spent a stint in England and was exposed to freshly milled grains and rolled oats. In 2008, Vickie and husband Steve began production of their products in a rented commercial kitchen. They first began selling a few items in local farmers markets. Today, the business has grown to numerous products being made in their own commercial kitchen in east Texas and sold in more than 10 locations as well as online.
Their most popular items are Hulless Barley, Ezekiel Soup Mix, and Southwestern Soup Mix. The granolas and fresh stone ground flours are big sellers, too. Visit their website for a full list of products, locations, and recipes.