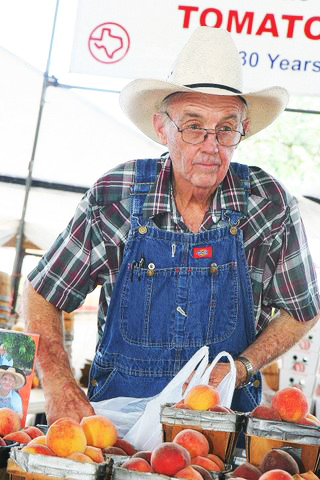 For weeks, rumors about J.T. Lemley of Lemley's Produce and Plant Farm have been swirling around Dallas food circles. Word on the street is this will be his final season selling his wonderful fruits and vegetables at the Dallas Farmers Market.
I stopped by Lemley's kiosk to chat with him and find out if there's any truth to the rumors. "I am so glad you came by to see me," the 67-year-old said, "this has been on my mind." Turns out the farmer, who's been a fixture at the market for more than 40 years, thought he wouldn't be able to return next year. "I sat right there," he said while pointing to a stool at the corner of his booth, "and told everybody that I wouldn't be coming back next year." (Well, that explains the source of the rumors.)
Lemley is having a difficult time transporting his goods up from Canton, Texas each week. "I've been telling everybody that there's no way [I can come back next year], but I think I found a way. The problem is getting the produce to the market." He relies on a team of employees to help him, and as long as they're able to bring shipments of tomatoes, squash, and peaches to Dallas (with or without him), then it will be business as usual at the Dallas Farmers Market.
"Customer input made me make the decision to try everything I can to come back," he explained. We were interrupted three times during our conversation by market-goers, eager to shake Lemley's hand and convey to him how much they love his produce. "I still love to come on the weekends and do what I'm doing now. I got a family on the farm and I got a family here…. I'll try my best to get back here in no time. On the other hand, I still have a nice store [in Canton]."
Lemley's optimism is admirable. Here's hoping his juicy tomatoes will be available at the Dallas Farmers Market next summer.