I've lived downtown for five years. When I tell people this, the very first question they ask is: "How do you get groceries?" My response is simple: "How do you get yours?"
I don't ask it to be facetious. I just like to point out that most of us get our groceries the same way: we jump in the car, drive to our favorite store, get our food, get back in the car, and go home. (And maybe I like being a little facetious.)
But my answer changes on Wednesday as the Whole Foods on McKinney officially opens. It's an easy walk, hop on the McKinney Avenue Trolley, and skip to the front door from my apartment.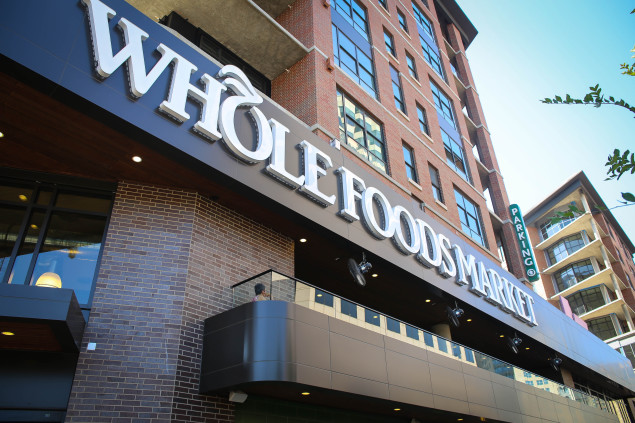 This morning, I and several other media members were invited to take a tour of the store. I got to the Harwood and Federal trolley stop one minute before it arrived. I boarded the wonderfully air-conditioned vessel, and nine minutes later hopped out of my trolley, which just so happened to be wrapped in an ad for Mountain Dew (the antithesis of Whole Foods), and walked into the store.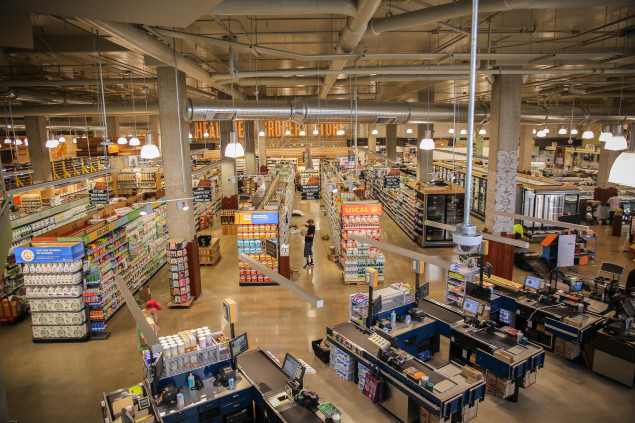 I had no idea how big a role the McKinney Avenue Trolley would play in the Uptown Whole Foods. From the decor around the store to the map near the checkout to the name of their lunch tacos, there are nods to the historic streetline everywhere. This attention to the neighborhood's detail is something the store takes pride in. They worked with such groups as Uptown Dallas Inc. to gather intel on the demographics. From what they garnered: Uptowners like alcohol (thus the 24 taps in their Taproom, which features 19 local and craft beers, four wine taps, and a bourbon barrel-aged cold-brew coffee; growlers; a Firkin keg; and wine that can be chilled while you shop); their "kids" are furbabies, thus the children's aisle with treats, shampoos, and Rescue Remedy Pet (ya know, to relax your dog); and even ice to go with your prepackaged meals. They also had fun naming food items after various Uptown favorites (I'm looking forward to the Katy Kale).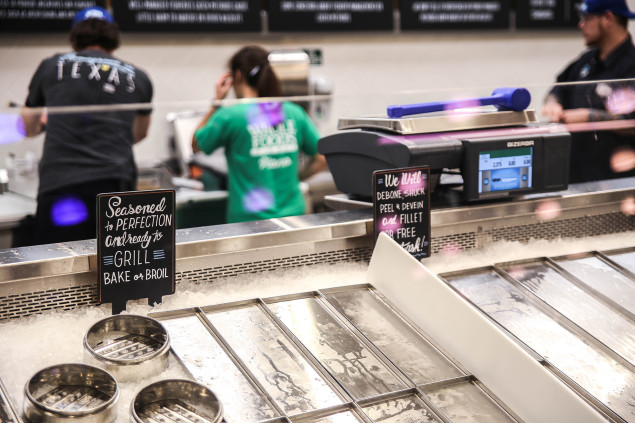 Four years in the making, this store is connected to Gables McKinney Ave., which will offer 239 apartments and townhomes. Resident will have separate parking from the store, but will get the benefit of having poolside service and a special take-out menu. Move-in begins this month.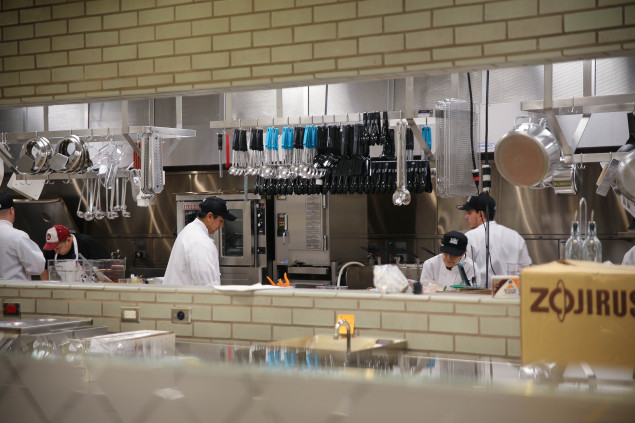 Whole Foods says it has already improved the Walk Score of the neighborhood. They have bike racks, a bike repair station, and an electric car changing station. They tried to reduce their carbon footprint, as well as their shoppers'. They reclaimed as many trees on the lot as they could by moving them to new homes at Griggs Park. Others were stripped down and found their way into the store.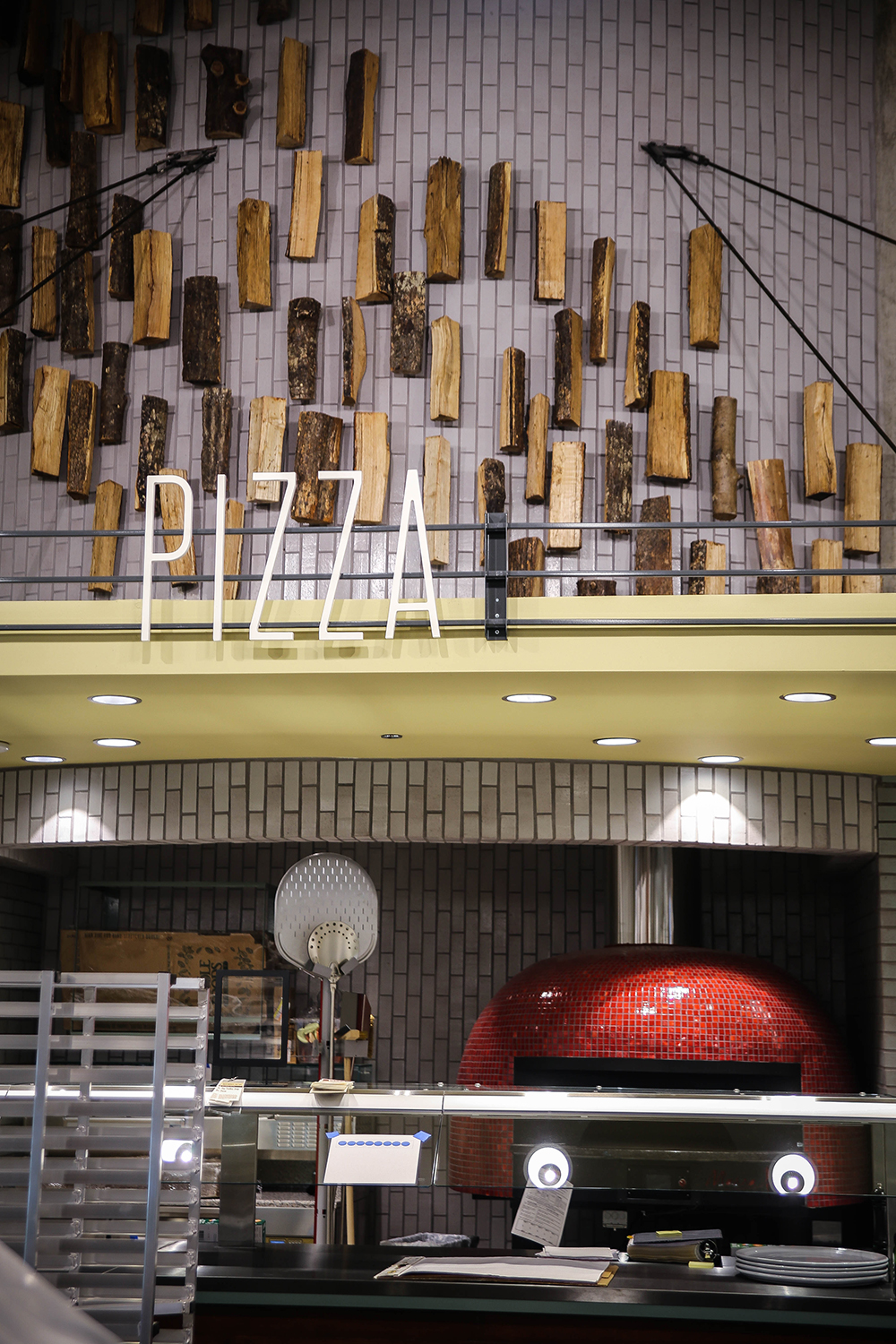 The store carries the usual: the bulk aisle, a robust bakery with a local cupcake baker, and a pizza island. The butchers and fishmongers will be on hand to season, steam, and portion your meats. There's a smokehouse bar, and a Strada espresso machine. And, somehow, it will all be ready by Wednesday (I don't envy anyone there—they have a long weekend ahead of them to get ready.)
As I left the store, I realized I (or, more specifically, my bank account) am in trouble. And now, when someone asks where I get my groceries, I can tell them I hop on the trolley and ride to Uptown—sounds less facetious.
Whole Foods is located at 2510 McKinney Avenue and opens to the public on August 12.
Get the SideDish Newsletter
Dallas' hottest dining news, recipes, and reviews served up fresh to your inbox each week.