Summertime is the ideal season to enjoy fragrant, fresh wines. Here are a few international options, that may not be your normal go-to white wines, but will make you a believer in trying something new. (A few selections were sent for editorial consideration.)
The Chenin Blanc varietal is one that can often be confused. Most believe the fresh and fruity grape will always produce a sweet wine, and it can. But, it can also make steely, mineral intense, fragrant wines, and when made well, they are the perfect wine for summertime. Remember if you are buying a French version and like it dry, look for the word "Sec" on the bottle.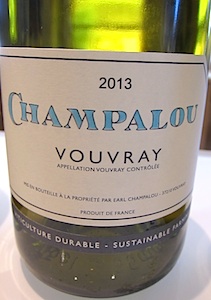 In the center of the expansive Loire Valley in the Touraine region are Vouvray and Saumur, with warm continental summers, helping this variety shine, whether it be in a sweet or very dry style, as a still wine or a bubbly. Champlou is a family owned and operated winery in Vouvray, producing Chenin Blanc of all styles. My favorite is their still, very dry, Champlou Vouvray Sec, hand picked from vines that are an average of 35 years old, fermented using native yeasts in stainless steel and left on the lees (yeasts) for 11 months. The process adds texture and depth to the wine, grown in mineralic clay and limestone soils, while keeping the wine fresh and luscious thanks to the use of stainless steel. Lovely, fragrant and refined, filled with white flowers, golden and green apple and passionfruit. $20, available at Total Wine & More.
The history of Chenin Blanc in South Africa dates back to 1655, when the variety, then known as Steen, was used in making brandy. Today, the variety continues to thrive in the region, though now with the dry style growing in interest and popularity within South Africa, but also all over the world as the 8th largest wine producing country continues to define who they are, championing the use of old vines, producing wine with great concentration.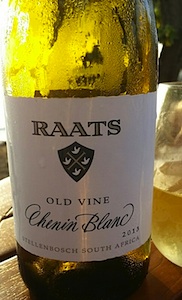 Winemaker Bruwer Raats has made it his mission to celebrate his country's favorite, and most planted white, variety (almost 20% of all the white wine planted in South Africa.) His Raats Old Vine Chenin Blanc benefits from warm summer temperatures allow fruit to fully ripen, without the fear of noble rot developing due to pre-harvest freezes or frost. With vines averaging 45 years in age, from a combination of soil types near Table Mountain, including sandstone and granite, Raats is able to create a complex wine that is unlike many Chenin Blanc options I have enjoyed throughout the years, as the old vines bring intense concentration for a refined, complex, balanced wine, that is also very fresh and lively, melding both bright acidity and rich, honeyed flavors mingling with hints of green fig, ripe pear, honey and spiced ginger. $25, available at La Cave.
A fragrant, rich and luscious white blend with a Chenin base is Mullineux. Made from 80% Chenin Blanc, 13% Clairette Blanche, and 7% Viognier, the hand picked, old vine fruit, that is grown in schist and granite filled soils, is fermented entirely on native yeasts in large oak foudre, traditionally used in the Rhone for fermentation and aging. After fermentation the wine is left on the lees (yeasts) for 6-10 months, adding depth and texture to the wine that melds floral, spice and orchard fruit notes with wet stone, mineral and soft herb notes. $30, available at Put a Cork In It in Ft. Worth, or available here.
From the Swartland appellation of South Africa, the Badenhorst Family is dedicated to making traditional wines in a natural way. Growing old bush vines on their 70+ acre farm, cousins Hein and Adi Badenhors created elegant, expressive, fragrant wines, like their Badenhorst Secateurs Chenin Blanc. Aged on the lees in concrete tanks, the wine has intense minerality, complimenting rich honey, peach and candied ginger notes. I had this at The Grape Restaurant, where Sommelier/Co-Owner, Courtney Luscher, is pouring it by the glass, it is also available at Wine.Com for $15 bottle.
Though many of the varieties that grow throughout the Languedoc region of France came from someplace else, white Piquepoul is best known for its home of Picpoul de Pinet, in the Languedoc right by the Mediterranean Sea. With 75% of the white Languedoc AOC wines, Picpoul de Pinet's production is the largest and best known in the region. Tasting like a combination of citrus and the sea, the slightly briny, lemon-lime, grapefruit, soft herb and wild flower filled wine is ideal with shellfish, like fresh oysters from the Sea. Two solid producers that are both easy drinking and inexpensive are Gerard Bertrand Picpoul de Pinet Grand Terroir, about $14 available at Goody-Goody stores and Domaine Felines Jourdan Picpoul de Pinet, available at Wine Poste for $13. The Felines Jourdan is especially fragrant, with herbal, anise and white flower aromas, great for summer.
Austria's favorite white, Gruner Veltliner, has become quite loved across the United States, especially for those enjoying a little bit of wine with their Sunday brunch as the light, easy drinking style pairs perfectly with lunchtime dishes, with great acidity cutting through rich egg dishes, or melding with summer salads. Domane Wachau is one of the largest cooperatives in Austria, located in the Wachau region, focused on high quality and refined processes to ensure the best wines are produced from their extensive membership. Vineyards sit on steep terraces, in soils filled with mineral intense quartz, mica and feldspar. Domane Wachau Grüner Veltliner Federspiel is filled with orchard and stone fruits, like golden apple, apricot and ripe peach, melding with steely minerality. $16, available at Total Wine and More.
Another floral offering is Torrontes, the favorite white of Argentina. Filled with aromas of jasmine and orange blossom, followed by juicy orchard and tropical fruit, the fresh wine melds well with spicy Asian or Thai cuisine. Alamos, from producer Catena, is an affordable Torrontes option that consistently delivers. Pineapple, pear and ripe grape flavors fill the palate, and though the wine is juicy, there is a nice balance of acidity thanks to the cool evenings of Argentina's high elevation Salta region, cooling off hot summer days to ensure the wines remain fresh. $11, widely available at grocery stores throughout Dallas or at Wine.com.
Müller-Thurgau made its wine mark in Germany, but the variety also thrives in the high elevations of the Italian Alps, in the Alto Adige region, where cool nights help ensure the acidity in the grapes is maintained, creating vibrant, delicious wines. Abbazia di Novacella and Tiefenbruner are both favorites from the region, elevating the fragrant variety, filled with green apple, lemon-lime and tangerine notes. Both retail around $25, Jimmy's and Wine Poste.
Vinho Verde White, fresh and young white wine, the name just says summer. Casal Garcia's sister winery, Aveleda S.A. has been producing this favorite white wine of Portugal since the 1870's when the still family owned winery was established. In 1939 they established Casal Garcia. Though both are stand outs in the fresh, youthful wine category, Casal Garcia has risen to be the top selling Vihno Verde in the world. Their Casal Garcia White Vinho Verde blends Trajadura, Loureiro, Arinto and Azal together for a refreshing wine, with a hint of fizz, light alcohol (about 10%) and zesty citrus flavors, great for warm weather enjoyment, even if you are on a budget. $6-$8, available at Total Wine and More.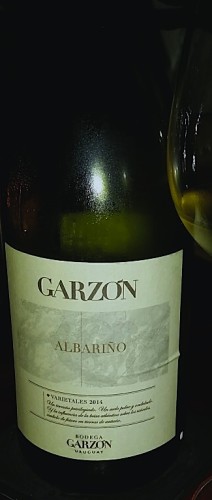 Though Albarino is becoming quite popular all over the country, it is usually for their fresh, delicate and delicious options from Rias Baixas, Spain. I had one the other evening from an unexpected source, Uruguay. Bodega Garzon elevates elegant Albarino, made from sustainably farmed fruit from vineyards located just 11 miles from the Atlantic, to ensure ripe fruit maintains freshness, creating a sunshine filled wine layered with lemon peel, crushed stone and white flowers. $20, available here.
Though Chardonnay is not an unusual variety, in the world of Chardonnay there are many options with flavors that range from tropical to stone to orchard fruit, but some placed capture the essence of the fruit beautifully. In Argentina, the beloved white wine thrives, especially when planted in cooler, higher elevations, keeping the wines fresh and balanced. Trapiche Broquel Chardonnay vines sit at 4,100 feet elevation in Medoza's Uco Valley. Though juicier than some of the wines from Burgundy, they tend not to be as rich as many California options, making this balanced wine, filled with baked apple, pear and spice, a lovely wine to pair with grilled chicken, fish or creamy cheese. $20, available at Dallas Fine Wine & Spirits.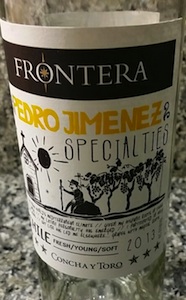 Frontera, from Chile's Concha Y Toro portfolio, has recently released a new line of wines, Frontera Specialties. The brand is dedicated to celebrating nontraditional, somewhat forgotten, varieties, ensuring their history is maintained and appreciated. Their Frontera Specialties Pedro Jimenez, not to be confused with Spain's Pedro Ximénez, traditionally used in the making of Sherry, is fresh, lively and juicy. This New World variety, that is often used as the base wine in Pisco, balanced citrus notes, like ripe grapefruit, meyer lemon and tangerine with a touch of apricot and mango for well rounded wine with interest and appraochability. $11, available at Goody-Goody stores.
Ugni Blanc, or Trebbiano, and Colombard are two of the most widely planted varieties in France, and around the world. The Ugni Blanc, the French version of Trebbiano, is used as a base for Armagnac and Cognac, as the high yielding, high acid wine transforms beautifully into the beloved brandy from the country. The southern region of Cotes de Gascone, or Gascony, near the Pyrenees Mountains, is filled warm summer days, tempered with cooling breezes off the Atlantic Ocean, to create wines that are juicy and fresh. Domaine de Pouy and Domaine du Tariquet both have fresh options, blending a Ugni Blanc and Colombard, some with an additional touch of Sauvignon Blanc or one of the other light white varieties grown in the region, like Gros Manseng, for a crisp, zesty, thirst quenching wine with balanced, but apparent, acidity. These wines are summertime in a glass. Meant to be enjoyed young, the wines are perfect to start an evening, as the bright acidity will wake up the palate and prepare it for the night ahead. Around $15, available at Central Market stores throughout Dallas.
Get the SideDish Newsletter
Dallas' hottest dining news, recipes, and reviews served up fresh to your inbox each week.