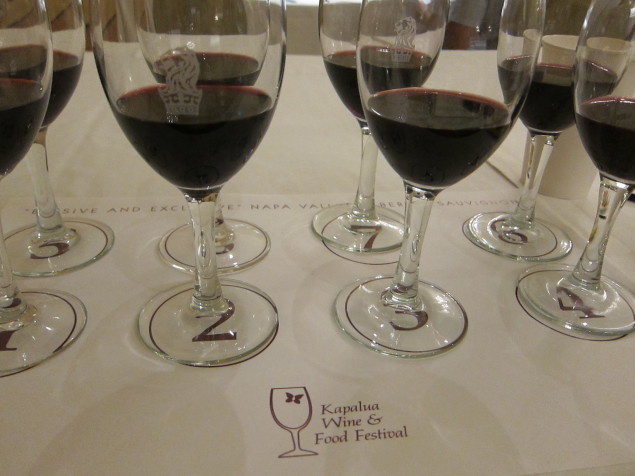 The story behind the wine is often what draws me in. More specifically, understanding the drive that goes into crafting each and every bottle. This story is often found in the winemaker as well as the winery owner, and especially when they are one in the same. I had a chance to chat with a few of the best from Napa, Sonoma, and Willamette Valley recently while attending the 34th annual Kapalua Wine and Food Festival on Maui, Hawaii, visiting as a guest of the festival. These winemakers, in addition to a dozen or so more, were a part of this annual event.
It's the oldest wine festival in the United States, celebrating premium wines paired with local Hawaiian fare at the Ritz-Carlton Kapalua and Kapalua Resorts. Four California favorites, for both their wines and their stories, were Christopher Carpenter from Cardinal/Lokoya, Philippe Melka/Melka Wines, Mia Klein/Selene and Pam Starr/Crocker & Starr.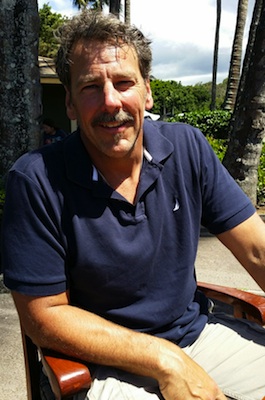 Chris Carpenter's path to Napa was bit unlikely. The mid-westerner found himself in Chicago after graduating from the University of Illinois with a degree in biology. Though medical school was the appropriate path, knew he it wasn't for him, so instead he got a job working for a company selling medical supplies, attending grad school to earn his MBA at the University of Illinois, Chicago, and tending bar at night.
Great things can happen in a bar, as it was here that he started to learn about wine, tasting with other industry folks throughout growing Chicago restaurant scene. On a whim he visited wine country while on vacation in San Francisco, and was hooked. The creativity of wine, melding with the science, and the ability to be hands on from vine to glass was intriguing, along with his love for the restaurant industry and hospitality side of the business.
In 1995 he moved to California and enrolled at UC Davis, focusing on the viticulture side of wine, as well as enology. After an internship with Antinori at the Santa Christina Estate in 1997 he returned to California to find a job. In 1998 he was at a job fair and met Marco DiGiulio, winemaker for Pepi Lokoya wines. The two bonded over a love of Foradori Teroldego, a red variety from the Trento region of Italy, and John Coltrane. He was hired on as enologist in 1998 for Pepi Lokoya and Cardinale, promoted to Assistant Winemaker in 1991, and Head Winemaker in 2001.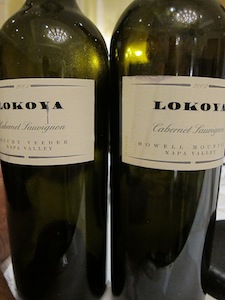 Carpenter has a few philosophies on wine, first it is all about the vineyard. In order to make great wine you have to have great land, and you have to respect the unique voice of each appellation. For winemaking, you need to keep it simple, keep your hands off and let the vines do their work. Luckily, he has found in working with Jackson Family Wineries, owners of Cardinle and Lokoya, they trust him and his philosophies, helping them make these two wines a part of their their premium Spire Collection Portfolio shine. And he trusts them to ensure that he has the best fruit possible to work with from the mountain AVAs of Napa Valley, either through their estate vineyards on Howell Mountain and Mt. Veeder, or from long term contracts on Spring and Diamond Mountains. Each mountain vineyard is expressed individually in the wines of Lokoya, and blended to create Cardinale wine, highlighting the very best of Napa Valley mountain fruit Cabernet.  Carpenter never lost his love for working behind a bar also, he is still tending bar once a week at Rutherford Grill in Napa Valley.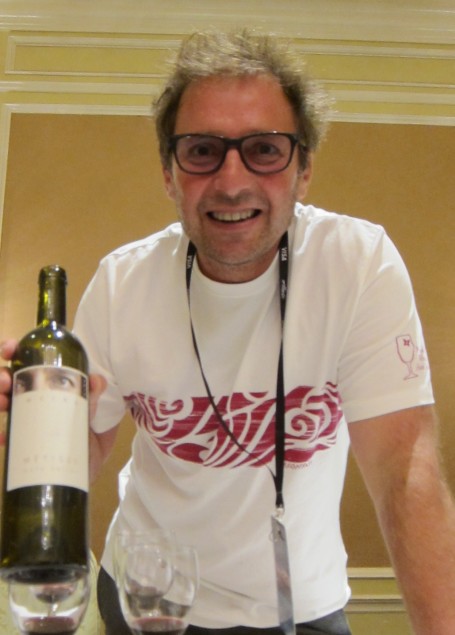 Though his heart is in the vines, you can certainly say Philippe Melka's spirit sits squarely anywhere he can see blue ocean waters that satisfy his surfing spirit. The frequent participant in the Kapalua Wine and Food Festival comes back to the Hawaiian islands to enjoy a bit of down time, always with his beautiful wife and Melka Wines partner Cherie, and often with his two kids.
From an outsider looking in on his life he is one busy winemaker who needs the downtime and tranquility of the Hawaiian Islands. In addition to running his successful Melka Wines with Cherie, he is the winemaker or consulting winemaker for some of the finest wineries in Napa, including Dana, Lail, Brand, Vineyard 29 and a half a dozen more.
But to talk to the enthusiastic Frenchman, so full of life and interest, you would think he doesn't have a care in the world.
Growing up in France, graduating from their University of Bordeaux with a degree in Geology, Philippe had an interest in wine, but only recreational. In his final year of school he took a wine course that changed his path, moving on to complete his Masters in Agronomy and Enology. Traveling the world early on in his career, with stops working at Chateau Haut Brion, Dominus Estate, Chittering Estate in Western Australia, Badia a Coltibuono in Tuscany, and Chateau Petrus, his focus was always on the way that soil affected the vines, changing the character of a wine. After years of moving, he finally settled in Napa Valley full time, choosing the region because the differences in each distinct soil types, changing the flavor profile of his beloved Cabernet Sauvignon grape. It may also be why he has chosen over the years to consult for so many different wineries, as he is able to craft very distinct and unique wines for each winery, due to their different locations and soil type.
After several years only consulting in Napa, Philippe and Cherie started Melka Wines, using both fruit from vineyards they acquired as well as establishing long term contracts with some of the best growers in the region. With the goal to go beyond great, settling only for outstanding, they started out very small, initially starting with a few hundred cases. In their first vintage, 1996 Melka Metisse showed his love for Bordeaux with a proprietary blend of 40% Cabernet Sauvignon, 30% Merlot and 30% Cabernet Franc.
Melka Metisse Jumping Goat Vineyard Cabernet Sauvignon, from their estate home in St Helena is their benchmark wine based with Cabernet, while also blending in traditional Bordeaux varieties for an earthy, robust wine licorice, leather and wild flower notes melding with black fruit.  Melka CJ Cabernet blend pays homage to Chloe and Jeremy, the Melka's children. Also made since 1996 when their children were babies, starting out with just 200 cases. As the children have grown, the wine has grown, though still relatively small production melding a Cabernet Sauvignon base with traditional Bordeaux varieties for a dark cherry, toffee and spice filled wine. The wines are available via their website by allocation.
Another frequent visitor to the Kapalua Wine and Food Festival, Mia Klein, owner and winemaker for Selene in Napa Valley, thought she wanted to be a chef. Working at her first restaurant job, however, changed her path as she fell in love with the grape after sampling bottles left over by customers. The UC Davis grad in Enology speaks highly of her mentor, Professor Ann Noble, inventor of the wine wheel, and the education she recieved. But, she also notes that until she got her hands in the soil, working with the grapes and taking the process through from vine to tank to barrel to bottle, she didn't really know how much she would love making wine.
Her first job, working for Cathy Corison at Chappellet showed her this. Along the way, while working her way up from cellar to Assistant Winemaker to Winemaker at Chappellet and Robert Pepi, she began consulting, working for some of the biggest names in Napa, including Spottswoode, Araujo, Viader and Dalla Valle.
She also started her label, Selene, shortly after starting to work as a consultant. Named after the mother goddess of the full moon in Greek mythology, Selene captures Klein's personal expression of the fruit, and gives a nod to the importance of understanding the moon and its phases. Her first vintage was 1991 with her Merlot, followed by her Hyde Vineyard Sauvignon Blanc.
In 2002 she introduced my favorite, her Chesler Cabernet Franc based blend, honoring her vibrant mother, shown waterskiing in a photo from the 1940's on the label. Through her Selene winery and still consulting for small productions, high quality wineries, like Bressler Winery in St. Helena, she is able to do what she loves each and every day, make wine.  Her Selene wines are available via her website.
Pam Starr is feisty and funny. Two very good qualities as she came up in Napa Valley in a time when women winemakers were even more of a minority than they are today. She is also deeply passionate about her job of making wine. Quite matter of factly, the winemaker with 32 harvests under her belt refreshed the famous Robert Frost quote to say "Wine is bottled passion, not poetry," as it takes true devotion, love and passion to do this job day in and day out.
The UC Davis grad in Fermentation Science, who studied with Mia Klein and developed a friendship that has spanned their 30+ years working in Napa Valley, began her career at Sonoma-Cutrer as intern before going on to what she thought her next phase would be, dental school.  Her start, as the then luxurious winery was being built, also introduced her to the lifestyle of wine. Though she may have been washing barrels and cleaning tanks by day, it was in the midst of elegance and refinement, as then owners had clear Champagne wishes, and a lifestyle filled with private planes, expensive cars, and lots of golf and tennis.  Beyond that, there are a mystical magic to wine, something that takes hold of you and, if you get it, is a love affair that will last a lifetime.
She was hooked. Abandoning dental school plans, she went on to work for Edna Valley Vineyards, then to Carmenet. After seven years there, she accepted the position of winemaker at Spottswoode, where she had a chance to work with Klein during her time as their consulting winemaker.  In 1997 she began Crocker & Starr after convincing Charlie Crocker to join her in creating their own brand, resurrecting the historic Crocker Vineyard Estate in St. Helena.  Though she has a lot of spunk, her wines have subtlety and refinement that I gravitate towards, especially when mixed with such beautiful St. Helena fruit. She has a love of Cabernet Franc as well, bringing out the fresh floral notes of the Right Bank variety, helping it shine in Napa Valley.
Starr loves wine. The actual making of it, beyond the lifestyle, has kept her curious and enthusiastic. Her love of the grape flows out of every breath speaks on the subject. It is obvious that she adores the process capturing all of that mystery, magic and love.
She is also always learning, always trying, and always buying. She firmly believes that wine is meant to be opened, tasted and enjoyed, not held for a special occasion you never know will come. Starr believes that the only way to truly understand a wine, a vineyard, a region, a producer is to taste. Maintaining an adventurous spirit, celebrating that wine is a living, breathing thing has kept her enthusiastic and driven, excited about the possibilities lying ahead.  Her Crocker & Starr wines are available via her website through allocation.
Get the SideDish Newsletter
Dallas' hottest dining news, recipes, and reviews served up fresh to your inbox each week.