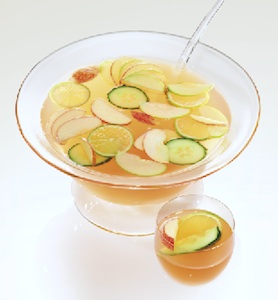 Happy 4th of July! Barbecue, picnics, sunshine and pool time are in order this weekend. As you are planning for your festivities, don't forget the cocktails. Here are a few ideas to ensure your celebration is the best party on the block. (A few samples were sent for editorial consideration.)
As American as apple pie, American Bourbon whiskey sings of independence. A few excellent selections from right at home, like Herman-Marshall, Garrison Brothers, Balcones, Firestone & Robertson and Ranger Creek, will keep the Texas pride strong, while celebrating America.
The oldest bonded whiskey distillery in the United States dates back to 1866 when Jack Daniels registered their distillery with the federal government, making history in its present location. It continues to be one of the best from Tennessee, this year celebrating that pride with a very American cocktail that includes their Jack Daniels Tennessee Fire Whiskey, a blend of Jack's original red-hot cinnamon liqueur with Jack Daniel's Old No. 7 Tennessee Whiskey. $24, available at Spec's.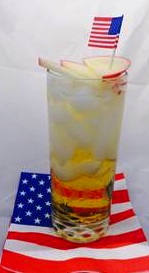 FIRE IN THE SKY
1 1/2 oz Jack Daniel's Fire
1 oz Apple Juice
Ginger Beer
Apple slices for garnish
Preparation: Shake Jack Fire with apple juice and ice. Strain over fresh ice into a Collins glass. Top with a mild ginger beer. Garnish with apple slices and fun 4th of July decor.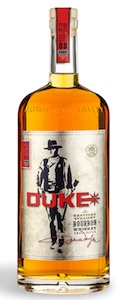 Perhaps no other actor was as much of an American patriot than "The Duke" himself, John Wayne, and he loved a good American whiskey, hoping to one day create his own. Several years ago, Wayne's son, Ethan, partnered with Jayson Woodbridge and Chris Radomski of Hundred Acre Wines, and Richard Howell to create the iconic spirit. The DUKE Bourbon is 100% Kentucky Straight Bourbon created in small batches with the commitment to preserve the legacy of John Wayne. Though it can be enjoyed as an addition to cocktails, like when mixing with lemon juice and superfine sugar for a DUKE Sour, or just pour a dram over ice and enjoy. $35, available at Spec's & Sigel's. And don't forget, the John Wayne Film Festival returns to Dallas September 24. Details here.
A classic cocktail named for the greatest city in New York, a Manhattan will welcome you day or night. Mix one up with a favorite spirit from the state, Manhattan Rye from Hudson Whiskey. Made from handpicked rye, with almost everything else used to make their whiskey sourced from within 10 miles of the distillery. This small batch, American made product is sweet and spicy, earthy and complex, and very smooth.
MANHATTAN
2 ounces Manhattan Rye whiskey
1/2 ounce sweet vermouth, like Carpano Antica Formula
2-3 dashes Angostura bitters
Maraschino cherry for garnish
Preparation: Add ingredients to an ice filled shaker. Stir continuously for 30 seconds. Strain into a martini glass and garnish with a cherry.
Another classic that sings of summer is a lime daiquiri, served frozen or on the rocks, showcasing sugar cane based rum. Brugal is one of my favorites for its clean taste and refined character. From the Dominican Republic, Brugal Extra Dry is an oak aged white rum that is smooth, clean and delicious. Though it is made from a blend of rums that has been aged in oak for 2-5 years, it is filtered to be completely clear, however the sweet sugar cane, along with notes of vanilla, caramel, coconut and pear remain, making this an ideal partner to your favorite rum cocktail, or serve simply with a sprig of mint, a squeeze of lime and club soda. $22, widely available throughout Dallas spirits stores.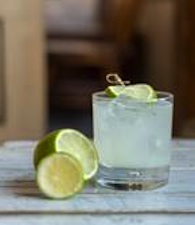 EXTRA DRY DAIQUIRI
2 oz. Brugal Extra Dry Rum
1 oz. Fresh Lime Juice (approximately one lime)
¾ oz. Simple Syrup (equal parts sugar/water)
*Personalize by adding ingredients (strawberries, blueberries, jalapenos, ginger or basil) to shaker
Preparation: Shake all ingredients with ice and strain into a rocks glass with a scoop of shaved ice. Garnish with a lime wheel.
The origin of Sailor Jerry Spiced Rum was in Hawaii, when, during WWII, navy officers would visit Norman 'Sailor Jerry' Collins to get American tattoos. The caramel and spice filled spirit is donating a portion of every bottle sold to the Aleethia Foundation, a veteran's charity supporting wounded/injured/ill service members in their rehabilitation and healing process.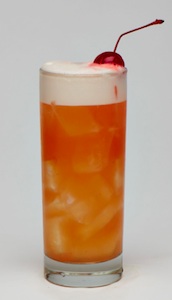 CHERRY JERRY
2 parts Sailor Jerry
2 parts pineapple juice
Dash of grenadine
Garnish: cherry
Preparation: Shake Sailor Jerry, pineapple juice, grenadine and pour into ricks-filled highball glass. Garnish with cherry.
Did you know that July was National Blueberry Month! The perfect little all American fruit, that is good for your heart and health, is also quite tasty in cocktails mixed with vodka or gin. I love The London No 1 Gin from Gonzalez Byass for its fresh floral and citrus flavors, enhancing the juniper and spice note of a classic gin with a true blue color, thanks to the addition of iris flowers with the botanicals. Floral and fresh Bombay Sapphire East is another excellent option for crafting into cocktails. $28-$35, available at Spec's.
BLUEBERRY GIN BREEZE
1 1/2 ounces The London No 1 Gin
1 ounce St Germain Elderflower Liqueur
½ ounce simple syrup
Juice of ½ lemon
5 blueberries + more for garnish
Sprig of mint
Club soda
Preparation: Add lemon juice, mint and 5 blueberries to a shaker and muddle to break down the fruit. Add ice, gin, syrup and St Germain. Shake until cold and strain into an ice filled rocks cocktail glass. Top with club soda and garnish with a few berries.
Mix it up a bit with a Brazilian favorite with blueberries. Cachaça is Brazil's favorite spirit, made from pure sugar cane syrup and filled with sweet vanilla, apple and herbal notes. One of the most popular, and largest selling brand is Cachaça 51, which focuses on creating a clean, sustainably conscious spirit, that truly captures the flavor of Brazil. $20, available at Goody-Goody stores.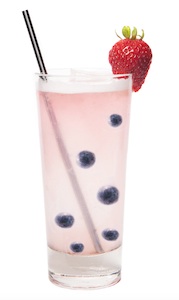 BLUEBERRY COLLINS
2 oz Cachaça 51
3/4 oz fresh lemon juice
3/4 simple syrup infused with hibiscus
3 to 4 blueberries
Preparation: Add ingredients in a shaker tin and shake with ice well. Pour over ice in a Collins glass and top with cold seltzer water. Drop a few blueberries in the glass for garnish.
If vodka is your go to spirit, Deep Eddy Vodka continues to delight with their flavored vodkas that maintain authentic fruit flavors without moving over to the cloyingly sweet side. Their latest, Deep Eddy Real Lemon Vodka is the perfect addition to a blueberry and lemon thyme filled cocktail. $20, widely available at most liquor stores throughout Dallas.
BLUEBERRY THYME SMASH
2 ounces Deep Eddy Real Lemon Vodka
5 blueberries
2 sprigs fresh thyme
½ ounce simple syrup (optional)
Club soda or Sprite
Preparation: Add blueberries and thyme to a shaker and muddle, then add ice, vodka and syrup (if you are using, I think the flavor of the vodka stands on its own and doesn't need the additional sugar, but mix to your taste.) Shake and strain into a rocks glass. Top with soda.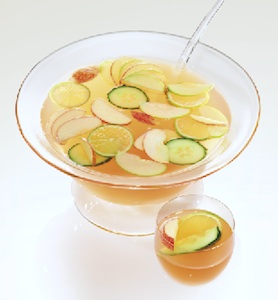 Some may think a cognac is only for our parents to sip after dinner. However, Courvoisier is proving the brandy, that is believed to have been the favorite cognac of Napoleon, is also a great base for elegant and refreshing cocktails. This one is perfect for a crowd. $32, available at Spec's.
COURVOISIER SUMMER PUNCH
250ml Courvoisier® VS Cognac
750ml Lemonade
20 dashes Angostura aromatic bitters
3 orange wheels
6 lemon wheels
Preparation:  Add the freshly cut fruit into a bowl or pitcher, pour in remaining ingredients. Infuse for a few minutes. Serve on ice.
Cava is a great base for sparkling cocktails. Crisp, light and refreshing, with great acidity to keep it from being too fruit forward, and often very affordable. I am a fan of Segura Viudas, made in the method champanoise style with the traditional grapes of Spain, Macabeo, Parellada, and Xarello, and costing around $10 a bottle. It, along with sister company, Freixenet, have been crafting cava in their home of Penedès, in Catalonia, Spain for generations, with Freixenet's history dating back to 1911. Both are widely available throughout Dallas, retailing for around $10 a bottle.
FIZZY SUMMER SORBET
1 bottle Freixenet Cordon Negro Brut Cava
Raspberry sorbet
Fresh raspberries
*Champagne coupes
Preparation: Place one scoop raspberry sorbet into glass. Top with Cava and garnish with 2 raspberries, or berries of your choice.
SPARKLING SANGRIA
1/2 oz. simple syrup
1 orange quarter
1 lime quarter
1/2 oz. Cointreau
1/2 oz. apricot brandy
3-4 oz. Segura Viudas, chilled
2 oz. lemon-lime soda, chilled
1 maraschino cherry
Preparation: Muddle fruit slices in a shaker cup with simple syrup. Add Cointreau and brandy with ice. Shake, then strain into a cocktail glass. Add soda and top off with cava. Drop in cherry or secure to an orange wedge using a toothpick, to decorate the rim.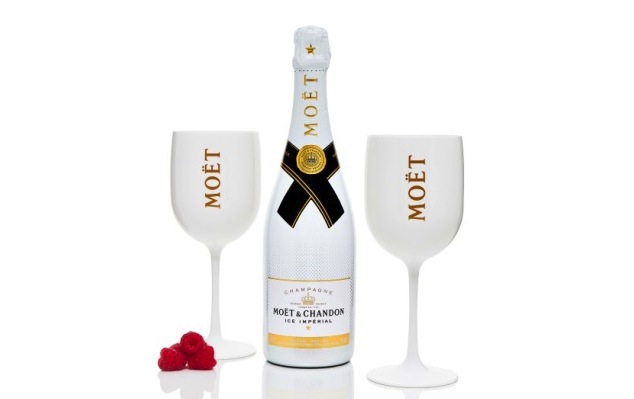 Prefer to drink your bubbles on their own, Chandon and their parent company, Moet & Chandon have two festive options sure to be the life of the party. Moet & Chandon recently released their Ice Imperial, a lively Champagne designed to be sipped over ice, often with the addition of fresh berries, citrus and herbs. ReserveBar.com has a special offer on the bottling that includes two two signature Moet goblets and a bottle of the Imperial Ice for $75.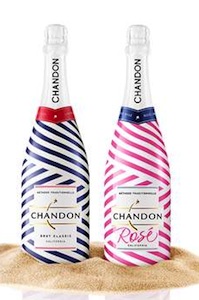 Prefer something a bit drier, then celebrate with the 2015 Chandon American Summer Limited Edition Brut and Brut Rosé, decorated in blue and pink nautical stripes. This is the first year they have added their berry and citrus filled Brut Rosé to the summer party, as they had kept it very red, white and blue in the past with the Brut. With the love of Rosé growing they have designed a special bottle for the summer adding a little bit of pink and a little bit of pop to their packaging. Both will be available through the summer at select Kroger locations, retailing at $22-$24 a bottle.
Get the SideDish Newsletter
Dallas' hottest dining news, recipes, and reviews served up fresh to your inbox each week.