There are many opportunities, both in Texas and around the country, to attend a wine and food event. Aspen Food & Wine is well-loved, and attended. South Beach, Palm Springs, Auction Napa Valley, Uncorked Las Vegas, our own Raiser Grazer, Cotes du Coeur, Texas Wine & Food, Savor Dallas, each deliver on satisfying the wine-lover and food enthusiast's appetite.
But no event has quite the backdrop as the island of Maui at Kapalua Resort for the Kapalua Wine and Food Festival, this year benefiting the Maui Culinary Academy. I have been spending some time in Hawaii, and so was able to attend this year's event as a guest of the festival and the AAA Five-Diamond Ritz-Carlton Kapalua Resort.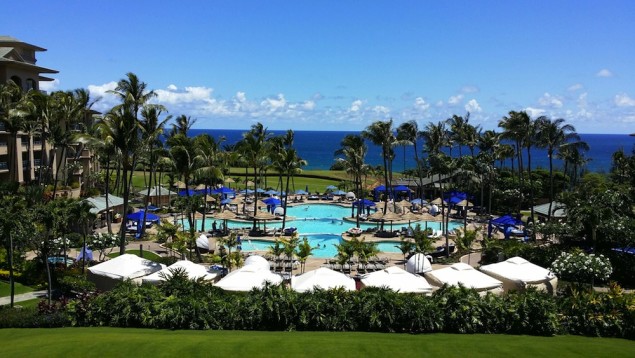 In the 34th year, Kapalua Wine and Food Festival celebrates its place as the oldest of its kind in the country (yep, even older than Aspen). The festival started as an opportunity to showcase high quality wines paired with local cuisine, and to help bring awareness to the local produce and products of Hawaii.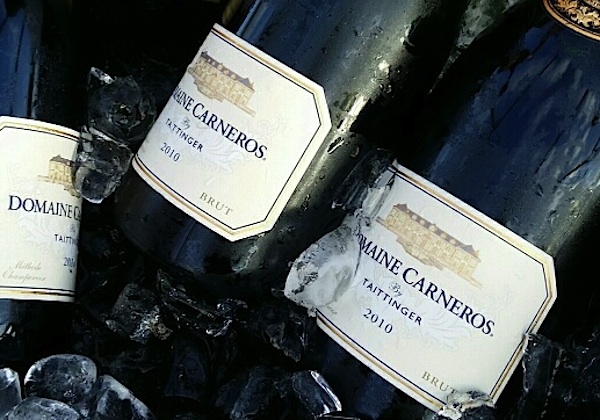 You must detach from the noise of everyday in order to put yourself in the "island frame of mind." Hawaii helps with this as the "aloha spirit" is inviting and the urge to join the o'hana (which means "family" in Hawaiian) resonates with all those who are welcomed. This festival is one of the most loved amongst chefs and winemakers who continue to return year after year, making it a bit of an annual homecoming as well.
Today the festival draws guests from all over the state, country, and beyond, joining together for four days of events showcasing premium wines, mostly from the West Coast, paired with gorgeous Hawaiian produce, showcased flawlessly by the Kapalua Resort and the Ritz-Carlton Kapalua.
With winemaker tastings, chef luncheons and dinners kept small and intimate, guests are able to have unique experiences, learning from the masters in their craft through one-on-one session discussions, or simply by running to guest chefs and winemakers at the pool or while relaxing on the grounds.  I have been a fan of Chef Charlie Palmer for quite some time, so having a chance for a quick chat about our mutual love of the island in the bar before one of the Women's World Cup games was easy in this atmosphere.
Over the years chefs like Gary Danko, Ming Tsai, Roy Yamaguchi, and our very own Chef Dean Fearing have attended, leading cooking demonstrations and hosting winemaker dinners featuring the island products. This year was no different with award winning Chefs Michael Mina and Charlie Palmer entertaining guests at their well attended cooking demos, pairing local fare with wines from Kosta Browne for Mina's event and Daryl Groom Wines for Palmer's luncheon.
Much like a winemaker, returning Chef Mina noted throughout his butter filled luncheon that it is all about balance in his cooking. Though very rich, the seafood focused dishes delicately wove flavors together, showing how a touch of fish sauce or miso had the ability to round out a dish, creating that balance.
Though the food and chefs are outstanding, the real star of the festival is the wine. From the beginning, the festival had help from some heavy hitters in the wine industry, including Robert Mondavi at its start, who along with, Eric Hansen, sommelier at the time at the original Kapalua Bay Hotel, crafted the original idea for event and calling it the Kapalua Wine & Food Symposium. In later years, Mater Sommelier Fred Dame became Host/Master Sommelier, helping ensure the quality and caliber of wines being poured, and winemakers attending, equaled the incredible food products of the islands.
Happily, that tradition continues at the hands of Master Sommelier Michael Jordan, Director of Key Accounts for Jackson Family Wines. Jordan captures everything that is welcoming about this culture. Cool and casual, sporting a Hawaiian shirt and sandals, without being a gimmick, he makes sure that each event is one to impress, teach and celebrate Kapalua.
Born and raised on Maui, though now living in California, Jordan has been involved with the festival for 15 years, stepping into the role of Host/Master Sommelier in 2011, and is dedicated to making the international event one that highlights how special his home is. With an initial greeting of "welcome home," this "Sommelier of the People" Jordan engages each and every guest to simply enjoy the experience in an unpretentious manner that sings of aloha.
David Adelsheim of Adelsheim Winery and Eugenia Keegan of Gran Moraine Winery in Willamette Valley joined Mark Tarlov/Chapter 24, Nate Klosterman/Argyle and Allen Methven of Methven Family Wines, from the Eola-Amity Hills AVA for a tasting overview of the region's Pinot Noir wines. Adelsheim poured two favorites, his Ribbon Springs, from the Ribbon Ridge AVA and Bryan Creek from Chehalem Mountains AVA. Two Pinot Noir wines that grow very close to each other distance wise, yet are completely different. This is the fun part of wine.
The soil composition, one more sedimentary soils vs. basalt, changed both the type of Pinot Noir clone grown in the soils. Soil differences, clonal differences, as well as basic differences in slope, sun, wind, etc. will change the overall flavor profile of each wine. These differences are one of the reasons wines of Willamette Valley are special.
Keegan poured her 2012 and 2013 vintage of the Gran Moraine Yamhill-Carlton Reserve. Though grown in the same soils, the vintage differences proved to be another layer of what makes wine so fun, and always unpredictable. With flood gates opening in the middle of harvest in 2013, diluting the fruit that otherwise may have been much more dense, intense and bold. The result in 2013 created a slightly softer, lighter wine with lower overall alcohol, and an approachable out of the gate style. The 2012 will take a bit longer to soften, with a robust nature and dense tannins, with incredible ability to age. A true display of what Mother Nature gives the vines will transform the wine in the glass.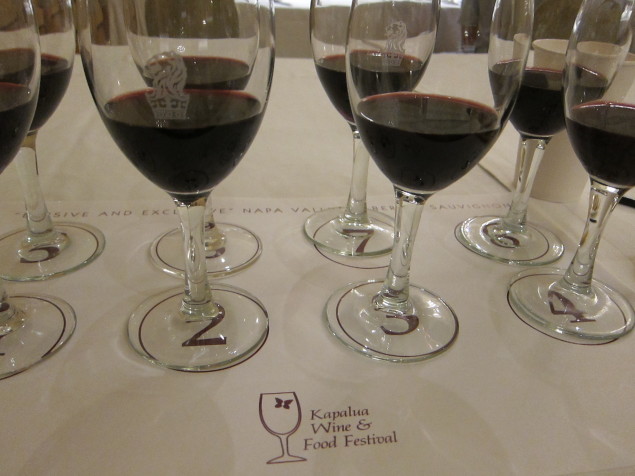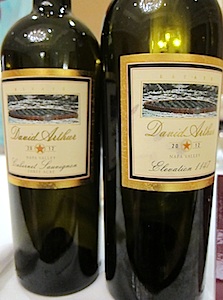 This was furthered at the tasting of Napa Cabernet Sauvignon from around the valley, led by an impressive group, including Philippe Melka/Melka Wines (still soaring at the time from his impressive highest bid barrel at Auction Napa Valley, bringing in $100K for his Atelier Melka, a blend of fruit from many of the wineries he works or consults for including Lail & Vineyard 29,) Jeff Gargulio of Gargulio, David Long of David Aurthur Vineyards and Chris Carpenter of Cardinale/Lokoya.
Carpenter poured two 2007 wines, Lokoya Mount Veeder and Lokoya Howell Mountain. As I have noted previously, this Howell Mountain wine is incredible. Tasting this selection from one of the best recent vintages in Napa proved the quality of the wine, and the soils. Still very young with dense but softening tannins, layers of red fruit, licorice, chocolate and earthy notes. In tasting through each of the Cabernet selections from the panel, some from mountain regions, some from the valley, like Lokoya Howell Mountain vs. Melka Matisse Jumping Goat St. Helena, and Gargulio OVX G Major 7 Oakville vs. David Arthur Elevation 1147 from Pritchard Hill high above the Silverado Trail you could see how terroir transforms the fruit.
A new addition to this year's panel discussions, an all female session, included top women winemakers telling their story of producing wine, including Napa Valley winemakers Mia Klein/Selene and Pam Starr/Crocker & Starr.  I posted on how outstanding Klein and Starr are in my post last week, but was pleased to be introduced to a young, determined and dynamic winemaker, Heidi Bridenhagen of MacRostie Winery.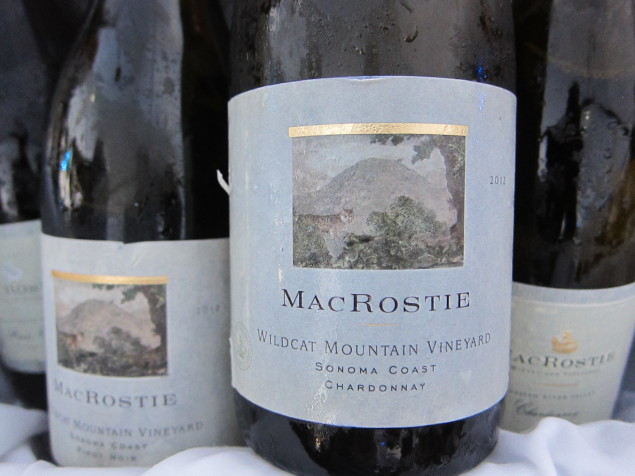 Heidi Bridenhagen didn't have a true ah-ha moment telling her to make wine, but she knew she loved the lifestyle. The Wisconsin native had traveled to Europe after graduating with a degree in biochemistry from the University of Colorado and found her love of wine. Though she thought she was on the doctor route, after a trip to visit her sister in California, she found she could never leave. Taking a job with Jackson Family she became like a Cali native, surfing in the morning, working all day, enjoying her friends and the lifestyle at night. As she grew in her career the late nights became less, but the appreciation for the wine has only grown, as has a love for cooking and the pairing of great wine with great food.
She found a similar connection with MacRostie's founder, Steve MacRostie, who is also a great cook and entertainer. In 2011 she joined MacRostie as their winemaker, expanding the now 25 year old estate to focus more on single vineyard projects, both through their estate fruit and grapes sourced from vintners throughout Sonoma to take advantage of the different microclimates.
Her favorite is a new one they just started working with in the far northern part of the Sonoma Coast, past Fort Ross, close the the ocean, which Heidi described as remote, removed and very unique. As she said in my discussion with her, "you have to hike in to it, which is part of the fun, but once you arrive it is a little piece of heaven." She hasn't made a wine from the fruit yet as the vine are still too young, but she is hoping it will be as beautiful as the view. For now, as the Pinot Noir develops, visiting the secluded vineyard is a favorite part of her day. With a hands on approach, she walks their vineyards and vineyards they work with throughout the season, ensuring her quality standards are met. She said the one thing she enjoys most about her work with MacRostie is the freedom to make these single vineyard wines, and the challenges that come with it. It is easy to make a blend from different areas, but a single vineyard requires focus, attention to detail, and of course passion. This keeps her enthusiastic every day. The ability to surf every now and then is a great added bonus.
In the midst of the women's panel discussion, which also included Sara Fowler from Peju, the focus was as much on each of their expressive personalities as the wines they shared, each noting that what they do, though challenging , allows them to work in their passion. Who can ask for more?
I will post on a bit more of the events, including their spectacular Grand Tasting and Seafood Festival, as well as some details on why this place on Maui is so special, and a tie to one of our favorite local chefs in part two, coming up shortly.
The annual Kapalua Wine and Food Festival takes place around the second weekend of June each year. The 4 day festival is $950 per person, with early bird tickets going on sale in February. Though anytime is perfect to visit Kapalua, wine lovers will find that experiencing the intimacy, tranquility and requiescence of this festival will make you feel at home, even so far away.
Get the SideDish Newsletter
Dallas' hottest dining news, recipes, and reviews served up fresh to your inbox each week.