If you've never tried mamey, you must. You'd be forgiven for never having heard of it. We know mangoes, sure. Mamey? Not among the better-known tropical fruits. It deserves to be.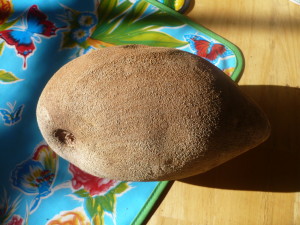 From a tree that resembles magnolia grows a fruit that's brown and football-shaped with a tapered end. It grows primarily in Mexico, Central America, the Bahamas, Barbados, Cuba, and, since the end of the 19th century, Florida. Its skin is scaly, its aspect prehistoric. If a fruit could be reptilian; if a fruit could be a hedgehog or a mole.
Don't be intimidated. Find one at a grocery like Fiesta Mart. (We're at the peak of the season. Recently, my cashier looked up the tomato code, but knew the mamey code by heart. She loves them and gets them all the time, she said.)
Set the fruit to ripen on your counter, waiting patiently till it yields to the touch. (Open it too soon and it will be starchy.) Now, slice it open, pluck out the shiny black seed, and the magic happens. Inside, the salmon-colored flesh is custardy. Its sweet, subtle flavor is hard to describe—somewhere between sweet potato and papaya, banana and cherry, with a hint of something almond-y and beguiling.
I like to scoop it with a spoon and savor it plain. Or I pair it with yogurt. It's a natural fit with dairy. Whip up a simple milkshake, a Mexican-style licuado with nothing but milk. I love these in the morning.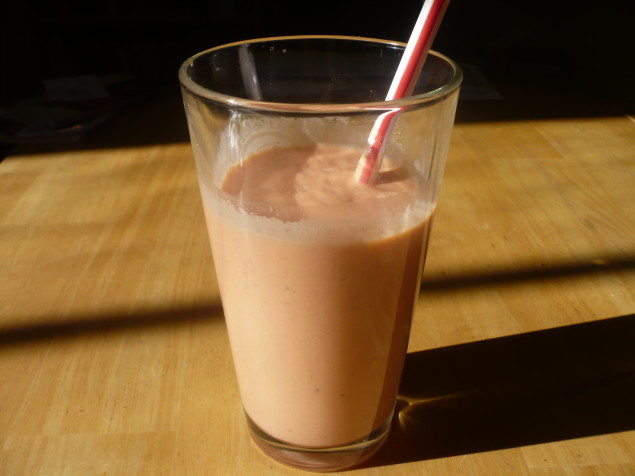 Or—and this is truly glorious—find a place that makes mamey ice cream. This is how I was introduced and promptly fell in love. It's not as easy as I'd like to track down paleterias and neverias that feature mamey in Dallas, but it is possible.
My go-to has been La Original Michoacana in Oak Cliff, where owner Elio Aguilar likes to use more unusual tropical fruits (guava, nance, and guanabana). A scoop of his mamey ice cream is peachy-pink and creamy, with a hint of rum.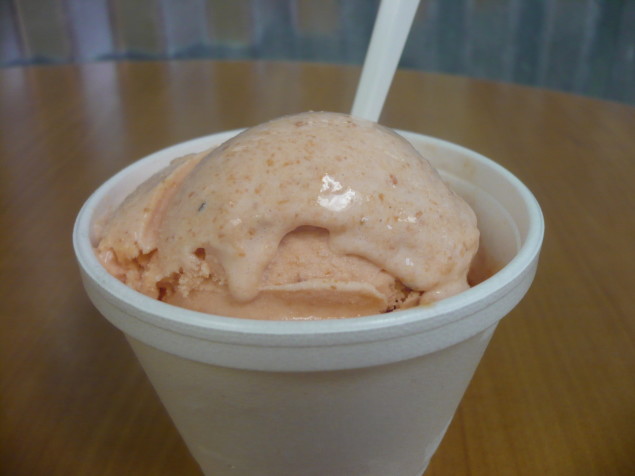 A few minutes' drive away, on E. Jefferson, Paleteria Mexicana makes mamey paletas. I wasn't the only one on a mamey-centered odyssey one night last week. At a quarter to closing time (10 p.m.), the evening still sweltering, they were out of mamey. The white bottom and sides of an empty freezer stared back at me. They'd had plenty earlier, the young man scooping ice cream said, but there was a late-night run. The paleta-maker, a man with a wonderful smile, was just going back, in fact, to set up more for the morning, 9 a.m.
As far as I'm concerned, it's never too early for mamey ice cream. Nor should you underestimate the beauty of the simple mamey ripened on your counter. You'll wonder why mangoes get all the attention.
Get the SideDish Newsletter
Dallas' hottest dining news, recipes, and reviews served up fresh to your inbox each week.