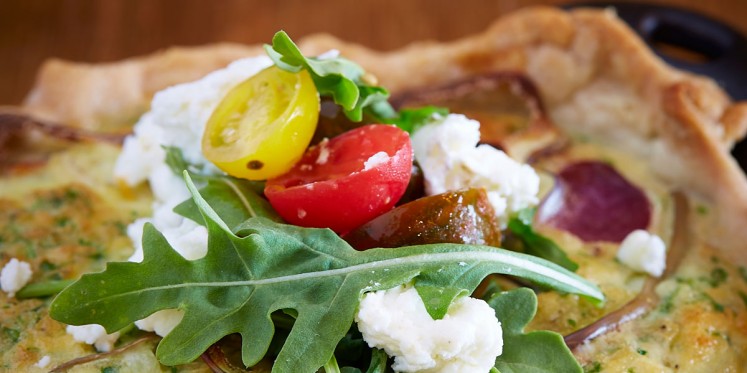 The 7 Best Neighborhood Restaurants in North Oak Cliff
It's no secret that Dallasites love to dine out.
It's no secret that Dallasites love to dine out. And nearly every neighborhood in the city boasts its own cluster of restaurants, bars, delis, and markets. In honor of our recently launched neighborhood guides, we will be regularly highlighting some of the restaurants in town that make dining in each area a unique experience.
This week we're highlighting some of the best neighborhood restaurants in North Oak Cliff. Have a favorite that didn't make the list? Let us know in the comment section below.
Joel Harrington quietly stepped into the role of executive chef at the neighborhood farm-to-table restaurant earlier this year. His menu is loaded with playful dishes such as golden trout with yukon golds, black lentils and golden raisin chutney (literally everything on the plate is black and yellow); Yellowtail tuna with Texas watermelon, avocado, ginger soy, and chili pop rocks; and a sweet and savory chicken liver macaroon.
The burger at this French-inspired bistro is a must-try. Beef, smoky Gruyère cheese, caramelized onions, Nathan's pickles, and house bacon are sandwiched between a pain au lait bun. We recommend grabbing a seat at the bar and ordering a glass of champagne and a half-dozen Gulf oysters while you wait for your tender, grass-fed beef patty to arrive.
This family-friendly restaurant dishes out some of the best comfort food in North Oak Cliff. The buttermilk fried chicken is a must-try, as is the green chili and hominy mac 'n cheese. Thirsty? Grab a beer next door at the Foundry, and kick back on the massive, conjoined patio.
Nearly everything on the menu at casual, rustic-chic Bishop Arts District restaurant has cheese on it (yes, even the peanut butter and jelly sandwich). We recommend ordering the JK's Favorite with parmesan-crusted grilled sourdough, American, cheddar and Gruyère cheeses, crumbled bacon, and Dijon mustard, or the Caprese on grilled sourdough with garlic butter, fresh mozzarella, sliced tomato, fresh basil leaves, and house-made basil pesto.
Jonathon and Christine Erdeljac (owners of Jonathon's Oak Cliff) opened Kessler Park Eating House in the once-rundown space (previously Mamma Connie's Diner) at 1619 N Beckley Avenue this past March. The restaurant's casual diner vibe is inviting, as is the menu filled with handmade pasta, pepperoni rolls, alcoholic milkshakes, and old family recipes. (Jon makes his dad's vegetable lasagna from scratch.)
This tiny Italian restaurant has one of the most sought-after dinner reservations in town. Husband and wife team, Jennifer and David Uygur, opened the 36-seat restaurant in December of 2010, and have since been plating up a rotating menu filled with creative dishes such as cavatelli with favas, chile, garlic, and morels; sea scallops with peas, pancetta, spring onions, escarole, and cream; and red wattle lonza aperto with arugula and canary melon.
Chef-owners Olga and Raul Reyes opened the tiny North Oak Cliff restaurant in 2011. Mesa has since received many nods for plating up some of the best regional Mexican food in Dallas. Standouts include the ceviche and the 20-ingredient Mole de Mama Cata. (Fun fact: Beyonce and Jay-Z have reportedly dined at Mesa).