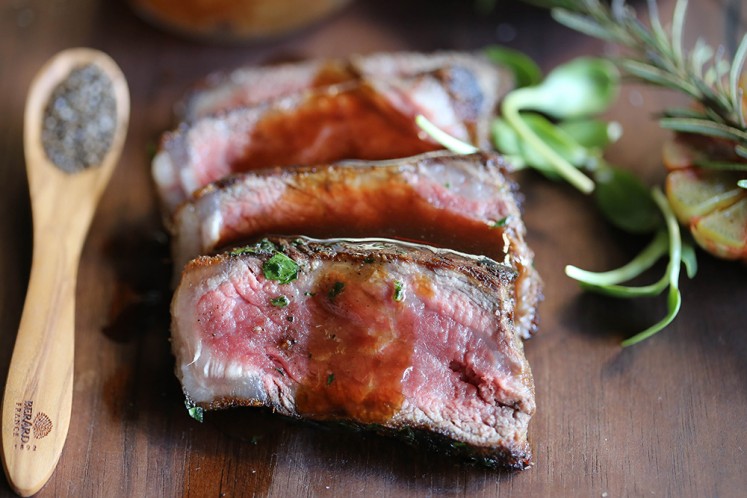 The Best Downtown Dallas Neighborhood Restaurants
It's no secret that Dallasites love to dine out. And nearly every neighborhood in the city boasts its own cluster of restaurants, bars, delis, and markets.
It's no secret that Dallasites love to dine out. And nearly every neighborhood in the city boasts its own cluster of restaurants, bars, delis, and markets. In honor of our recently launched neighborhood guides, we will be regularly highlighting some of the restaurants in town that make dining in each area a unique experience.
This week we're featuring must-try restaurants in Downtown Dallas. Have a favorite that didn't make the list? Let us know in the comment section below.
This trendy Texas-American brasserie located inside the Joule Hotel is an ideal destination for breakfast, lunch, or dinner. CBD Provisions recently underwent a chef change and menu update. Chef Richard Blankenship has stepped into the role of executive chef and is plating playful dishes such as tomato salad with Latte Da raw goat milk yogurt; avocado and pickled red onions on toast; and fried rooster leg with Szechuan peppercorns and garlic. And while a lot of the dishes have changed over the past couple of months, the ever-popular Berkshire pig head carnitas is still available. Dig in carnivores. [Editor's note: for all the vegetarians who are appalled by the above photo, it's worth noting CBD makes a mean potato salad and an equally mean mac and cheese with smoked Gouda.]
Café Momentum is more than a restaurant, the space also serves as a culinary training facility with a mission to transform at-risk youth into an attentive and knowledgeable restaurant team. The nonprofit restaurant works with the Dallas County Juvenile Justice Department, teaching adolescent men and women how to work in a busy kitchen environment. Chef Chad Houser (along with his staff) has created a menu filled with lively dishes such as octopus tiradito with toum, olives, aji amarillo and lemon; shrimp and grits beignets; and curry cavatelli with goat ragu and feta. Have a sweet tooth? Pastry chef Sarah Green whips up whimsical candied fresno ice cream, and other memorable desserts such as s'mores made with mocha panna cotta.
Dallas Chop House opened in 2009 on the ground floor of the Philip Johnson-designed Comerica Bank Tower, and the popular Downtown Dallas steakhouse often receives nods for plating regionally sourced, dry-aged beef. The chop house was forced to temporarily close following a three-alarm fire that engulfed the entire kitchen last August. The fire prompted the restaurant to remodel its space and menu. The steak flight is a must-try. A wooden board is draped with four-ounce portions of meat: Akaushi Wagyu New York strip and two dry-aged rib eyes (a twenty-one and a sixty-day). The "flight" also includes herb-roasted bone marrow, bacon-onion jam, parsley-pickled shallot salad, cilantro chimichurri, and Himalayan salt.
This modern Mexican food restaurant (which is owned by the Firebird Restaurant group — El Fenix and La Ventana) dishes out some of the best queso in town. A deep bowl is filled with melted chihuahua cheese, creamy queso blanco, roasted poblano peppers, fresh corn, and nopalitos (prickly pear cactus). Brisket is optional (and a must for those who eat meat). Pair the cheesy appetizer with complimentary chips and smoky salsa and an avocado margarita made with muddled avocado, fresh limes and pineapple juice, Cointreau and tequila for the perfect lunch or dinner. Looking to chow down on something more robust? The short rib, egg-battered chile relleno loaded with queso de rancho is a table pleaser.
This Texas-themed restaurant from Stephan Pyles boasts a playful menu featuring modern twists on classic southern dishes such as barbecue brisket potato salad; bacon-wrapped meatloaf with macaroni and cheese; honey-fried chicken with buttermilk biscuits and mashed potato tater tots; and shrimp and grits with hot pepper relish. The over-the-top atmosphere and upscale comfort food makes this an ideal place to bring out-of-towners for a taste of Dallas.
It doesn't get more chichi than dining at The French Room located inside the historic Adolphus Hotel. Chef Marcos Segovia's seasonally changing menu features a three course meal with four different choices per course. Options include butter-poached Maine lobster with creamy morel and wild leek ragout; Colorado rack of lamb with a blue cheese stuffed soufflé and citrus garlic mint jam; and Hudson Valley foie gras with pistacios, French toast, cherries, apple jam, and coffee caramel sauce. It's a great excuse to get dolled up (there is a dress code: no denim or sneakers allowed, and all men must be dapper in a jacket) and nosh on white sturgeon caviar.