Still looking for the perfect Father's Day gift and can't decided between the tie and a stack of cedar grilling planks? Skip both and give dad the gift of spirits. He'll be so thrilled he may even share. Here are a few tasty spirits and wines for Father's Day gifting. (A few selections were sent for editorial consideration.)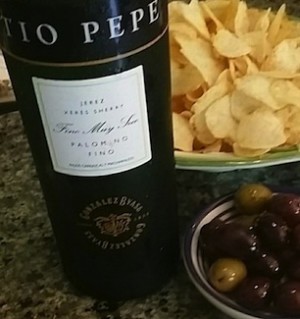 A great bottle of Fino Sherry is the ideal way to open up the palate for any evenings dinner events. Though sometimes confused, served at warm temperatures or after the bottle has been opened for an extended period, making consumers shy away from the delicate, aromatic freshness of a chilled glass of Fino made from the Spanish Palomino grape. Tio Pepe from leading Sherry producer, González Byass, highlights the nutty, orchard fruit and creamy qualities of the variety by producing a Fino filled with almond, apple, toasted brioche and vanilla with a layer of brininess enhanced when paired with roasted almonds, olives or even salty potato chips. $25, available at Sigel's and Pogo's.
If dad likes to sip his Sherry after dinner González Byass Nectar Pedro Ximenez Sherry may be the perfect fit. Made from the Pedro Ximenez variety, the rich fortified wine is filled with enticing aromas of toasted caramel, dried dates, fig and raisins, sweet baking spice and oak. The palate is rich with dried fruit and spice flavors that are sweet, without being too sweet. Perfect to sip on its own or with dark chocolate based desserts. $28, available at Spec's.
If dad is more of a Port lover Cockburn's Port is celebrating 200 years of making premium Port this year. Their Cockburn's Special Reserve Port, first introduced by the company in 1969, will include a special 200th anniversary seal to commemorate the occasion this year. When the Port was originally introduced it was meant to help bridge the gap between Fine Ruby Port and Vintage Port. What it did was actually create a new Reserve Port category. Aged 4-5 years in oak casks, the fortified wine is filled with ripe cherry, berry and black plum notes, with a sweet and spicy palate that leads to a long finish. $25, available at Spec's.
My dad is a Bourbon lover, which makes living in Texas, and finding great local options, for him so much fun as our expanding group of distilleries making corn based spirits are impressive.
Garrison Brothers Texas Straight Bourbon Whiskey was the first legal whiskey ever distilled in Texas at their distillery outside of Austin in Hye, Texas. Released earlier this year, Garrison Brothers Single Barrel Bourbon is a three-year-old, 94-proof spirit made from organic grains and pure Hill Country spring water. Distinct and refined, with concentrated toffee, caramel and vanilla notes, though each single barrel is slightly different due to variances that can take place in the oak, and the spirit aging inside. Spec's carries their selection of the Garrison Brothers Single Barrel, selected at the distillery to fit the profile for their customers. But consumers are also able to purchase a whole barrel (about 50-84 bottles total per barrel depending on the "Angel's Share" loss) for their personal consumption based on the flavor profile they like. Dad can even go to the distillery, sample the options and help bottle his barrel. Each bottle will have a personalized silver label. And, as every batch of Garrison Brothers Bourbon goes into new American oak barrels, he gets to keep the actual barrel as well, which would be a fun addition to any game room, deck or any barbecue area. $110 a bottle/$5300-$8900 for a whole barrel. Contact your favorite spirit store to work with Garrison Brothers for details on purchasing a barrel.
Herman Marshall Texas Bourbon, from the first whiskey distillery in Dallas County, is a sweet, smooth, easy drinking spirit produced in small batches by friends Herman Beckley and Marshall Louis at their Garland distillery. Perfect as a base for cocktails, like mixed with a bit of muddled peach and ginger beer, or served on its own with a bit a ice, and always best when enjoyed with friends. $45, available at Spec's.
If dad is a tequila fan spoil him with a bottle of ultra-premium Casa Dragones Sipping Tequila made in small batches with a modern technique to produce one of the smoothest, and freshest tequilas in the world. Bottled by hand in lead free crystal bottles, with each bottle receiving a signature after it has been inspected to ensure it meets the high quality standards of the brand, this special tequila filled with a balance of sweet agave, wild flowers and pepper notes, will please any dad. $250, available at Pogo's.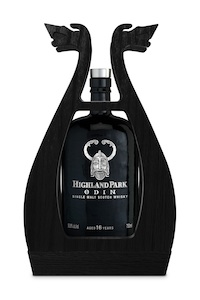 Scotch lovers will be thrilled to receive the latest single malt from Highland Park. Odin, the final installment of the Valhalla collection of Nordic gods, previously releasing Thor, Loki and Freya, Odin is the King of Asgard who was thought to be fierce, powerful and always seeking knowledge. The limited release, 16 year aged Scotch is available at Pogo's for $500 a bottle.
If dad is a beer lover and looking for a new hobby, beer making may be just for him. Though time and effort is needed to perfect any hobby, but Northern Brew Kits takes some of the hassle out of the preparation by creating quick and easy home brew kits in an assortment of beer styles, from Irish Red Ale, American Wheat Beer, The Plinian Legacy and more. Their one-gallon, small batch starter kits are priced starting at $50 each and can be delivered by Father's Day. Details on ordering through their website.
Celebrate Dad with a bottle of Laurent-Perrier Ultra Brut Champagne. I love this sparkling style as it is very dry, made with zero dosage, creating a Champagne that is intense, complex, refined and beautifully balanced (a lot like dad.) Elegant and clean, filled with fresh floral, melon and citrus notes. Aged a minimum of 4 years, the luxurious sparkler can be enjoyed from the start of an evening to the end, pairing with shellfish, white meats, fresh desserts and great conversation. $75, available at Goody-Goody.
Russian River is the ideal spot for growing Chardonnay, with Dutton Ranch being one of the finest vineyards in the Sonoma AVA. Patz & Hall Dutton Ranch Chardonnay, from some of the oldest plantings of the variety in Sonoma County creating highly concentrated, small berry fruit creating interesting wines with great depth, texture and refinement. Fermented with native yeasts in partially new French oak barrels, the wine is filled with tropical mango, guava and pineapple, melding with sweet baking spice, fresh citrus and a touch of minerality. $44, available at Sigel's.
If dad is a Pinot Noir fan one of the best I have tried lately was the subtle, refined On Point Christina's Cuvee Anderson Valley Pinot Noir from David Rossi of Fulcrum Wines. Wow! Smooth, elegant and rich from one of the warmer parts of the Donnelly Creek Vineyard in Anderson Valley (fast becoming "the" area for Pinot Noir in Sonoma,) named after David's wife, Christina. Elegant, juicy and fresh with layers of cola, cherry and forest floor, enhanced with sweet spice and wild flowers. $38, available at Spec's.
Winemaker Chris Carpenter is wild about Cabernet Sauvignon, and lucky for him he has been making it in one of the best places for the variety in the world, Napa Valley working for Jackson Family Wines making their stellar Lokoya and Cardinale wines.
In 2012 he added another stellar Cabernet region to his winemaking portfolio when the company purchased Hickinbotham Clarednon Vineyard Winery in the McLaren Vale region of Australia. Hickinbotham Clarendon Vineyard was established by Alan Hickinbotham in 1971, when he planted dry-farmed Cabernet Sauvignon and Shiraz. Since then the vineyard has become part of Australia's winemaking heritage with wineries such as Penfolds buying their fruit for their stellar,  high rated Grange. Jackson Family acquired the property in 2012 bringing together Australian winemaker Charlie Seppelt and Carpenter to work together to create world-class wines for Hickinbotham. Seppelt focuses on the Shiraz, Carpenter on the Cabernet Sauvignon, and they come together for a Cabernet Shiraz blend called "The Peake.". Each are incredible. Hickinbotham Clarendon Vineyard "Truman" Cabernet Sauvignon is dense and robust, filled with black fruits, soft herbs, licorice and tobacco notes. "The Peake" Cabernet Shiraz blend adds in a smoky, spiciness to the dense, concentrated wine, making it an ideal pairing with barbecue and grilled meats, a great addition to any Father's Day. $75 each, available via their website.
Get the SideDish Newsletter
Dallas' hottest dining news, recipes, and reviews served up fresh to your inbox each week.