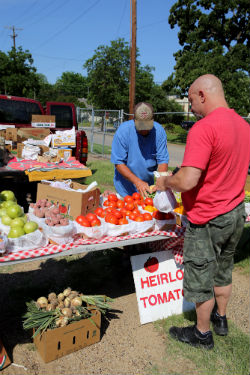 The Oak Lawn United Methodist Church Farmers Market returns for its third year of business.
The quaint market is located in an empty lot across from Welborn street at the intersection of Oak Lawn and Cedar Springs, and features a variety of fresh fruits and vegetables, homemade pickles, jams, and barbecue.
The market is also home to some of the best heirloom tomatoes in town, handpicked from Don Baugh's farm in Wills Point, Texas.
The OLUMC takes place every Saturday from 8 a.m. until noon during June, July, and August.