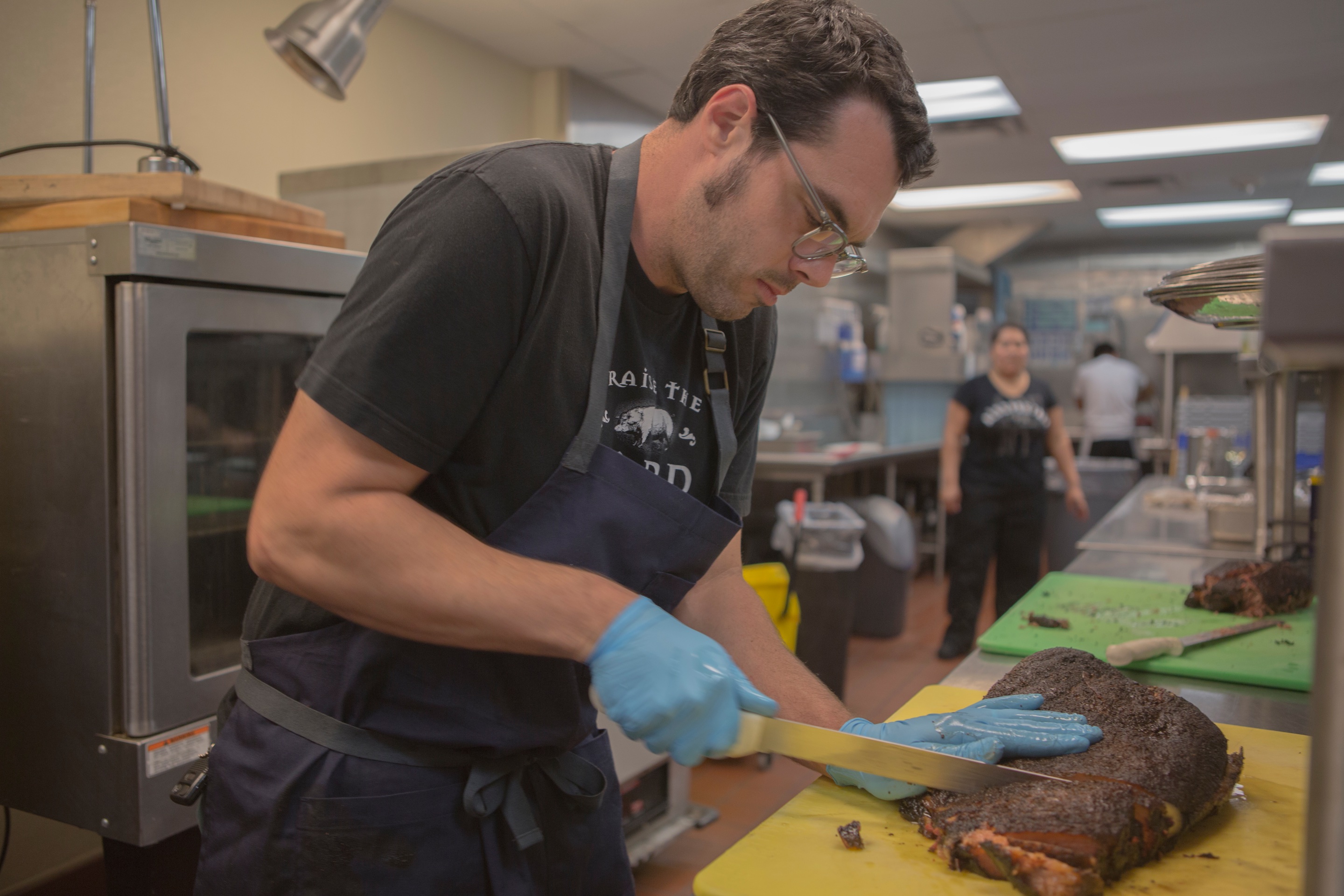 An Evening with John Tesar and Aaron Franklin in Support of EAT (RED). DRINK (RED). SAVE LIVES.
Last night, "The Most Hated Chef in Dallas" raised thousands of dollars for the continuous battle against AIDS.
Last night, "The Most Hated Chef in Dallas" raised thousands of dollars for the continuous battle against AIDS — and it was only the first of five nights dedicated to the cause. As the local steward of EAT (RED). DRINK (RED). SAVE LIVES., a national effort led by Mario Batali, John Tesar, celebrity chef incarnate, graciously exited stage right and allowed brisket Jedi, Aaron Franklin, to lead a carnivorous evening all in the name of philanthropy.
As a subtle, yet constant reminder of the cause, red lights adorned a private room located within The Highland hotel, as patrons settled into their seats in anticipation of the aforementioned Franklin, whose James Beard Award for Best Chef Southwest has yet to collect dust in Austin. Whilst enjoying the signature cocktail of strawberry-infused Belvedere vodka with vanilla infused simple syrup and a lemon garnish, conversations were subtly interrupted by a unique scent that seemed to make its presence on a continual basis: smoke. At once, Franklin emerged, donning cut-off shorts, a black t-shirt, quirky tube socks, Vans, eyeglasses, and a well-deserved Dallas-based Four Corners brew.
John and Aaron worked together to assemble a charcuterie board that consisted of various shaved meats including lomo, coppa, Genoa salami and soppressata from Knife's in-house larder. Aaron provided a two distinct rillettes, one of which consisted of Duroc pork, and the other utilized brisket bark with black pepper and fig jelly (which proved to be an early evening highlight).
The second course bought about a truffle-induced beef cheek and liver ravioli with a bolognaise sauce, complemented with a lemon basil pesto. An overtly Tesar-influenced third course was to follow, consisting of a 44 Farms wet-aged sirloin, seared medium rare and served Au Poivre. Even more Tesar-esque, was the 120 day dry-aged bone-in tomahawk cut that John personally served tableside, while thanking every benefactor in attendance.
The evening was encapsulated with Aaron's personal array of Texas barbecue, which he and his team began smoking early in the morning on a new travel smoker brought up from Austin. Brisket lovers quickly snapped shots of the signature Franklin smoke ring, while those less patient battled the difficulty that came by way of a family style setting with the slowly cooked beef that was so tender that it not only fell off the bone, but also off your fork. While picturesque, flavor was the penultimate quest, and Aaron did not disappoint.
John's efforts continue this evening with the decorated culinary veteran, Alex Stratta, a past James Beard Award winner, Iron Chef USA and Top Chef Masters contestant, and owner of the Spanish-themed Tapas by Alex Stratta in Las Vegas. The festive fundraising efforts will continue on Wednesday with Naomi Pomeroy (Beast, Portland), followed on Thursday by Tim Rattray (The Granary, San Antonio) and concluding Friday with Kris Morningstar (Terrine, Los Angeles).
Tickets are $150 per event, inclusive of beverages and gratuity. There are only a few tickets remaining for each evening, which may be purchased by calling Knife at 214-443-9339 or at www.knifedallas.com. Citing last night's performance, I highly recommend not missing out on any one of these opportunities.