As spring turns to summer, our palates look for something light and refreshing. Enter Rosé. Happily, Rosé is going through a great resurgence in interest and respect, with producers in every part of the world embracing the juicy, yet dry style of pretty pink wine. Last week I posted on some stellar wines from Provence, here are a few more from around the world. A few selections were sent for editorial consideration.
Just west of Provence the Languedoc has also been making Rosé since the Greeks and Romans introduced grapes to the region  centuries ago. Though often not as light in color as those of Provence, Languedoc Rosé is as delicious, and the region is truly beautiful. I had a chance to visit recently, traveling as a guest of CIVL (Council of the wines of Languedoc.)
Juicy, fresh, and very dry, capturing the fruity flavors of youthful vines of Cinsault, Carignan, Grenache, Mourvedre and Syrah that ripen in the sunshine that fills summer days in the south of France. The vineyards benefit from the influence of both the warm winds from the south off the Mediterranean and cool winds from the north that blow in from the Atlantic, ensuring vines stay dry during humidity filled summer days and keeping pests away. Though light and easy, the wines also display the terroir, most interestingly the "garrigue," the French term for all of the wild flowers, herbs and trees that carpet vineyards. Yes, Provence has a similar landscape, layering thyme, rosemary and lavender with stony soils, but in Languedoc the stone and schist filled soils elegantly capture the aromas of the garrigue, filling wines with a taste of nature.
Quieter and less touristy than Provence, the region is filled with a new wave of young and energetic winemakers devoted to producing quality wines in a sustainable manner. Today, Languedoc wines are thriving and gaining recognition for their quality and approachability. Though perhaps best known for their juicy, old vine Grenache, Carignan or Syrah based reds, I found myself revisiting the Rosé wines over and over throughout the trip, drawn to their delicious freshness, pairing well with the food of the region, like wild spring asparagus and artichokes, two vegetables that are often impossible to pair.
Domaine de Fontsainte "Gris de Gris" Rosé from the Corbieres region of the Languedoc is a fruity, juicy wine begging to be enjoyed with fresh vegetables and seafood of the region. Tropical mango, fresh strawberry and ruby red grapefruit leap from the glass, followed by ripe cherry and juicy berry. $15, available here.
In the Saint Chinan AOC of the Languedoc Jean-Marie Rimbert is producing stellar reds grown sustainably from high elevation, well draining schist soils for his Domaine Rimbert. With a slight edge and a bit of whimsy, he openly experiments with new techniques, while highlighting old vines in each of his wines. Though perhaps best known for his higher tier wines, including his robust 100% Carignan, 70 year old vine Carignator Red, his lively, fresh and very fun Petit Cochon Bonzé Rosé is as tasty to taste as the label is adorable to see. Blood orange, ripe berry and juicy melon fill the palate with a fresh and inviting finish. $13, available here.
Mas Jullien is made of 15 hectares (about 50 acres) of vineyards around the village of Jonquières, north of Montpellie on the plateau of Larzac. Though not certified organic, their farming practices are completely organic. With the goal to make complex, yes approachable wines, Mas Jullien Coteaux du Languedoc Rosé blends the traditional red grapes of the region together for a wild herb, citrus and berry filled wine. Complex and interesting, and delicious. A fresh wine showing the quality of the Languedoc. $20 at Pogo's.
This Friday, May 29, Wines of Languedoc will celebrate #LanguedocDay, encouraging tasters all over the world to try a wine (or two) from the region and share their thoughts on social media. Pick up a bottle of refreshing Rosé, like one of the above, a bottle of Picpoul, the ideal wine for shellfish, or a hearty old vine Grenache or Carignan from the region and join the conversation.
A bit west of Languedoc the Gascony IGP is home to Domaine du Tariquet producing fresh and lively whites and juicy Rosé wines. Their Domaine du Tariquet Rosé de Pressee blends Merlot, Syrah and Tannat, big red wine varieties that when made into Rosé create a light, yet fruit filled wine with great texture and weight. Gentle pressing with limited skin contact keeps tannins soft with floral and berry notes and a touch of smoky spice. $15, available at Central Market.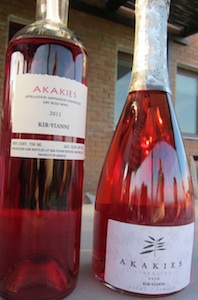 This process of producing Rosé wines from bold varieties works all over the world, with some of my favorite coming from Greece. Several years ago I had a chance to travel with New Wines of Greece, tasting through the wines of the northern part of the country in Naoussa and Amyndeon where Xinomavro thrives. The bold, savory variety with dried cherry, balsamic and sun dried tomato notes softens when made into a Rosé. Kir-Yianni Akakies Rosé is 100% Xinomavro, from sandy, well draining soils with little nutrients, the ideal terrain for growing grapes. By aging the wine after fermentation for 3 months on the lees (yeasts,) with frequent stirring, intense acidity is tamed to create a well rounded palate of fresh rose flowers, wild strawberry and a touch of spice. Kir-Yianni Akakies Sparkling Rosé, made with the wine staying on the lees for 3-5 months after the second fermentation in tank occurs, is a fresh and fruity option with a balance of acidity and earthiness, a great sparkler that can carry you from the start of a meal to the end, especially with grilled fish and vegetables. The wines retail for around $20 each, Central Market stores included these wines for their passport event, as well as availability at Spec's.
Anyone who doesn't think Rosé can be elegant, refined and very delicate hasn't tried the exquisite Laurent-Perrier Brut Cuvee Rosé Champagne. Produced by blending Pinot Noir fruit from 10 different Cru, or villages, within Montagne de Reims, Champagne, the sparkler leaps from the glass with raspberry, pomegrantate, and red currant notes. Fruity, yet refined, supple and well rounded, a special wine to be enjoyed on any day when a toast is in order. $100, available at Spec's.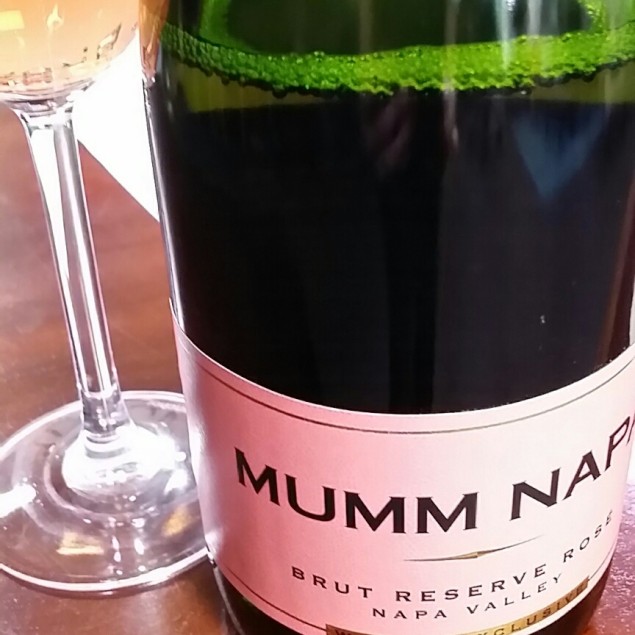 In Napa Valley, Mumm Napa blends both Pinot Noir with a touch of Chardonnay for their Brut Rosé ($25) to create a wine with nice texture and balance with ripe berry and citrus on the palate, enhanced with a touch of spice and toasted almond notes. Mumm Napa Brut Reserve Rosé ($39) blends a touch more Chardonnay into the wine, About 65% Pinot Noir/35% Chardonnay for a slightly more refined, elegant and well structured wine with creamy, toasted brioche notes enhancing the fruit and spice filled palate. Aged 36 months on the yeasts, in bottle, the lively bubbly has a long, fresh finish. Available at Pogo's and various Central Market stores.
Since 1680 the Sparr family has been producing premium refreshing and dry wines in Alsace, including their Pierre Sparr Cremant d'Alsace Brut Rosé. Produced in the traditional method with the second fermentation occurring in the bottle, the 100% Pinot Noir sparkler is aged a minimum of 1 year on the lees, making a ripe raspberry, strawberry, tangerine and creamy peach notes with structure and balance. $20 at Pogo's.
The 2014 Pedernales Dry Rosé blends a little bit of Spain, with the Tempranillo variety, and a little bit of France, with Mourvedre, but made right here in Texas. Orchard fruits, cherry and cassis filled with earthiness, spice and a touch of floral notes make this fresh and lively wine perfect for enjoying all summer. $30, available via their website.
Pinot Noir is also the ideal grape to make a still Rosé wine filled with strawberry, violets, watermelon and nectarine.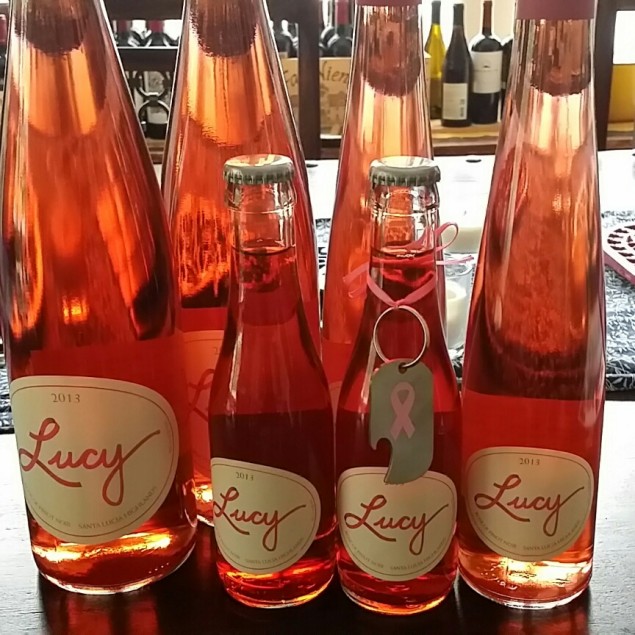 Lucy Cellars from famed vineyard owner, Gary Pisoni and his son, winemaker Jeff Pisoni, is a vibrant Rosé colored pink, made from Santa Lucia Highlands grown Pinot Noir fruit. While the wine is delicious, filled with ripe cherry, raspberry and cranberry notes, the wine also is made for good. The small production wine donates a percentage of the sales to the fight against breast cancer. A great wine that gives back, but made in a very small production. Available via their website for $20.
Flower's Estate Rosé of Pinot Noir from their Sea View Ridge Estate Vineyard brings both acidity and brininess to the floral and fruit filled wine made with wild native yeast fermentation. Aromatic, lively and finessed, with wild flower and orange blossom notes, ripe cherry and berry with fresh minerality. Concentrated and balanced, making it a beautiful wine to pair with seafood, shellfish, roasted duck or chicken. The wine is being released now, for $40, available via their website.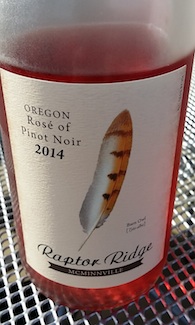 Raptor Ridge Winery uses premium Pommard clone Pinot Noir from the McMinnville AVA in Willamette Valley for their dry Raptor Ridge Rosé of Pinot Noir. Benefiting from warm days and cool nights, ripening fruit while maintaining great acidity, this food friendly wine is balanced and fresh, perfect for anything from summer salads to your Thanksgiving turkey (so be sure to stock up.) $20, available via their website.
Paul Hobbs' CrossBarn Winery in Sonoma specializes in varietally corrent, terroir driven Pinot Noir and Chardonnay (along with a new addition, Sonoma County Sauvignon Blanc.) CrossBarn Rosé of Pinot Noir comes from hand harvested Sonoma Coast fruit, benefiting from cool coastal breezes that keep acidity bright, even during the hottest days of summer. Rich and juicy, with nice texture and balance from 4 months of sur lie (on the yeasts) aging. Ripe berry, grapefruit and melon make this a great wine for summertime enjoyment. $18, available via their website.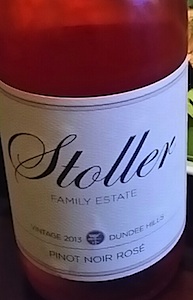 Stoller Family Wines in Willamette produces one of my favorite Rosé wines filled with ripe grapefruit, watermelon, wild strawberry and tropical papaya and mango. Small production, so grab it while you can, this Rosé from their sustainably farmed Dundee Hills Pinot Noir fruit in Willamette Valley. Concentrated, balanced and delicious. $25, available via their website.
Cabernet Franc, when grown and harvested in optimal conditions, is a simply stunning variety that stands beautifully on its own. Though often only considered to be a blending grape in Bordeaux, but just a touch north in the Loire the variety thrives, producing floral, herbaceous wines filled with berry and plum notes. Rosé made from Cabernet Franc captures these qualities, with hints of citrus, melon and spice. Jean-Maurice Raffault – Chinon Rosé is filled with sweet spice, violets, juicy melon, orange and soft herbs. $14 at Pogo's.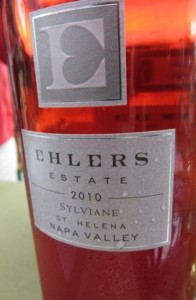 Ehler's Estate Sylviane Rosé in Napa Valley also shines and displays the beauty of Cabernet Franc, from CCOF certified organic estate fruit grown in the warm northern part of the valley. Made in honor of winery founder, Madame Sylviane Leucq, the citrus, watermelon and cherry filled wine balances ripe fruit with fresh acidity for an easy drinking wine that is approachable and delicious, while maintaining complexity. $28, available in limited release via their website.
Dallas native Charlie Meeker, Jr. started his Meeker Wines with wife Molly in Sonoma in 1984, after buying their first Dry Creek vineyard in 1977. Though they both had previous careers in the entertainment industry in Los Angeles, their Sonoma vineyard became their respit, their escape, and now their full time home. Their Meeker Wines, with their son Lucas at the winemaker helm, represent approachable, varietally correct wines. Their fun and fruity Meeker Pink Elephant Rosé is filled with ripe, ripe cherry, berry and floral notes from a Cabernet Franc and Cabernet Sauvignon based blend of Sonoma fruit. $13, available here.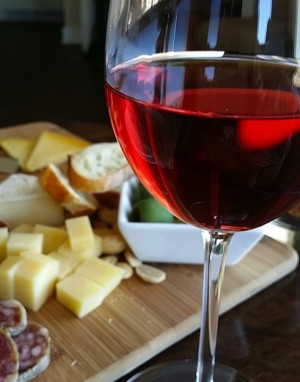 Susana Balbo is a force in the Argentine wine community. The first female winemaker in Argentina, who for the past 25 years she has created some of the most respected wines in the country. Founder of Dominio del Plata, current President of Wines of Argentina, and recently elected "Woman of the Year" by the British magazine The Drinks Business, Balbo has dedicated herself to producing high quality, terroir specific, varietally correct wines for both her reserve, or parent, tier as well as the offspring, or "crios." Her Crios wines are youthful, fresh and inviting, lively wines meant to be enjoyed within a year or two after bottling on any given day. Her deeply colored Crios Rosé of Malbec is filled with wild strawberry, ripe cherry, earth and spice with a fresh, very dry palate. A great food wine, with enough weight to sand up to richer fare, yet still light and balanced. $12 at Spec's.
Washington State benefits from very hot days and cool night allowing a plethora of varieties to thrive in their mineral rich, nutrient poor soils. Charles and Charles 2014 Rosé, from winemakers Charles Bieler and Charles Smith, highlights an excellent Columbia Valley vintage with this interesting, refreshing and lively Rosé. The Rhone variety blend, dominated by Syrah, leaps from the glass with ripe raspberry and pomegranate with tangerine, lemon and soft herb notes. Best served very cold. $15, available at Central Market and Total Wine & More.
Portugal is known for their refreshing Vinho Verde wines, or green wines, usually produced with a slight effervescence with low alcohol from white grapes like Loureiro and Arinto, however there are also red versions, as with Casal Garcia Vinho Verde Rosé from Aveleda. Juicy, fruit filled and approachable, the blend of Vinhão, Azal Tinto and Borraçal create a Rosé wine that is great to start an evening or sip through a meal. With 10.5% alcohol and flavors of ripe red raspberry and strawberry pie, it would also be a good pairing for an afternoon brunch all summer long. $8, available at Spec's.
Mulderbosch Cabernet Sauvignon Rosé is another bold Rosé, this one from South Africa made with Cabernet Sauvignon. Though we think of this vareity as producing big, bold wines, the fruit for this Rosé is handled like they do their white wines, pressing the juice just as it arrives to the winery after harvest, keeping the wine light and crisp, maintaining acidity and enhancing ripe red fruit filled flavors. $14, available at Spec's.
Get the SideDish Newsletter
Dallas' hottest dining news, recipes, and reviews served up fresh to your inbox each week.