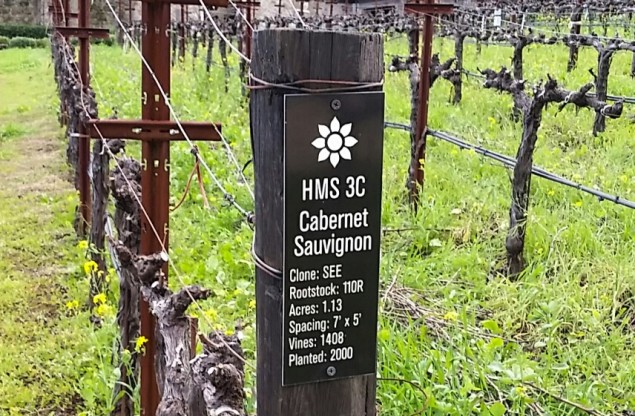 Though summertime temperatures are here, we still love to drink big hearty Cabernets in Texas. Few do this luscious variety better than Napa Valley. The region has built a reputation on producing high quality Cabernet Sauvignon and Cabernet based red blends that create harmonious wines with a fruit forward flavor profile, many also reflecting the terroir of the surrounding, highlighting the flavor of the land. As Napa Valley prepares for their upcoming Auction Napa Valley celebration, here are a few great Cabernet Sauvignon wines to consider from Napa. I included a few additional selections from around the state as well. I am sure they may surprise even those who only drink Napa. A few selections were sent for editorial consideration.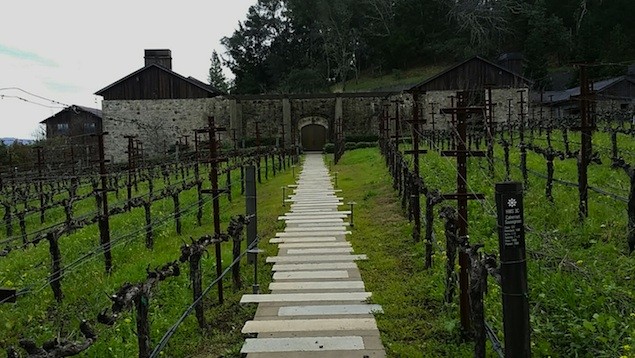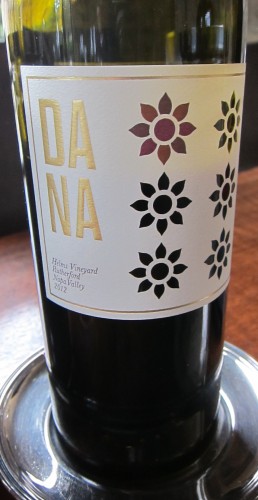 Quality, elegance and refinement define the exquisite wines of Dana Estate. Started in 2005 by Proprietors Hi Sang Lee and Jae Chun, Dana Estate prides itself on following the guide of respect and kindness. Dana the name is a Sanskrit meaning "Spirit of Generosity," paying respect to the vintners who have worked the land for generations and the kindness of Mother Nature. Farming three very small production, completely organic estate properties, one in Rutherford surrounding their winery estate, as well as two on Howell Mountain. Each highly concentrated, low yielding estate delivers intensely flavored fruit revealing a true sense of place. Consulting Winemaker Philippe Melka and Winemaker Cameron Vawter believe in a hands off approach, allowing the true expression of the fruit to shine. Dana Helms Vineyard Cabernet Sauvignon is from their earthy, dusty, mineral rich Rutherford vineyard surrounding their estate. Filled with blackberry, black cherry, dark chocolate and dust, truly capturing the flavor of the land. Available via their website through allocation; select restaurants in Dallas carry the wine, including Pappa's Bros. Steakhouse, as well as select Sigel's locations.
In addition to the extensive consulting that Philippe Melka does for wineries including Dana, Lail, Vineyard 29 and Brand, he and his wife Cherie have Melka Wines. Started with the goal to make a wine that was both elegant and refined, but also perfect balance with exceptional quality. Their Melka CJ Cabernet Sauvignon was named for their two children, Chloe and Jeremy, from vineyards dotting both the valley floor and mountainsides, to create a harmonious blend displaying Napa Valley. The current release, 2012 CJ Melka Cabernet adds in a touch of Petit Verdot, Merlot and Cabernet Franc, helping round out the well structured wine filled with ripe red fruits, earthy leather and spice notes, with a long finish. $70, available at Pogo's.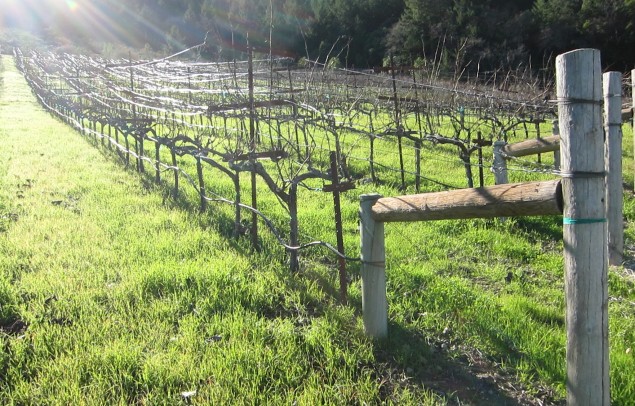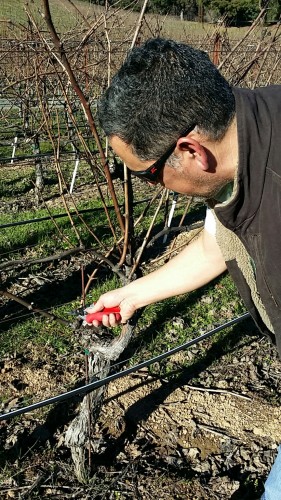 Perhaps no other brand allows you to taste through the mountain appellations of Napa as well as Lokoya. Meticulously crafted by winemaker Chris Carpenter, one of the prize wines of Jackson Family Wines, Lokoya follows Jess Jackson's vision to highlight the quality, and distinct character, of mountain fruit. The name Lokoya is a tribute to the Native American tribe that inhabited what is now known as Mt. Veeder in the Mayacamas mountains. From Howell Mountain to Diamond Mountain to Spring Mountain to Mount Veeder, each single vineyard Lokoya wine displays how elevation, slope, sun and wind exposure, soil type, fog, temperature shifts and more will effect the flavor of a grape, even if it is the exact same grape clone, vinified with native yeasts and bottled unfined and unfiltered.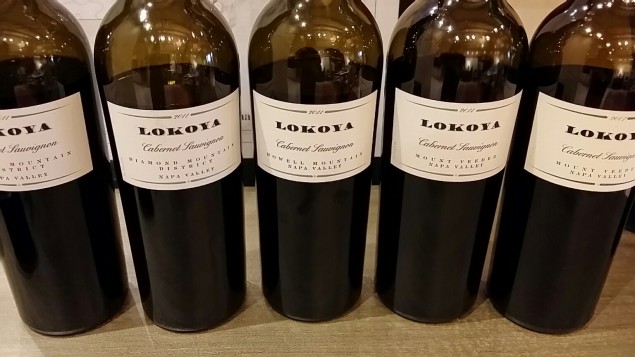 Lokoya Mount Veeder is filled with wild blackberry, blueberry, black currant, wild flowers and black tea notes, with bold structure and tannin. Lokoya Diamond Mountain, from some of the steepest vineyards in the region, is surprisingly light next to its sister wines. Red berry and ripe cherry filled with a lively palate, making it perhaps the most approachable of the wines. Lokoya Howell Mountain is supple and rich. I often hear Howell Mountain fruit described as masculine, and this is, but there is an approachable balance to the bold wine that makes it inviting, with red fruits, earthy minerality and dark chocolate notes. Fruit selected for these wines, each vinified on their own, also become the blend for Cardinale, Jackson Family's ultra-premium mountain fruit based Cabernet Sauvignon, also made my Carpenter. Though stunning on their own, when blended the best characteristics of each specific place is allowed to shine, melding together in unison with complexity, balance and beautiful elegance. The Lokoya Wines are priced between $350-$400, Cardinale retails around $250. Check the winery website for availability.
For something a little bit less expensive, but also displaying this powerful fruit Jackson Family has two wines from their single vineyards on Mt. Veeder and Howell Mountain. Also crafted by Chris Carpenter, La Jota from Howell Mountain and Mount Brave from Mt. Veeder follow much of the same philosphy as Lakoya. The high elevation Mount Brave vineyard sits above the fog line at 1400-1800 feet, allowing for more exposure to the sun during summer months, but at cooler overall temperatures, creating wine that is filled with rich, ripe fruit as well as balanced acidity. Aged 19 months in predominantly new oak the wine also displays layers of coffee, dark chocolate and spice, rounding out a rather bold, tannic profile. This is a wine with age-ability.
La Jota comes from their Howell Mountain estate that dates back over 100 years, though just purchased by Jackson Family in 2003. Vineyards sit at elevations between 1700-1900 feet in nutrient poor, volcanic soils, making the vines fight for every ounce of nutrients they can find, digging roots deep into the soil and creating an expressive, intense wine that is concentrated and masculine, while maintaining refinement. Both are available via their website retailing for $75.
Also on Mount Veeder sits Brandlin, a historic vineyard sitting at 1200 feet above sea level, overlooking Napa Valley. Originally planted in 1926 in very steep, rocky terrain, the vineyard today produces highly concentrated fruit, predominantly Cabernet Sauvignon and other Bordeaux varieties, but there are also 10 acres of very old vine Zinfandel that the current owners, Cuviason Estate Wines, are dedicated to maintaining. Sustainably farmed in the same manner as the original Brandlin family, wines are nurtured by hand to display true characteristics of the land. Brandlin Henry's Keep Proprietary Red Wine pays tribute to the Brandlin family and their patriarch, Henry Brandlin. Aged 22 months in 75% new French oak, the small production wine is filled with layers of mocha, wild sage, black cherry and tobacco. The tannins are bold, but nicely balanced with cedar spice accents. This a wine that has plenty of aging potential. $100, available via their website.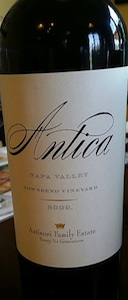 High atop Atlas Peak sits Antica, the Antinori property in Napa that benefits from both mountain and valley vineyards thanks to the unique location of their expansive estate. With 600 planted acres sitting at elevations between 1450 and 1800 feet above sea level, their vineyards experience cooler overall temperatures, but receive plenty of sunshine to ripen fruit, while keeping acidity and freshness bright. Within this, at the top of the Rector Valley watershed that flows into Napa River sits their well draining, volcanic soil filled Townsend Vineyard. This premium site is ideal for Cabernet Sauvignon, with high density planting delivering low yields of highly concentrated fruit. Antica Townsend Vineyard Cabernet Sauvignon is earthy, dense and deep, while maintaining finesse and elegance. Well structured with smoke and leather notes melding with licorice, spice and black fruit. $110 available via their website.
Grgich Hills bases their philosophy in winemaking on great fruit, as great fruit will make great wine. With all fruit coming from their sustainably managed estates their Grgich Hills Napa Valley Cabernet Sauvignon blends fruit from Yountville, Rutherford and Calistoga to create a wine that is finessed and refined, with character. Dried fig, licorice, soft herbs and ripe fruit meld, creating a supple wine with a soft, rich finish. $65, available at Total Wine and More.
Finesse and elegance, with robust, intense character, yet refinement defines the Stags Leap District of Napa Valley. Situated along the Silverado Trail near the Yountville Crossover, Stags Leap, with its bare, exposed rocks, is one of the hottest parts of the valley during the day, yet cools off quickly in the evenings thanks to Pacific winds coming up through the valley. This makes highly desirable fruit, as discovered early by vintners like Warren Winarski, founder of Stag's Leap Wine Cellars, John Shafer of Shafer Wines and in more recent years, Cliff Lede.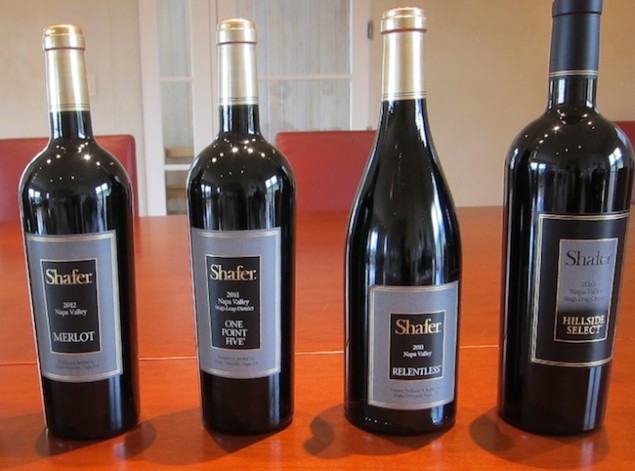 Shafer's prized wine, Shafer Hillside Select, defines the suppleness and structure of Stags Leap, melding earthy, leather notes with freshness, fruit and lush, chewy tannins and mineral characteristics found in the soils of their estate vineyard, located just off the Silverado Trail in the heart of the district. Shafer One Point Five Cabernet Sauvignon is a nod to the work of both founder John Shafer, who at 90 still goes to the winery every day, and his son, Doug, who joined as winemaker in 1983, ten years after the winery was founded but just two years after the first winery release, and is now President of Shafer. The two see themselves more as a generation and a half, and both have been involved, with Head Winemaker Elias Fernandez (who was hired in 1984 as Assistant Winemaker) with making the One Point Five from the start. A true expression of Stags Leap, joining fruit from their Hillside Select Vineyard, as well as their Borderline Vineyard that sits just to the south on the border of the Stags Leap AVA. Sustainably farmed to showcase the true expression of the fruit, One Point Five fills the palate with savory notes of wild herbs, balsamic, black fruit and earth. Nicely balanced and well rounded, a wine that can be enjoyed the day you purchase it or held for upwards of 10+ years. $90, available at Pogo's.
Canadian Cliff Lede knew the best wines had to be made from a truly spectacular, singular place, selecting Stags Leap as the home of his Cliff Lede Winery. Lede, with the help of acclaimed Vineyard Architect David Abreu and Winemaker Chris Tynan, created a one tank per vineyard block system, ensuring that each lot of low yeilding Cabernet Sauvignon is able to blossom at their own pace, evolving on its own, with as little or as much time it needs. The resulting wine, blended with a craftsman touch by Tynan, is highly concentrated, complex and enticing. Cliff Lede Stags Leap District Cabernet Sauvignon, with the latest release being the warm 2012 vintage, is fruit forward, robust and powerful. Dark chocolate and espresso wrap around layers of black cherry, cassis and berry with a long finish, highlighting the tannins in the wine without overpowering. $75, available at select Goody-Goody and Total Wines and More stores.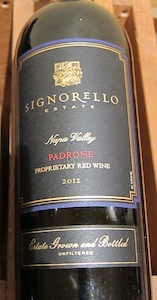 Just outside the Stags Leap boarder to the south on the Silverado Trail sits Signorello Estate, founded in 1977 by the Signorello family with the goal to highlight the quality of their hillside vineyards, crafted into premium wines with care, precision and great passion. Padrone pays homage to Ray Signorello, Sr., founder of the estate. The bold and expressive estate grown Cabernet Sauvignon leaps from the glass with robust character, but maintains supple richness, balanced tannin and structure. Nicely textured with intense earthiness from their rocky hillside estate the special wine is one meant to be aged, or allowed to open for an hour before being enjoyed leisurely with hearty fare. $150, available via their website through allocation.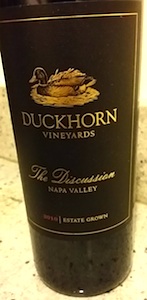 From valley floor fruit, 2011 Duckhorn Vineyards Rutherford Cabernet Sauvignon ($95) captures the dusty, earthy splendor of the Rutherford AVA. Rutherford is thought to have a dusty minerality in the soils, adding both texture and earthiness to the wine. Filled with black cherry, cassis and berry, wrapped around leather, tobacco and woody herb notes the lush, balanced wine is an exceptional reflection of the AVA. Duckhorn also recently released their Duckhorn Vineyards "The Discussion" Red Wine. A nod to some of the original talks the family had around their kitchen table when they were starting the winery, the Bordeaux style, estate grown blend of 62% Cabernet Sauvignon, 29% Merlot, 6% Cabernet Franc, 3% Petit Verdot is a showcase wine for the winery, highlighting their dedication to quality and the evolution of their wines over the years. Wild flower and herb filled, with dried cherry and fig notes, savory spice and oak, with length, complexity and balance. $135, both wines are available via their website.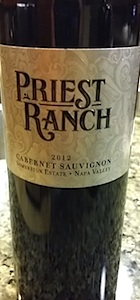 Priest Ranch Somerston Estate sits at elevations that rise from 850 feet to over 2400 feet above sea level, capturing a variety of soil types and mini-microclimates in a relatively small place. This diversity lends itself to an interesting, layered wine. 2012 Priest Ranch Somerston Estate Cabernet Sauvignon is filled with juicy dark fruit, ripe cherry and berry notes, with touches of dried fig, woody herbs and spice. Aged 22 months in French oak, of which 35% is new, hints of vanilla and coffee round out the lush palate with big, yet balanced tannins. $48, via their website.
Sequoia Grove, in the heart of the Rutherford AVA, utilizes both earthy, estate grown Rutherford fruit as well as fruit from vineyards sources throughout the valley, like from Stagecoach Vineyard, Lamoreaux and the stunning Morisoli vineyard. With the hope to create a wine that can be enjoyed today, as well as aged for the next decade, the 2012 Sequoia Grove Cabernet Sauvignon is juicy and opulent. Filled with sweet spice, black fruit, dark chocolate and leather notes, the balanced wine is approachable and inviting. $38, available at Total Wine and More.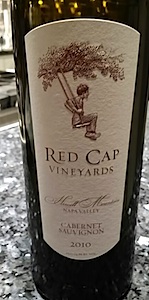 Iron rich, red volcanic soils of Howell mountain add robust characteristics to grapes grown here. The Altemus family purchased their 10.5 acre property at the top of Howell Mountain in 1998, truly out of passion for the land and the lifestyle. Husband and wife team, Tom and Desiree Altemus, had already followed one passion career when Tom left IT working for IBM to become a chef in San Francisco, while Desiree continued her career as a technical writer. After the birth of their 2nd child they jumped into the wine business, purchasing their property, which they began planting with Cabernet Sauvignon vines starting Red Cap Vineyards. Today, their 3 children play amongst the organically grown vines sitting at 1900 feet above sea level, producing high quality, small yielding, highly concentrated fruit. 2010 Red Cap Vineyards Cabernet Sauvignon brings out the best of the was a cool vintage, as their Howell Mountain vines, sitting above the fog line helped keep a constant temperature through the summer season to ripen grapes even during cooler vintages, while keeping acidity bright. Deep and complex, with black cherry, licorice, kirsch and leather mingling together. $65, available at select PK's stores.
Mike Martini is the third generation at the helm of Louis M. Martini, starting in his post as winemaker in 1977. In reflecting on the 2012 vintage in Napa valley, he says it was a gift to winemakers, as there really wasn't a lot that needed to be done except find the precise time to harvest the fruit. For both quality and quantity, the vintage was stellar. Louis M. Martini Napa Valley Cabernet Sauvignon reflects this great vintage through layers of licorice, sandalwood, stewed fruit and vanilla. $38, available at Spec's.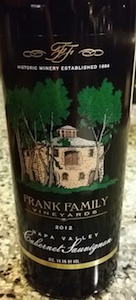 Year after year, Frank Family Vineyards, led by Winemaker Todd Graff, delivers varietally spot on wines with character and approachability. Their latest release, the 2012 Frank Family Cabernet Sauvignon, from fruit grown on their expansive 380 estate acres throughout Napa Valley, highlights the exceptional Napa Valley vintage. Filled with ripe black and blue berry, juicy cherry and fresh fig with hints of mocha and espresso, this tasty wine will compliment any table, any night. $50, available at Spec's.
Traveling out of Napa, consider a detour that will prove to be worth your while to Livermore and a tasting of Steven Kent Wines. Located in the casual, welcoming town of Livermore, Steven Kent Winery is producing high quality Cabernet Sauvignon from carefully managed estate vineyards. Bordeaux varieties have been grown in Livermore since the 1800's, with 6th generation winemaker Steven Kent Mirassou's family legacy dating back to 1854 when the Mirassou family began planting vines in California. I tasted with him at his winery a few years ago and was impressed with his expressive, inviting wine, and appreciated his gracious style and dedication to his craft. The latest release, 2012 Steven Kent Cabernet Sauvignon did not disappoint either, showing Livermore was as lucky as Napa Valley on a beneficial 2012 harvest. Fresh and fruit forward, yet dense and robust, with bold tannins revealing structure and balanced style, delivering all you would hope for from a great Cab. $48, via their website.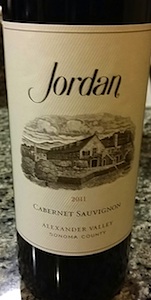 For over 40 years Jordan Winery has been producing their Alexander Valley Cabernet Sauvignon. Started in 1972 by Tom and Sally Jordan, getting into the wine business with a desire to create the highest quality Bordeaux style wine in California.  The still family owned, sustainably farmed winery continues to produce their high quality Cabernet vintage after vintage, while giving visitors to their property some of the best tasting experiences in Sonoma. Their latest release, the 2011 Jordan Cabernet Sauvignon, shows this by creating well structured, high quality wine, even in a very difficult vintage year. Well rounded and nicely textured, with layers of red cherry, berry, soft herbs, dark chocolate and spice. A wine that is lovely to enjoy now, but will also age for several years. Open and decant an hour before serving if enjoying now. $53, available at Spec's.
Get the SideDish Newsletter
Dallas' hottest dining news, recipes, and reviews served up fresh to your inbox each week.