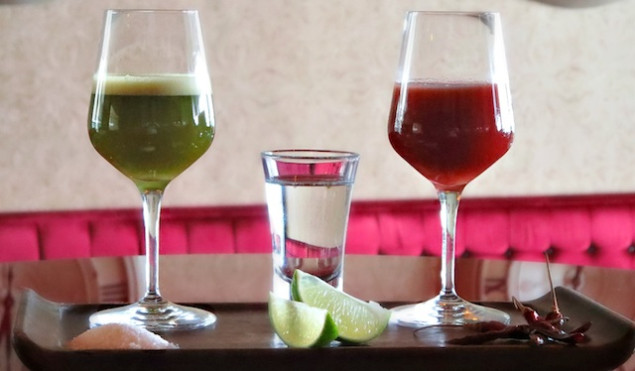 Tuesday celebrates the date of Mexico's Army winning an unlikely victory over French forces at the Battle of Puebla on May 5, 1862. Though not Mexican Independence Day, it is a celebration of pride for many Mexicans and Mexican Americans. We, in the United States, celebrate this day as well, usually with tasty libations from our neighbor to the south. Earlier this week we had a fun list of spots with specials to celebrate the day. Here are some festive cocktails to raise in celebration of Cinco de Mayo. A few spirit samples were sent for editorial consideration.
Since the 1800's the Camarena family has been cultivating blue agave plants for tequila production in the Los Altos Highlands of Jalisco, Mexico. Their 100% Blue Agave Camarena Silver Tequila is smooth and savory, with sweet roasted agave, floral and soft herb notes with just a touch of black pepper. Add a touch of spice with fresh jalapeno and you will have a cocktail worth sipping any day of the year. $20, widely available.
El Pichon
2 oz. Familia Camarena Silver Tequila
.5 oz. Lime Juice
2 Small Slices of Jalapeño
.75 oz Squirt (or Sprite)
Splash of Cranberry Juice
Preparation: In a martini glass, shake and strain all ingredients over ice. Fill with Squirt soda, garnish with jalapeño slices, serve.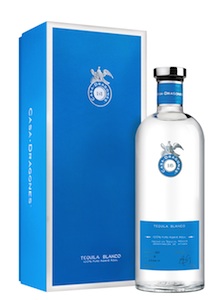 Since Casa Dragones Tequila launched their Joven Tequila it has established itself as leader in the ultra-premium spirits category, producing handcrafted, ultra smooth, sipping tequila. They recently introduced their Casa Dragones Blanco, also made in small batches from hand picked 100% pure, blue agave plants and filled with fresh herbal and floral notes, with a slightly sweet, smooth flavor. The Blanco is also perfect for sipping on its own, but melds well into cocktails, like the one below created by Ricardo Sandoval and Chef Mads Refslund highlighting the fresh apple and herbal notes found in the spirit. $75, available at fine spirits stores.
White Apple
1.5 ounces Casa Dragones Blanco Tequila
½ ounce agave syrup
2 green apples
2 limes
Cilantro
Preparation: Muddle sliced apples, sliced limes and cilantro together in a shaker. Add tequila. Shake. Strain into an ice filled glass and garnish with tequila.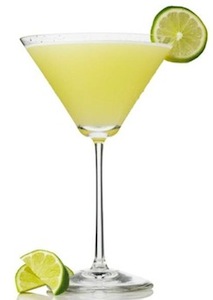 The classic margarita is the obvious choice for celebrating the day, and for the authentic margarita you have to have Cointreau with your favorite tequila. The orange liquor was noted to be the liquor of choice when the cocktail was invented, melding tart and sweet fruit flavors with floral tequila, accentuated always with a touch of lime. I like using Milagro tequila in my margaritas from estate grown, hand picked 100% blue agave plants, roasted in clay ovens and triple distilled to create a smooth, inviting flavor. Milagro ($22) and Cointreau ($27) are both available at Spec's.
Classic Margarita
2 ounces Milagro Silver Tequila
1 ounce Cointreau
½ ounce agave (or more to your taste)
Fresh lime
Preparation: Add all ingredients to an ice filled shaker. Shake and pour into a rocks glass. Salt the rim if you wish and garnish with a lime.
Reposado barrel aged tequila in cocktails adds just a hint of caramel and spice notes to the floral tequila. 100% blue agave Avion Reposado is slow roasted in small batches, then filtered through a slow filtration system to ensure the purest, smoothest product is produced. The tequila is then aged for 6 months in barrel, producing a sweet vanilla, caramel and spice note in the spirit. Mix with Campari for a cocktail that is both bitter and sweet.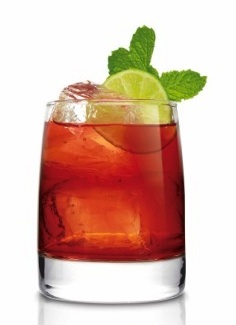 Bitter but True
Created by mixologist Esteban Ordóñez
1/2 oz. Tequila Avión Reposado
3/4 oz. Lime
3/4 oz. Agave syrup
1/2 oz. Campari
5-7 Mint leaves
3 drops of vanilla essence
Lime wheel and mint sprig for garnish
Preparation: Combine all ingredients in an ice filled shaker, shake vigorously until chilled. Double strain over ice in a double rocks or double old fashioned glass. Garnish with a lime wheel and mint sprig.
Blue Nectar Tequila creates a take on the beloved Manhattan with double distilled tequila that is then aged 6-8 months in charred barrels. After aging it is blended with 3 year old Anejo for a smoky, toasted vanilla and roasted agave flavors. Rich, interesting and delicious. $40 at Goody-Goody stores.
Distrito Federal
2 oz. Blue Nectar Reposado Extra Blend
1 oz. sweet red vermouth (we prefer Antica Formula)
2 dashes orange bitters
1 dash Angostura bitters
Brandied cherry
Preparation: Combine all ingredients, add ice and stir until cold – around one to two minutes. Strain into a coupe. Garnish with a brandied cherry.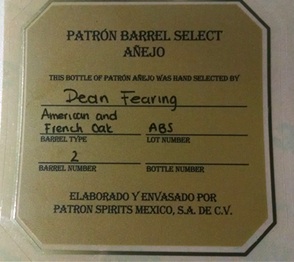 At 6:30 on May 5 at Fearing's, Chef Dean Fearing will unveil his specially crafted Patron Barrel Select Anejo Tequila, a specially selected anejo tequila hand chosen by Chef Dean and his team earlier this year at the Patron headquarters in Jalisco, Mexico. The first sip will be poured for guests tonight in a special Cinco de Mayo celebration, paired with a menu created by Fearing of Brisket Empanadas with Poblano Mojo, Two-Bite Smoked Chicken Tacos with Avocado Relish, and Patrón Shrimp Campeche Cocktails. Can't make it out, pick up a bottle of Patron Silver or Patron Reposado and create one of these tasty options, both created by Damian Windsor for Patron. Patron Silver ($37) and Patron Reposado ($46) are both available at Total Wine and More.
Tomar Bueno
1 oz. Patron Roca Silver
.75 oz. Patron Citronge Lime
1 oz. Campari
1 oz. grapefruit juice
Top with Squirt
Preparation: Add ice and liquid ingredients to a highball glass, garnish with a grapefruit peel twist, alternately take a big sip out of a can of Squirt soda and add the liquid ingredients directly to it.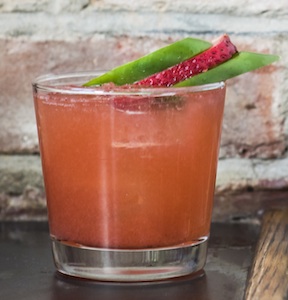 Spice of Life
1 oz. Roca Patron Silver
1 oz. Patron Citronge Lime
1 oz. Frangelico
2 Strawberries
1/2 oz. lime juice
2 Slices of jalapeno
Preparation: Muddle strawberries to a paste, add liquid ingredients and cubed ice, shake and strain onto fresh ice in a double old fashioned glass and garnish with a half strawberry and jalapeno slices.
Mi Dia from Scratch in Grapevine has a few special cocktails on their list created by Ivan Sanchez to honor the day, including a Blackbird fusing Partida Blanco Tequila and Kings Ginger with fresh berries, sage and lime, as well as a twist on a classic margarita with pineapple and chipotle. The below recipe is inspired from that one.
Dolce En Fuego
1 1/4 oz. Partida Blanco infused with pineapple and chipotle*
1 oz. Grand Manier
2 oz. lemon water
1/4 oz. agave
Preparation: All all ingredients in to shaker, fill with ice completely and shake until ice is well broken. Pour contents in to salted highball glass and garnish with a lime wedge.
*Infuse Partida Blanco – add one bottle of Partida Blanco to a jar with one whole, peeled and chopped pineapple and 3 tablespoons chipotle, (add more or less spice to your taste). Place the jar in the fridge for at least a day, but the longer the better.
One of my favorite drinks in Mexico is a Sangrita…no, not a sangria or a margarita. The drink includes a mix of juices, often including both tomato and orange, with a little bit of heat and a little bit of sweet from the addition of hot pepper sauce and grenadine. Yes, may sound odd, but the combination works and is delicious. Serve the drink with a shot of Anejo or Reposado tequila on the side. The AAA 4 Diamond Resort, El Dorado Royale, a Spa Resort, by Karisma in Riviera Maya has a special version including both a traditional red sangrita, and a green.
Red Sangrita Roja
2 oz. Tomato juice
¾ oz. Orange juice
¼ oz. Lime juice
¼ oz. Grenadine
4 Drops Worcestershire
2 drops Tabasco sauce
Salt & pepper to taste
Preparation: Add all ingredients to an ice filled shaker. Shake and strain into a glass. Serve up without ice.
Green Sangrita Verde
2 Cucumber slices
6 mint leaves
1 cilantro sprig
1 oz. Lime juice
½ oz. Simple syrup
1 green pepper slice
Salt to taste
Preparation: Add all ingredients to a blender and pulse until combined and smooth. Strain into a glass. Serve up without ice.
Not a fan of tequila? You can still raise a Cinco de Mayo glass with one of these.
Rosemary Royale
Created by Maxime Belfand, Saxon + Parole, NYC
2 oz. Brugal Extra Dry
¾ oz. Rosemary Honey*
¾ oz. Fresh Lime Juice
1 ½ oz. Dry Sparkling Wine
Preparation: Shake Brugal, rosemary honey and fresh lime with ice and strain into an ice-filled rocks glass. Top with a dry sparkling wine and garnish with a sprig of fresh rosemary.
*Rosemary Honey
1 Cup Light Honey, Such As Clover
5 Rosemary Sprigs
Bring honey and rosemary to a simmer in a small saucepan. Cook for 5 minutes. Remove from heat, and let steep until cool, about 45 minutes. Remove rosemary, or leave in for a stronger flavor.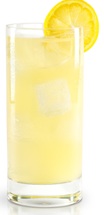 Honey & Heat
2 oz. New Amsterdam Vodka Classic or Citron
1 oz. Lime Juice
1 honey syrup/agave nectar
1-2 slices of Serrano chiles
1 ounce Ginger Beer or Ginger Ale
Preparation:
Muddle chiles together in a shaker, then add ice, vodka, lime and agave. Strain train into tall ice filled glass, add 1 oz. Ginger Beer, garnish with a lemon wheel and serve.
JEM Beverage Company, the producers of North Texas made Western Son Vodka, StingRay Rum, Red River Whiskey and a handful of other spirits, are expanding. The local entrepreneurs, who started their small batch, hand-crafted spirits company 2011, have grown out of their former distillery in Carrollton and are moving to a new space in Pilot Point. They are hosting a grand opening celebration on May 23 at the new space including live music, taco trucks and barbecue, as well as a slew of tasting opportunities for their products. $10 gets you in the door and includes a tasting of 3 of their specialty cocktails, $15 for a tasting of their whiskey.  (Details will be on their website shortly.) To get you ready for the party mix up a pitcher of their blueberry daiquiris, perfect for Cinco de Mayo.
JEM Blueberry Basil Daiquiri
Made by the pitcher
2 1/2 cups of Western Son Blueberry Vodka
1 12 oz can of frozen limeade
24 oz water
1/4 cup of basil simple syrup (1/2 cup water, 1/4 cup sugar, 8 basil leaves)
1 cup fresh blueberries + fresh blueberries and lime for garnish.
Preparation: Muddle 1/2 cup blueberries and simple syrup together and combine all ingredients in pitcher.  Serve in a rocks glass over ice. Garnish with lime wheel and fresh blueberries.
Get the SideDish Newsletter
Dallas' hottest dining news, recipes, and reviews served up fresh to your inbox each week.