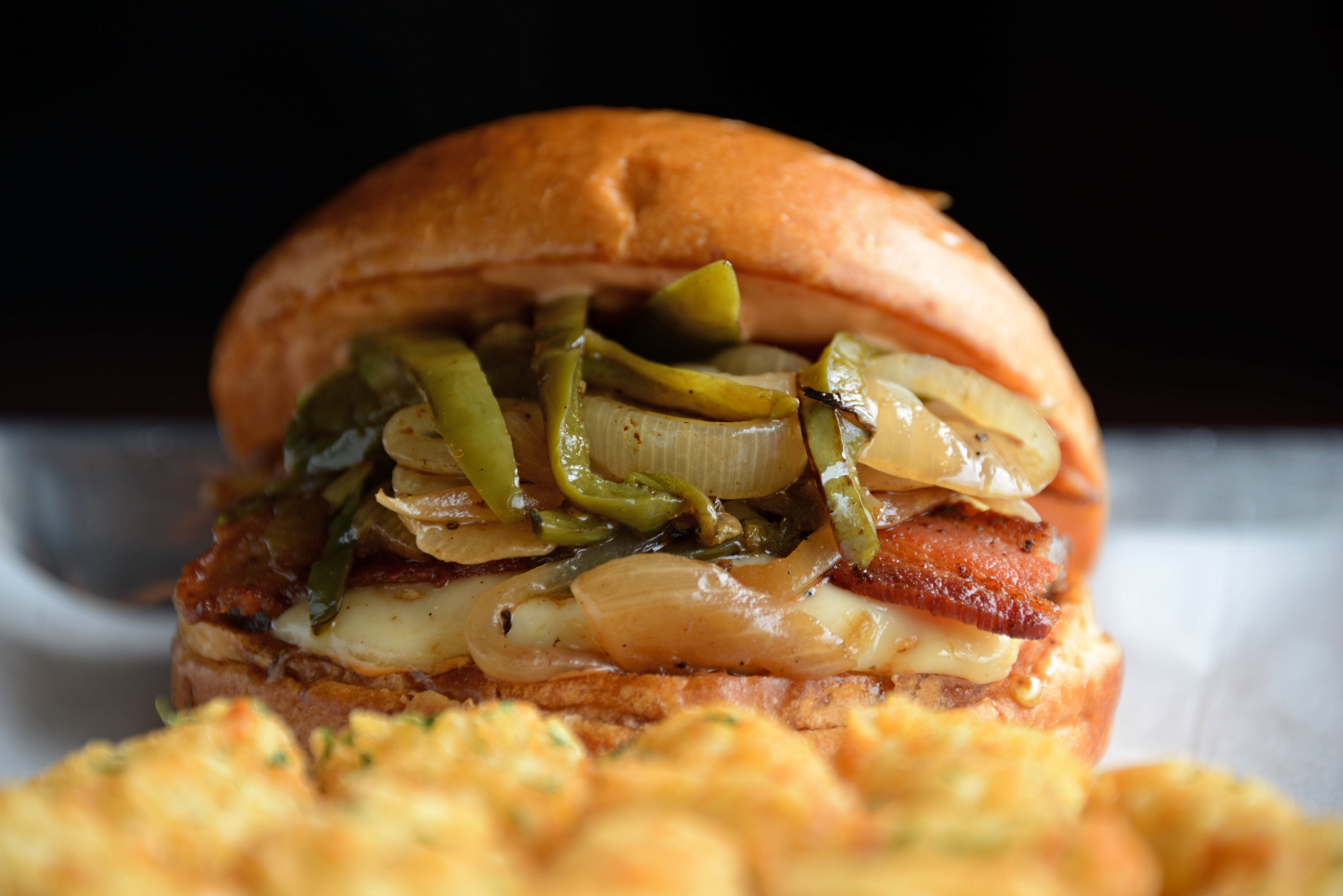 First Take: Blues Burgers
Buckle your belts and take a look at what they've got.
America loves burgers. That savory patty dressed up between two buttery, toasted buns is the the wind to my victory flag. I'm not sure that means much to you, but I am sure you have your own passion palace reserved somewhere in your heart for burgers. They're awesome.
What's even more awesome is when more people make burgers for us to enjoy. That new burger maker for Dallas is Blues Burgers (1820 W Mockingbird Ln). What's that? You haven't heard of them? Well they opened in October of last year and have been treating a bustling lunch crowd for months now as well as hosting live blues bands on Friday nights. It's not their fault you're behind on current events. Regardless, they want to make you a burger and they seem to know what they're doing. The placed is decked out in blues memorabilia that you can only find here. The owner purchased photos from famous rock photographer John Gasperik. Gasperik captured many of the photos while working at Mother Blues, an old hangout for musicians. The likes of James Brown, Robert Plant, Freddie King, Steve Winwood, B.B. King and The Beatles are all featured in black and white prints. I stopped in last week to have a taste of some of their menu items. Buckle your belts and take a look at what they've got.
For the starters, there's the King Rings, fried mozzarella sticks and their highly popular Bad Pennies. The mozzarella sticks are hand battered and served with house made ranch. The King Rings, aka onion rings, are also battered in house with buttermilk, never frozen, and are just damn pretty. If you want sriracha ketchup, you've got to ask for it. You're welcome. Now, this is where the aforementioned buckling of your belt will come in useful. The Bad Pennies are tater tots stuffed with jalapeño bits, wrapped in bacon, deep-fried and then covered in cheddar cheese. Catch your breath and be sure to designate a driver. Oh, and there are also two salads. Just in case you're feeling spry.
Let's move onto the meat of the story. The burgers come in many forms decorated with items like fried bologna, fried eggs, bacon, caramelized onions and the sorts. There's even a busty, veggie burger called the Bella Bella Baby that's made with grilled portabella mushroom, balsamic glaze, provolone, roasted tomatoes, red onions, baby spinach and basil pesto aioli for you upward moving citizens. With all this standard operating wonderment, the star of the show is surely the HMF. You can derive the name on your own from the ingredients. If a child asks, just say it stands for "has more flavor" and look the other way. This burger is made with premium angus beef, applewood smoked bacon, ghost pepper cheese, grilled jalapenos, grilled onions and spicy blues sauce. It turns out that both names work. If you're in the company of people not in the mood for a burger, besides crushing them with an anvil for their insolence, you can show them the non-burger part of the menu that's not overlooked by any means. There's even a damn Panini on there with sumptuous sweet potato fries. They've got turkey, tuna and even roast beef. Tell me you're not going and I won't believe you.
There you have it. And if that's not enough, they also have local beers on tap, liquor, Oak Cliff Soda Company refreshments, ice cream, and house made fried pies. I'm serious. So it's up to you now. Blues Burgers is on Mockingbird just west of Harry Hines. The burgers will run you from $9-$13 a piece. Go and report. Go and be wild.