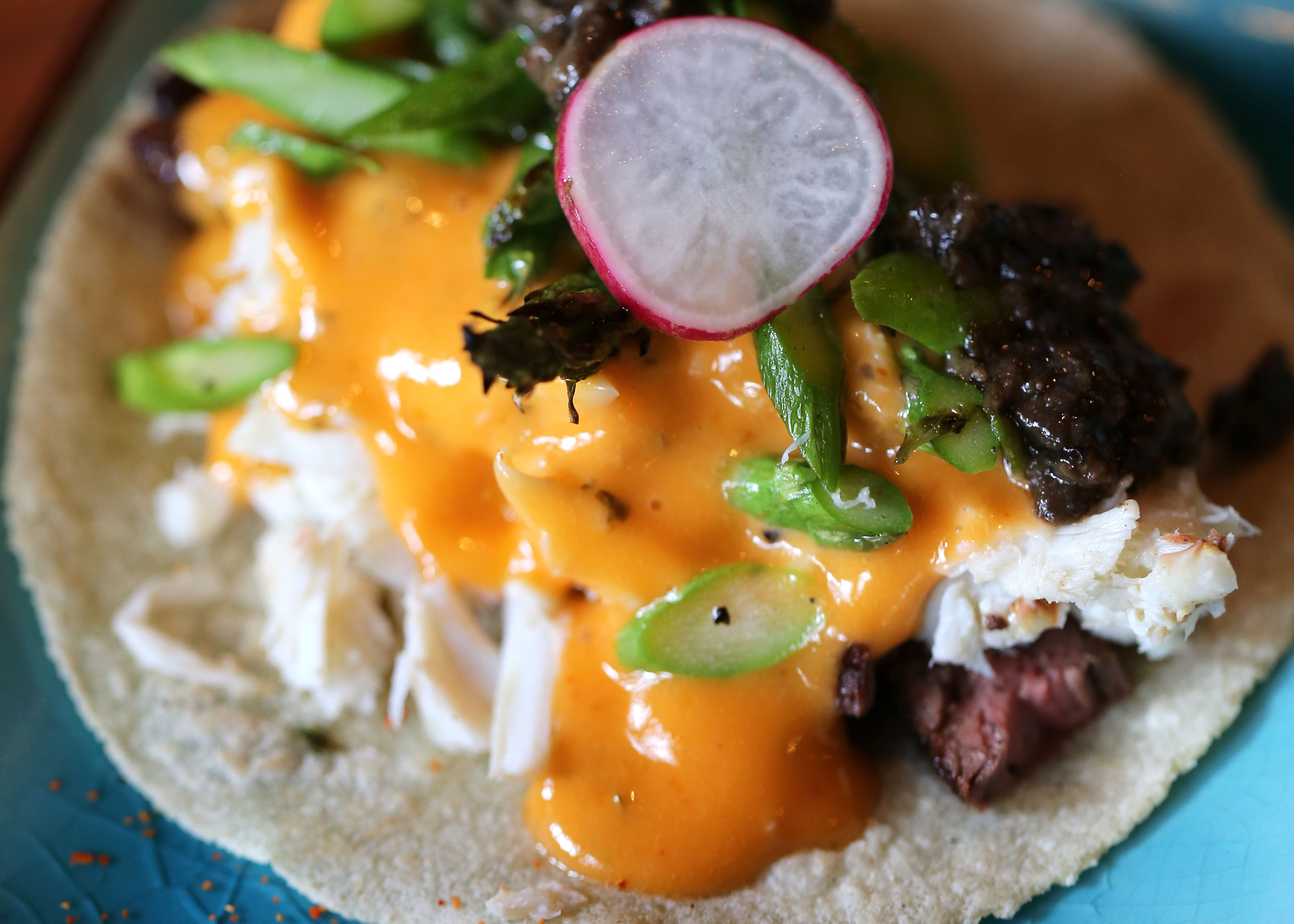 Eat This Now: Le Oscar Taco at Le Taco Cantina
This decadent mound of Akaushi beef, lump crab, truffle cream, sriracha choron sauce, and asparagus will make your mouth water.
First things first, Le Taco Cantina is not Scotch & Sausage. Sure, it's the same space, and Dylan Elchami is still in charge, and you'll spot a few familiar faces bussing tables and working behind the bar, but this new taqueria on Oak Lawn is its own restaurant. Elchami recently sold Scotch & Sausage to an undisclosed buyer, and has since washed his hands of the concept. "Le Taco Cantina is a passion project," he explained to me yesterday afternoon when I stopped in for happy hour. The newly renovated space was completely empty, but then again it was 3 p.m. on a Tuesday.
To an outside observer the restaurant might appear to be knee deep in an identity crises (it is, after all, a taqueria with Asian and French influences), but chef Daniel Tarasevich's menu is playful. Tarasevich's past kitchen experience includes Tillman's Roadhouse, Sushi Samba, Charlie Palmer, and most recently an executive chef position at The Second Floor Bistro in the Galleria. He stepped into his role as executive chef at Le Taco Cantina a couple of weeks ago, and has crafted a small menu with a selection of starters, soups, salads, fajitas, and of course, tacos.
I ordered a moo shu duck confit taco with hoisin, snow peas and napa slaw and Le Oscar taco: a mound of Akaushi beef, lump crab, truffle cream, sriracha choron sauce, and asparagus. The Le Oscar taco was decadent, and according to Elchami is one of the restaurant's best sellers. The $9 price tag may seem a bit steep, but the taco was loaded with crab — so much in fact that I had to eat it with a fork before I could fold the house-made corn tortilla with my fingers.
Tarasevich will offer plenty of off-menu tacos as well, this week he's experimenting with soft shell crab and goat. He also explained that there is a common umami flavor used in all of the tacos, but wouldn't reveal what it is. And no, it's not MSG.
In This Post