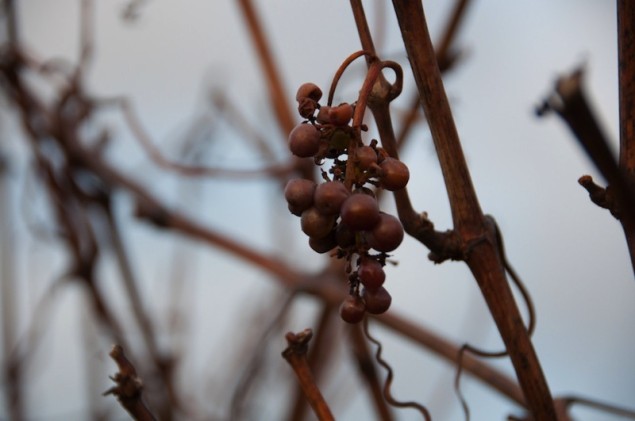 I am often asked what my favorite wine is, a tough question for a wine lover as a favorite truly depends on the circumstances of how you are enjoying it. The answer can change on any given day. However, the wine I would be completely happy drinking for the rest of my life would be a Pinot Noir. Though many varieties express their sense of place with ease, perhaps no other does so as well as Pinot Noir — which can be enjoyed with light to heavy dishes, fish to beef, soup to salad. Here are a few stand outs that I have tried recently, some selections were sent for editorial consideration.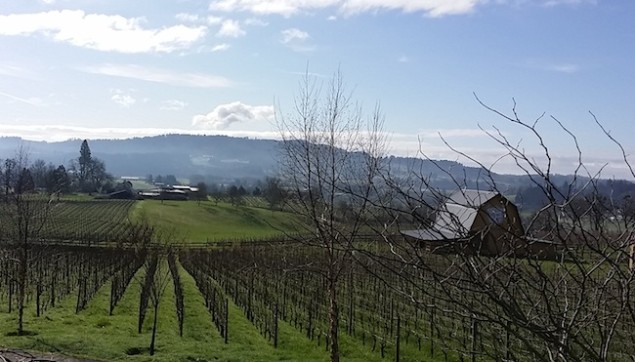 On a recent trip to Willamette Valley, Oregon — considered by many to be the premier location for great Pinot Noir in America — I tasted my way through the Valley, from the Chehalem Mountain AVA to Yamhill-Carlton AVA, Dundee Hills AVA and Ribbon Ridge AVA. Through tasting it makes it easy to understand how elements like the volcanic, ocean sedimentary and loess soils, along with the cool climate, varying elevations, direction of the wind, morning fog, slope of the land, etc. will dramatically change the flavor of the clones of Pinot Noir, which for many wineries is still dominated by strawberry, cherry, forest floor and herb filled Pommard clone. Though similar, a noticeable change in flavors is apparent as you travel across Willamette from one soil type to the next, driving home the differences in each part of the AVA.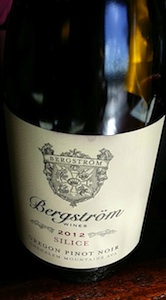 Bergstrom Winery prides itself on farming with a light footprint, specializing in biodynamic methods to create wines that tell the story of the land. From vineyards located in both the Chehalem Mountains AVA and Ribbon Ridge AVA, winemaker Josh Bergstrom, son of founders John and Karen Bergstrom, prides himself on producing ultra premium wines with character and purity. Their 2012 Bergstrom Silice Pinot Noir, the French word for silica, the quartz rock found in the sandy soils of their Chehalem vineyards, has a noticeable minerality, melding with the purple flowers, ripe berry and fresh cherry tart flavors of the wine. Rich and textured, earthy and complex, and very concentrated. The 2012 is the inaugural vintage of this wine, available for $65 via their website.
The valley is celebrating 50 years since it was established this year, and what is more impressive than this milestone is that many of the original winemakers in the region, that planted vines amongst the hazelnut trees dotting the Willamette landscape, are still at the head of their wineries today.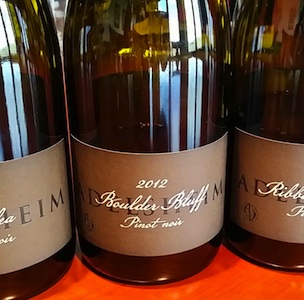 David Adelsheim is one of my favorites, both for his stellar Adelsheim wines, but also his generous spirit and "if one succeeds, we all succeed" attitude. Though he wasn't the very first, he wasn't far behind, buying his vineyard in 1971. Adelsheim has earned a great deal of credit for figuring out the best Chardonnay clones to plant in the cool climate Willamette Valley, looking to Burgundy instead of California, as the similarities between Willamette and Burgundy for growing great Pinot Noir also exist for growing Chardonnay. But, the winery also produces elegant, earthy and delicious Pinot Noir from their now expansive vineyard sites. These blend together to create the Elizabeth Reserve Pinot Noir, creating a harmonious expression of the region and the grape with wonderful consistency from year to year. However, when I tried the 2012 Adelsheim Boulder Bluff Pinot Noir, from a small vineyard (less than 10 acres) in the Chehalem Mountains I knew I had met a delicious friend. Textured and rich, refined yet lively, and completely balanced. A blackberry, black cherry, forest floor and spice filled wine, which started out tight, but with a touch of air, opened beautifully, with a velvety finish. $75 via their wine club, the Elizabeth Reserve is available via their website for $55.
Scott Shull did not graduate with a degree in enology, but had great interest and passion, driving him to dip his feet into the winemaking water in Willamette Valley. He learned by doing, while taking a few enology extension courses at a local colleges and UC Davis. He also participated in the Willamette Valley's Westside Winemakers Club, taking advantage of that "if one succeeds, we all succeed" mentality that is so alive in the region. In 1995 he started Raptor Ridge Winery in the Chehalem Mountains with the goal to produce complex wines with a true sense of place. The smart guy that he is, he recruited his wife, Annie Shull, to join him in his efforts as the head of sales, marketing and distribution.
Visiting with them both you realize very fast how dedicated Scott is, and how smart, because Annie is the lovely glue to the operation. With each complimenting the others best qualities, they work together to make their wines as enjoyable as the welcoming vibe of their tasting room. For the most part they follow the traditional varieties of the region, dominated by Pinot Noir. They do, however, make one of the few estate grown Gruner Veltliner wines I have seen in the region (and, with it's zippy acidity and lively citrus, is delicious.)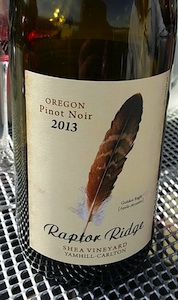 The Raptor Ridge 2012 Estate Pinot Noir ($45,) from their Chehalem Mountain estate, is filled with juicy cherry, cranberry and pomegranate fruit melding with cedar and wild flowers. The Raptor Ridge 2013 Shea Vineyard Pinot Noir ($55) is a beautiful, approachable expression of this sublime vineyard site in Yamhill-Carlton. Filled with wild blackberry, blueberry and violets with a touch of cherry cola and warm spice on the finish, this special wine is one to savor to the very last drop. Both available via their website.
Vineyard 29 is best known for their stellar Napa Valley Cabernet Sauvignon from their St. Helena estate fruit, however they also began producing Pinot Noir not long ago from fruit sourced from some of the best vineyards in Willamette Valley with a distinct, Old World Burgundian style. The warm vintage 2013 Vineyard 29 Cru Pinot Noir has an elegance and freshness to it, opening with purple flowers and berry notes, followed by nutmeg, orange zest, fresh strawberry and earthiness. Balanced, yet bold, with a lush, lingering finish. $54 available via their website.
Alexana Winery in Willamette Valley was started by Houston based cardiologist Dr. Revana, owner of Revana in Napa Valley as well, a winery he started after falling in love with the great wines of France. Shortly after beginning Revana he created Alexana, named for his daughter. With the help of respected Willamette Valley winemaker, Lynn Penner Ash, Alexana winemaker Bryan Weil crafts elegant, distinct wines that fully represent the terroir, and each individual Pinot clone, in their Newberg winery. 2012 Alexana Pinot Noir is generous and lively, filled with black cherry, black plum, cola and earthy mushroom. Aged 11 months in French oak, of which 37% is new, the adding hints of sweet spice, toasted vanilla and cedar to the wine. $53, available at select PK's stores.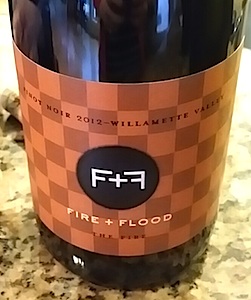 Chapter 24 Winery, started by former head of the acclaimed Evening Land Winery, Mark Tarlov, created his Fire + Flood Pinot Noir to showcase the soils of Willamette with Fire, representing the volcanic soils of the Eola Hills and Dundee Hills and Flood, highlighting the flood plain or sedimentary soils, as found in Yamhill-Carlton, Ribbon Ridge and Chehalem Mountains. The Fire + Flood "Fire" Pinot Noir is lush and fresh, approachable and juicy, filled with earthy forest floor, red strawberry and cherry, and a touch of minerality from the iron rich, volcanic soils. $60 via their website.
Though you may not think of Pinot Noir, (or Pinot Nero in Italian / Blauburgunder in German,) when you think of Italy, there are regions throughout the country that produce fresh, light and balanced wines from the variety. One favorite is the picturesque region of Alto Adige. Though lovely upon release, when allowed to age a few years in the bottle the earthy characteristics of the grape become more apparent, while maintaining lovely fruity notes. Because of the cooler climates, acidity remains bright as well, helping with the age-ability of the wine. A few to look for include selections from Abbazia di Novacella, J Hofstatter and Kellerei Kaltern Caldaro Saltner Pinot Nero, retailing for between $20-$40, available at Jimmy's.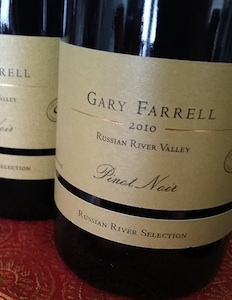 Wow was the first impression after I opened a bottle of 2010 Gary Farrell Russian River Pinot Noir recently, with richness, concentration and complexity lifting out of the bottle as soon as the cork was removed. Russian River, with warm days and cool nights, along with breeze filled days and morning fog, help create ripe fruit, while maintaining bright acidity thanks to cool night temperatures. Russian River is the ideal place for growing stellar Pinot Noir, and the shining 30+ year reputation of the winery, with the first vintage produced by Farrell in 1982, will deliver a quality wine from some of the best fruit in Russian River. The wines are not heavy, but they are nicely textured, fully expressing the elegance of the fruit and the place, filled with black cherry, cola, forest floor and herbaceous qualities. $40 at Spec's.
MacMurray Estate Vineyards Russian River Valley Reserve Pinot Noir blends fruit from three different Russian River estates, adding character, structure and complexity to the wine, and a range of flavors from lavender and violets to pomegranate, cherry and blackberry, to cola and mushroom notes. French oak aging, of which 1/3 was new, adds an additional layer of flavor to the wine, imparting vanilla, sweet spice and toasted cedar notes. $37 available via their website.
Combining fruit from both Russian River and the Sonoma Coast, with completely native fermentation Pahlmeyer has created an expressive representation of the region with both complexity and freshness, concentrated, black and red fruit melding with bright acidity for an approachable, yet hearty Pinot Noir. Ripe red berry and cherry, earthy forest floor notes, sweet nutmeg and clove spice, vanilla and balsamic fill the expressive wine, lingering till the end with a velvety finish. $75, available via their website.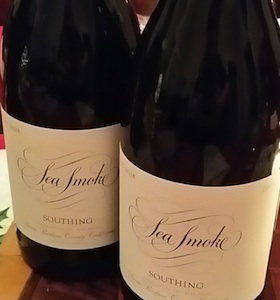 For Pinot Noir lovers Sea Smoke is always a favorite. Though their Santa Rita Hills AVA estate in Santa Barbara County is one of the warmest and sunniest climates in California, the morning fog and cool breezes from the Pacific make their south facing estate vineyards ideal for growing distinct Pinot Noir, balancing freshness and acidity with ripe berry and cherry flavors. Their Sea Smoke Southing Pinot Noir blends complexity and richness with elegance, balancing ripe fruit, fresh floral notes and bold tannins for a complete wine. $60, available through allocation via their website.
David Rossi founded his Fulcrum Winery in 2005 with the idea to make balanced, complex and interesting New World Pinot Noir wine. Though at the time many weren't talking about low alcohol Pinot Noir, or achieving a balance between ripe fruit and fresh acidity, that was precisely what Rossi wanted Fulcrum to be, always with the eye on quality instead of quantity. He sought out specific vineyard sites that would achieve this goal, ensuring the story of the wines would come from the land and not the tools in the winery. His Fulcrum 2012 Anderson Valley Pinot Noir (fast becoming a favorite region for earthy Pinot Noir wines) comes from a warm spot in the cool AVA, allowing the Pinot Noir fruit to ripen, while maintaining freshness and acidity. Aged 16 months in partially new French oak, the wine is filled with black cherry, wet leaves, cola, coffee and spice. Dense, yet inviting, allow the wine to open a bit before enjoying, decanting an hour before hand to really allow the richness of the wine to shine. $55 available via their website.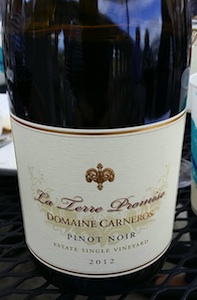 I recently wrote about the sparkling wines of Domaine Carneros produced from certified organic vines in an environmentally friendly environment. They also produce several still Pinot Noir wines from their estate grown grapes. The first, and still produced, came with winemaker Eileen Crane experimenting in the cellar. For many years they had been selling fruit to winemaker Tony Soter, then for his Etude wines, but that brand had gotten too big for Domaine Carneros to keep up with their needs. Crane opted to experiment with an extra barrel that had become available to her, producing their first Pinot Noir. The French barrel wasn't a style she was used to working with though, as it had a heavier toast on it, producing a robust, intense wine with black fruit, spice and earthiness. When the Taittinger family came to their winery for a visit they tried it and loved, quickly taking it back to France with them to sell at their family owned hotels. This wine was their Famous Gate, named for the welcoming front gates at their Carneros Chateau. The same style of wine is still produced today, along with a selection of individual clone and single vineyard wines, like the La Terre Promise Pinot Noir (or Promised Land,) filled with blackberry, strawberry and cherry, layered with licorice, soft herbs and spice. The winery began their focus on sustainability in 2003 with the building of a separate facility to produce their Pinot Noir wines, building with the addition of solar panels, water reclamation, recycling and more. In 2008 their brought on Pinot Noir expert TJ Evans as their still winemaker to produce their quality Pinot Noir. The Famous Gate retails for $75, La Terre Promise for $58, both available via their website.
Robert Mondavi Winery Reserve Pinot Noir comes completely from the cool Carneros AVA at the base of Napa Valley. From two vineyard sites within the AVA, with vine age averaging around 40 years old, resulting in a concentration of the fruit, creating richness, complexity and refinement to the wine. Black berry, black cherry and plum fill the wine, layered with oak, toasted vanilla and spice. Delicate and enjoyable, showcasing how special the Pinot Noir fruit can be. $60 available via their website.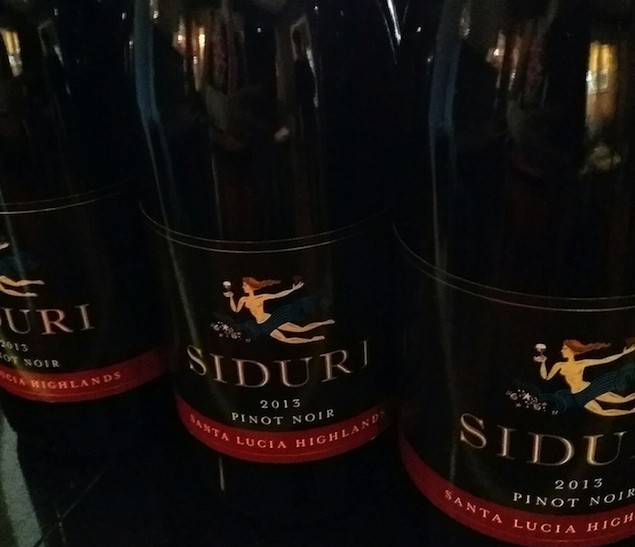 Not too long ago I noted the news about Texas born winemakers Adam and Dianna Lee and their selling of their beloved Siduri Winery to Jackson Family Wines. The smart part of this sale, at least for now, is that Adam remains as winemaker, ensuring that the quality we have come to expect with Siduri wines will remain in tact. I enjoyed the 2013 Siduri Santa Lucia Highlands Pinot Noir at one of my recent Dallas Uncorked events, pairing it with a seared salmon with a spiced parsnip broth. Spicy, blackberry and cherry, earthy, and cola filled, everything you want in a quality Pinot, pairing beautifully with the dish. $35, available at Spec's.
 Landmark Overlook Pinot Noir is an everyday style wine, easily enjoyed with burgers, roasted salmon or duck, or summer salads with grilled shrimp. From a blend of California regions, including predominantly Sonoma, with Monterey and San Benito, the Pinot Noir fruit is juicy, lively and fresh, with wild strawberry, orange zest and spice filling the palate. $25, available at Total Wine and More.
Get the SideDish Newsletter
Dallas' hottest dining news, recipes, and reviews served up fresh to your inbox each week.