Growing up in New Jersey in the days that cocktails were king and a wine cellar was unheard of, becoming a winemaker might have been a far fetched idea. However, thanks to a good father and inquisitive palate Eileen Crane learned to appreciate good wine early, especially Champagne.  Eileen was in town recently and I joined her for lunch as her guest at Parigi to talk and to taste a few of her remarkable sparkling wines.
Domaine Carneros CEO and Founding Winemaker, Eileen Crane was lucky to grow up in a home with wine. Her father, a WWII vet, had fallen in live with French and German wines during the war and brought that appreciation back with him when he returned home, building one if the few wine cellars at the time in their East Coast home. He would let Eileen taste a touch of the evenings wines, developing her youthful palate. When she tasted her first sip if Champagne she knew she had met her love.
She met her second love, her husband, her first week at UC Davis, where she studied enology and viticulture. She got lucky with jobs early on, always knowing she wanted to be a winemaker of sparkling wine, first working at Domaine Chandon, working her way up from leading tours to becoming assistant winemaker, and then hired to be Vice President/Winemaker for Gloria Ferrer.
28 years ago she was hand selected by the Taittinger family, known for their impeccably high quality Champagne, to help them create their premier, méthode champenoise (or traditional method,) sparkling house in Napa Valley, Domaine Carneros. Since then, this family owned, small production winery has earned a reputation as being one of the very best in Napa Valley, as well as the world. Producing around 46,000 cases total of both sparkling wine and Pinot Noir, the winery's focus has always been on high quality fruit from their estate vineyards.
Though Eileen oversaw every element of the winery development, she worked closely with Tony Soter, a Willamette Valley favorite of mine, then working throughout Napa Valley, to help plant their now completely organic vineyards. They became a California Certified Organic Farmer in 2007. The winery also works green, powering their facility through the use of solar energy, reclaiming water, recycling and protecting their natural habitat with fish friendly farming practices.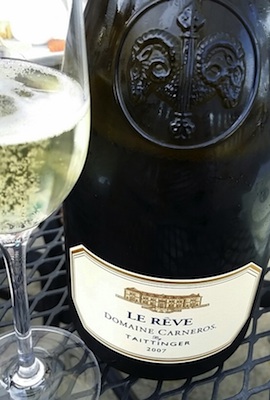 Eileen describes her wines as Audrey Hepburn in a little black dress. Elegant, refined, tightly knit, and very balanced. "These aren't Dolly Parton wines." All sparklers except the Rosé, are vintage. This is not the norm for most sparklers, as the non-vintage sparklers, made by blending several years wines together, help create a house style. These wines are consistent, but they also tend to be released younger with less aging to help develop the richness and depth of great Champagne or sparkling wine. This is helpful in areas like Champagne, where fluctuations in weather from year to year can create great fluctuations (both in the overall profile of the wine as well as the quantity/quality of the fruit available.) As Eileen noted, even in bad years, California is still great. Domaine Carneros sparklers see a minimum of 3 years of aging before the second fermentation, developing the flavor and texture of the wines.
The Rosé is a bit different, aged just a touch less time to ensure ripe berry notes stay fresh and rich in the wine. She originally was hesitant to make the rose, being a fan of a Blanc de Blanc (or 100% Chardonnay) style above all. However, many years of requests from fans of the winery, including a number of Texans that have been loyal customers since their start, helped convince her to make the rose, and make it in a style that would ensure stability in the wine, an issue some Blanc de Noir wines have. Domaine Carneros Brut Rosé, Cuvee de la Pompadour, is a blend of 60% Pinot Noir, of which 20% has skin contact to help develop the color, and the 40% Chardonnay. The Chardonnay adds weight, structure and depth; the Pinot adds finesse, softness and flavor. Instead of three years of aging the wine sees just over 2, keeping the wine fresh and vibrant, while layering in ripe tangerine, cranberry, cherry and wild roses.
The 2010 Domaine Carneros Brut Cuvee is a blend of 58% Chardonnay with 42% Pinot Noir. Lively and crisp, filled with citrus, tropical pineapple, golden apple and Asian pear, this sparkler will go from the start of the evening to the end, pairing beautifully with what you might expect like creamy cheese, oysters, roast chicken, fish or pasta, but also with spicy Thai or Mexican, roasted pork belly or beef.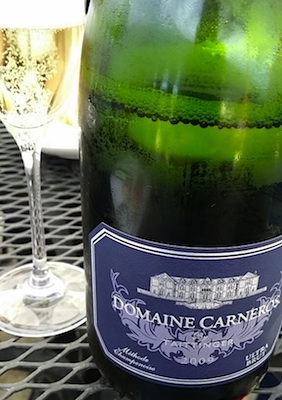 My favorite is the Domaine Carneros Ultra Brut, currently on their 2010 vintage. Made by adding only a scant amount of sugars after aging, during dosage to help create the second fermentation in the bottle, the racy, very dry wine is also completely elegant, approachable and balanced. It is difficult to make this style of wine in Champagne as the fruit simply can't get to the level of ripeness to to create a drinkable sparkler without a higher level of sugar added during dosage. Thankfully, even in those difficult California vintages, the ripeness and fruitiness of the grapes allows for this wine to be created. It may not be for all palates, but the clean expression of the fruit, as displayed with the Ultra Brut, truly shows how special this place is and these wines are.
Domaine Carneros 2007 Le Reve Blanc de Blancs is delicate, expressive and refined, this is Hepburn with pearls. Though she didn't say, it is obvious from the Chardonnay fan, that this is the wine Eileen set out to make when joining the winery. 100% Chardonnay is produced from five different clones of the variety grown throughout their estate, and aged 66 months in the bottle on the yeasts. Great acidity, fresh melon, citrus, spice and white flowers, meld with toasted honey and brioche notes. Complex, textured, aromatic and memorable, this is the wine that's memory stays with you long after the bottle is finished.
The Domaine Carneros Le Reve Blanc de Blancs ($105) is available at Total Wine and More; the Brut Cuvee ($29) is available at Pogo's; and the Brut Rose ($37) is available at Goody-Goody stores throughout Dallas. The Ultra Brut ($42) is available via their website.
Get the SideDish Newsletter
Dallas' hottest dining news, recipes, and reviews served up fresh to your inbox each week.