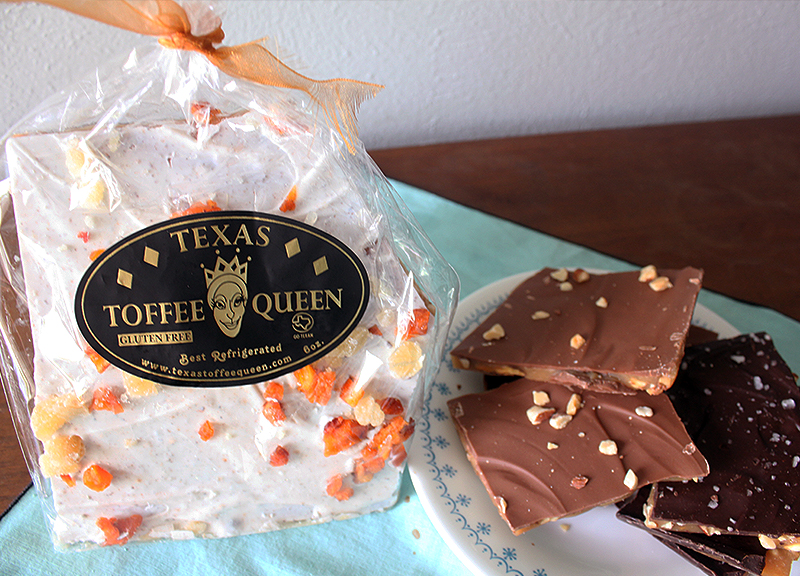 The Localist: Texas Toffee Queen
This local treat comes in 11 different varieties.
I will choose toffee over any other candy every time. Give me good toffee with an amazing story attached to it and I might even get a little weepy-eyed. Texas Toffee Queen does just that. Their product's flavor is unbelievable, it's locally made, and it has a touching family story behind it.
I stumbled upon the toffee this past week at a Kroger near my house. Kroger has the cutest handmade signs that read "Texas made" to display all of their local products. Like I said, I can't pass up toffee so it was already coming home with me, but realizing it wasn't just Texas-made but actually from right here in Dallas was even more exciting.
Per the Texas Toffee Queen website, Nancy is the toffee maker in the family but attributes of love for cooking and passion for fresh ingredients to her father. The family owned a produce store when Nancy was a child and they began opening restaurants when she was about 12 years old. She ended up marrying a man in the food business whom now owns several local restaurants with her brother in law. She got her start selling toffee at her sister-in-law's ravioli shop, Civello's Raviolismo.
Texas Toffee Queen offers 11 gourmet toffee flavors. Each is made with real butter, sugar, fresh roasted Blue Diamond Almonds, a tiny amount of Karo lite corn syrup (for the binding process) and fine quality chocolate. I couldn't decide on just one, so ended up getting White Chocolate Peach Ginger Habanero, Dark Chocolate Salted Jalapeño, and Milk Chocolate Toffee. They were all amazing. The texture and taste are perfect. I'm a fan of wild flavors but I have to say, the Milk Chocolate was my favorite.
You can find all 11 Texas Toffee Queen flavors at Central Market stores near the bakery, a few Kroger locations (including the one off of Mockingbird) in a cooler near the cashier, and the Gaylord Texan gift shop. You can also order in bulk from their website. To learn more about their product and the family behind it visit their website at www.texastoffeequeen.com.