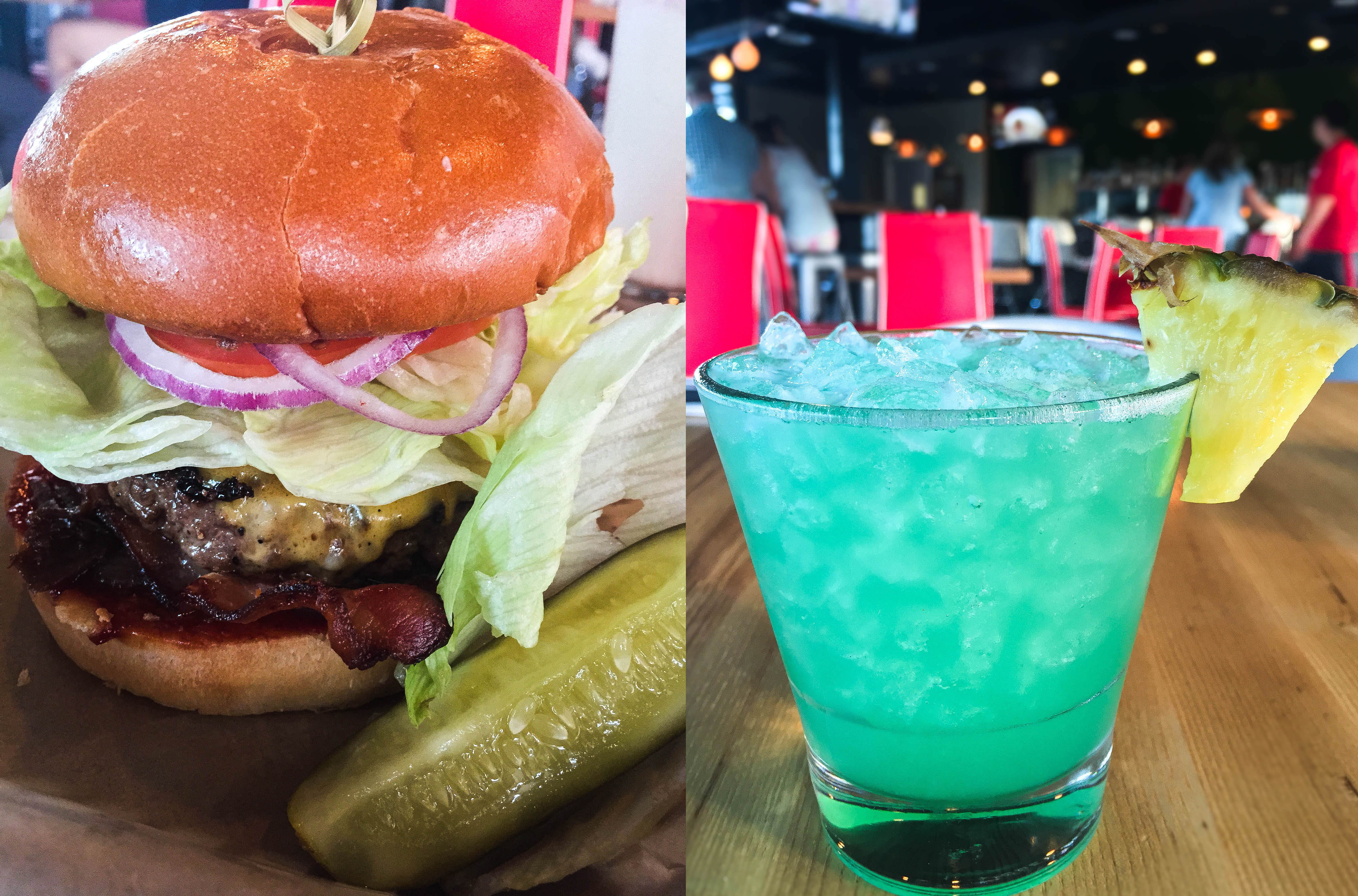 First Look: Spork in North Dallas
Eric Justice took over a dead Sonic location and turned the space into a funky, fun place to hang out.
Eric Justice has created quite a stir at Frankford and Preston Road in North Dallas. The former chef of Mexican Sugar in the Shops at Legacy took over a dead Sonic location and, with a help from The Bolsa Boys– Chris Jeffers, Chris Zielke, Tim Byres—turned the space into Spork, a funky, fun place to hang out. The logo of a spaceship anchored by a spork on the front of the is your first clue that the dining experience inside is whimsical. "Spork, the name itself started out as the utensil," Justice says. "A Spork, like Sonic is pretty basic and utilitarian, no frills."
I stopped in Tuesday night for a quick family dinner, and we were not alone. The crowd was a mix of families, older couples, bar flies, and teenagers. Justice has taken Sonic food and put together a creative menu of burgers, grilled cheese sandwiches (the messiah of sandwiches), hot dogs, salads, and chicken tenders. The menu offers ten cheeses to grill between slices of bread. The list includes aged Humboldt Fog, Point Reyes Blue, and Habanero Dry Jack.
Chef Justice uses house-ground Niman Ranch beef and makes extras such as Hatch green chile and dill pickle relish, kimchi, Korean pickles, and Dr Pepper spicy onions.
The Western Beef burger, piled high with crisp iceberg lettuce, tomato, and onion, was layered with smoky barbecue sauce, bacon slices, and caramelized onions. We were not offered a choice of doneness, and the meat was delivered cooked medium well. Nonetheless it was a delicious sandwich.
The build-you-own burger/sandwich section offers fish, chicken, veggie, hot dog, and buffalo or beef patties. Once you've picked a protein, choose a sauce such as jalapeno blue cheese, banana pepper and hot yellow mustard, or Japanese red chile mayo. I ordered a veggie burger made with black beans, shiitake mushrooms, flax seed, soy protein, shallots, garlic, and parsley. It was so dry I had to cover it with two shot glasses of spicy 1000 Island dressing.
Milkshakes are a must as is an order of soft serve custard created by Katherine Clapner of Dude, Sweet Chocolate. My niece conquered a tall Mexican caramel and cinnamon shake while my brother and I spoon battled over the custard. Justice has plans to incorporate other Dude, Sweet Chocolate items such as  toffee, nuts, and brittle as "high profile blend ins"  for the shakes.
The service was abysmal. Our server was alone on his second day on the floor. He was a nervous wreck and shook visibly when asked simple questions. He should have been shadowed by a manager or a member of the training staff.
The bar could improve their draft cocktail selection. The one drink that caught my attention, Country Water made with peach-infused gin, lemon, honey, soda, and fresh mint, was not available. Neither was the Valley Star Sauvignon Blanc I ordered as a backup. The wine selection doesn't even qualify as a list. There are only 8 on-tap choices. Beer is the deal here.
But the outside patio, still under construction, is going to make it all better. The former covered parking spaces for car service have been turned into an outdoor eating, drinking, and playing space. You can see The Bolsa Boys' influence here as it resembles the funky spirit of The Foundry and Chicken Scratch. "The putting green plan is still up in the air," Justice says. "What we will have for sure though is the 10-person custom football table, ping pong, cornhole, washers. We will likely do some live acoustical music down the road. Just have to be careful and respect the apartments across the way. It should be 90% completed in 2 weeks but we have a lot of ideas for it so it might take the summer to fully develop."
As I was heading to my car, three people stopped to ask me what was going on inside. There is an obvious need for fun in North Dallas, and Spork is certainly that. And I can't wait to go back once they get the ship cruising straight.
In This Post