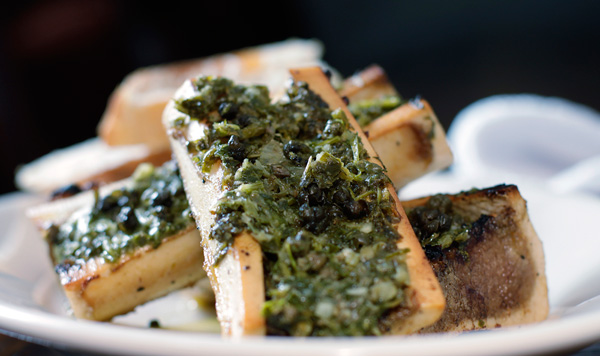 Bits & Bites: Things to Eat in Dallas this Weekend
Your guide to weekend dining events in Dallas.
Your guide to weekend dining events in Dallas.
Friday
Deep Ellum Arts Festival kicks off today and you'll need to create an itinerary for eating with everything that's available. Nosh on Mexican, Caribbean, Cajun, Italian, Mediterranean, and American classics while you admire the art. The festival is free to attend. Visit the website for more information.
The Gin Mill is hosting an Easter Roast to celebrate the holiday through Sunday. The special menu offers herb-roasted leg of lamb with homemade mint sauce served with petit pois, roasted potatoes, and salad. An la carte menu is also available. Prices vary. Call 214-824-3343 for reservations.
Winetastic is hiding bottles at their Easter "Wine" Hunt today and tomorrow evening. The two day event is a store search for "special hidden" wine. This is more fun than searching for hard boiled eggs, right?Tickets are available for $25.
Saturday
Get in the Spring mood with fresh lemonade, bouquets, and pastel macarons. All of which will be at JOY Macarons for their Ace Soiree Pop Up. The event will take place from 10:00 a.m. until 3:00 p.m. Check out their Facebook page for more event details.
Teenie's Cake Creations hosts Dessert Soiree from 2 p.m. until 5 p.m. at TDK's Lounge. The event features food, drinks, and desserts from Teenie's and other vendors. Tickets are available for $10 online.
Meddlesome Moth is hosting a Jester King Beer Breakfast. The event starts at 10:30 a.m. Founder Jeff Stuffings will share experiences while participants sip on five beer pairings along with food pairings. Tickets are available for $65 online.
The Dallas Brew Bus wheel are back on the road. It'll be en route to three different breweries to see how what goes into Texas craft beer. Here's the stops: Samee Panther Island Brewing, The Collective Brewing Project, and Texas Ale Project. You'll receive complimentary samples, LUCK appetizer, and commemorative glass while learning more about the North Texas craft beer scene. Tickets are available for $50 here.
The Cellar Restaurant & Bar presents its first annual Drunken Rabbit Easter Egg Hunt and Brunch. The menu includes fruit, eggs, biscuits with gravy, and ham. You can participate in the egg hunt and enjoy brunch for $20. This event is for ages 21 and up. Reserve your spot here.
Sunday