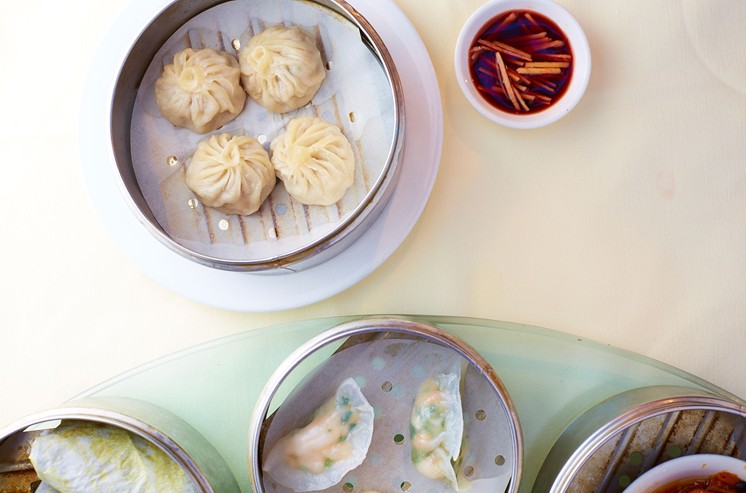 Bits & Bites: Things to Eat in Dallas This Week
Your guide to weekly food and drink events in Dallas.
Your guide to weekly food and drink events in Dallas.
Tuesday
In case you didn't know, today is National Beer Day. That's right, there's an entire day dedicated to frothy, cold, delicious beer. Stop by Dallas Beer Kitchen for a night of King Trivia and test your knowledge of the frothy beverage with friends. The fun kicks off at 7:30 p.m.
Whiskey & Rye at the Omni Fort Worth Hotel debuts its first Tuesday music series featuring acoustic guitarist Jimmy Barcus. Happy hour extends until 8:30 p.m. with drink specials and discounted draft beer. This event also includes boot shining by M.L. Leddy's in Fort Worth. Only in Texas, right? Call 817-350-4105 for details.
Wednesday
Local beer bloggers, Brian L. Brown and Paul Hightower are releasing their new book, North Texas Beer. Doors open at 5:30 p.m. with a tasting until 6:30 p.m. followed by a book signing. They'll share everything from beer history to business in North Texas. Get your free ticket here.
Thursday
Diabetes Health and Wellness Institute hosts its first annual chef cook-off at the Latino Cultural Center. The event will feature three rounds of competition: high school, culinary institute students, and professional chefs. This is an effort to educate the community about healthy eating and nutrition while enhancing culinary skills. Read more here.
Sammons Lunch Jam continues this week with R&B tunes. The event is part of AT&T Performing Arts Center free lunchtime student concert series. Food trucks, ping-pong tables, and wi-fi to update your Facebook status are added perks.
Today is International Gin and Tonic Day and The Library Bar is celebrating by offering the homemade classic for half price all day. The live entertainment starts at 8 p.m. by Erik Barnes, who is celebrating 20 years of playing piano at the bar. Call (214) 224-3152 for more information.
Friday
Relive those days in English literature class at Times Ten Cellars with a celebration of William Shakespeare. "Eat, drink and be merry" with live music, hors d'oeuvres, a silent auction, and complimentary valet. Tickets range from $25 to $40. Call 214-559-2778 for more information.
New Friends New Life presents the 12th Annual WINGS Luncheon with Kevin Costner at the Hyatt Regency Dallas. The event starts at 11:30 a.m. Tickets are available for $175 and up. Call 214-965-0935 or click here for more information.
Saturday
The Big Texas Beer Fest is here again. Beer, live music, food vendors, but the best part? Proceeds from the event benefit the North Texas Food Bank. General admission is available for $39 with access starting at 2 p.m. The event takes places at Fair Park Automobile Building. Call 214-939-3015 or click here for more information.
Blue Mesa Grill welcomes Chef Sharon Hage back to Dallas. Hage will prepare a special three-course dinner for the event, highlights include asparagus, gulf crab, local watercress salad; asparagus, gulf crab, local watercress salad; and ripe wild berry shortcake. The full menu is available online. Call 214-378-8686 to make reservations.
Sunday
The Food & Hospitality Institute at El Centro College showcases their culinary talent at the 7th annual Bits and Bites fundraiser. This year's event honors Mozzarella Company founder, Paula Lambert. Tickets are available online for $55 or at the door for $60.
Dim sum is a hot commodity these days, and Sur la Table is giving folks a chance to learn how to create the traditional Chinese brunch. Tickets are available online for $69. If you'd rather go out and try it first, check out our guide to the best dim sum in Dallas.