It's easy to neglect Victor Tangos during the brief respite we call "spring" in Texas. Housed in a landlocked building constructed in 1904, the restaurant has zero windows, and a matching number of patios. But once you pass beneath the red neon "Kitchen Open Late" sign hung wittingly over the door, the venue emanates an affable vibe. Bucking the trend of wildly changing menu items to accommodate seasonal demands, Victor Tangos respects the fact that a strong number of Dallasites appreciate menu staples. Sure, there are a few dishes that rotate in and out, and on occasion, certain ingredients reflect what is happening outdoors. But typically the menu remains fixed, which is exactly how VT regulars prefer it.
Fortunately, Executive Chef Kirstyn Brewer has developed an extremely well-rounded menu for those searching for familiar comforts. To complement these offerings, Matt Ragan, the house's lead mixologist and executive jack-of-all-trades, has assembled a diverse cocktail program. And, in stark contrast to the familiar fare, if you're feeling something "off menu" beverage-wise, simply describe what you desire and allow Matt to run point with something made from scratch.
Last Friday, some friends and I were invited in for a gratis sampling of a series of menu items expertly paired with libations. Plates vary in size, but they're all meant for sharing so, it's my recommendation to attend with no less that a party of four in order to allow for an adequate tour across multiple sections of the menu.
Start with the P.E.I. mussels ($13), which are prepared with fresh lemongrass, Thai basil, Fresno chilies and pork sausage (which is made in-house daily). Make sure to request extra toasted garlic bread to sop up the Tamarind broth. Matt appropriately paired this dish with a Kiuchi Hitachino Nest White Ale (an award-winning Belgian-style wit bier) but I also enjoyed the Hitachino Next Anbai Plum Weisse Gose (a tart wheat beer brewed with salt and spices), also from Kiuchi Brewery.
For those not in fear of carbs, opt for the house made pappardelle, with lamb ragu, carrots, peas, mint and Parmesan ($17). Pair with a crisp white wine, such as the 2013 Scaia blend of Garganega and Chardonnay from Tenuta Sant' Antonio winery. Keeping with a Mediterranean theme, I also recommend bringing out a roasted fish for the table, the type of which (and price) relies on availability. Ours was a roasted Bronzino ($26), which is a Mediterranean sea bass stuffed with thin slices of lemon, thyme, and garlic cloves. The whole fish is grilled and then roasted in the oven just before being flash fried, which crisps the skin of the fish while locking in moisture to keep the interior flesh soft and tender. The result is then plated on a bed of crushed lemony potatoes, and topped with a pimentón aioli and a brown butter caper sauce.
An option that is a bit heartier in nature is the roast duck ($30), which goes on the menu tonight. Chef Brewer roasts the bird skin on in order to achieve a nice crispy texture. It is served with Treviso (a subspecies of radicchio), spring onions, basil, Fresno chilies and a panzanella salad. The bird is finished with a hearty mustard jus and garlic breadcrumbs. The subtle heat from the mustard and chilies could allow you to opt for a bigger, more tannic red that is higher in alcohol, but I found that a medium pinot noir did the job just as well. In our case, we were provided a 2011 Foris pinot noir from the Rogue Valley in Oregon but many other selections would suffice just as nicely. This wine also pairs very well with the Japanese style chicken wings ($12) and many of their flatbreads, my personal favorite tactfully utilizing duck, goat cheese, dried balsamic figs and basil ($14).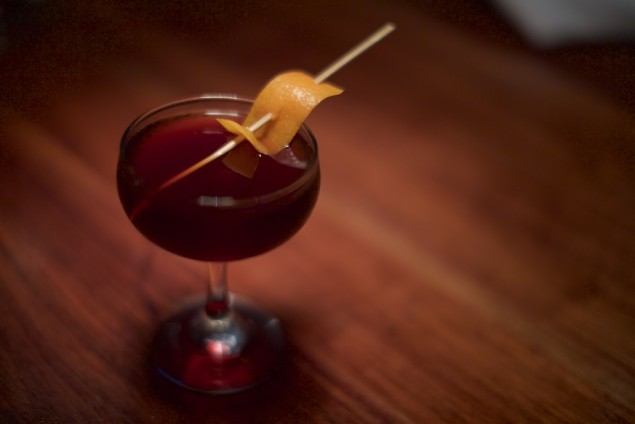 The Dapper Dan, affectionately named after the character in Oh, Brother Where Art Thou, plays the role of the "closing cocktail" quite nicely. Treaty Oak bourbon and Chai infused Averna, this cocktail is a spin on a Black Manhattan. Per Matt, the chocolate/coffee notes of the Averna work well with the Chai, and the vanilla/caramel notes in the bourbon make for a fun, rich and boozy after dinner drink. Served in an elegant Coupe glass, the oil extracted from the orange rind garnish makes this cocktail quite polished. For those a little more adventurous, ask Matt if you can polish off an Underberg before heading home. Only known by those with a vested interest in digestifs, it's an amusing and communal way to end a night of food, drink and celebration.
Get the SideDish Newsletter
Dallas' hottest dining news, recipes, and reviews served up fresh to your inbox each week.