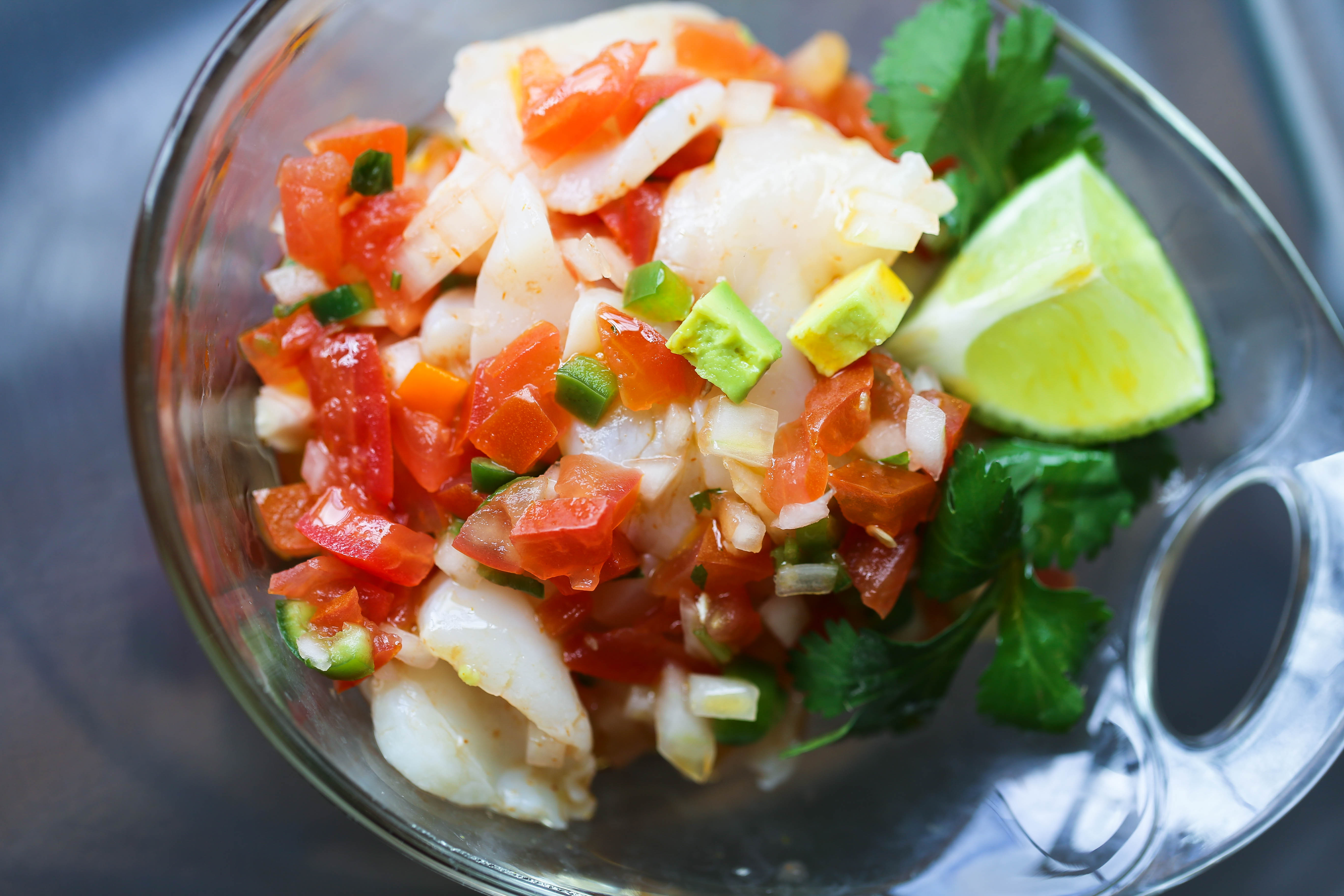 A Look at C'Viche, the New Ceviche Restaurant on Lower Greenville
The tiny, casual restaurant specializes in seafood, street-style tacos, and margaritas.
In 1997 Randall Warder opened a ceviche and tequila bar at Las Ventanas al Paraíso resort in Los Cabos, Mexico. "We had this small space by the spa, it was originally designed to be a juice bar," Warder explained. They weren't making a profit off juice, though, so he pitched turning the space into a tequila, salsa, and seafood bar. It was a success.
Randall, who also owns Clark Food & Wine, has brought that exact concept to Dallas and opened C'Viche late last month. The tiny, casual restaurant specializes in seafood, street-style tacos, and margaritas.
There are four key ceviches offered: market fish (which is currently mahi mahi), scallops, tuna, and shrimp. It can be ordered "chopped style" which means diced or "sashimi style," sliced. Both come garnished with citrus, vegetables, spices, and herbs.
From there diners can choose how they'd like the seafood prepped. There's Baja-style with lime, tomato, onion, jalapeño, avocado, cilantro; Peruvian with lime, shaved red onions, corn, aji chile, and cilantro; Island, with orange, lime, coconut water, mango, ginger, serrano, and basil; Asian with lemon, ginger, tamari, red chili, cucumber, red onion, and micro herbs.
While the menu is limited (the entire thing fits onto a whiteboard that's mounted to a wall), there are additional plates to choose from such as the spicy jalapeño shrimp aguachile with cilantro, and pomegranate; the Gulf oyster cocktail with lemon, horseradish, tomato, onion, and jalapeño; and the scallop ceviche with grapefruit, habanero, basil, sweet peas, and red onion.
There's also a limited selection of tacos and quesadillas. I recommend the brisket suadero taco with onions, cilantro, salsa, and cotija cheese.
"I wanted to create a funky little neighborhood bar that specializes in warm weather spirits," Warder explained of the restaurants beverage selection. The bar offers mezcal, rum, pisco, and tequila. "All of the margaritas are made with hand-squeezed juice, and all of our tequilas are 100% agave," he continued. Oh, and you won't find any frozen margaritas here, "I don't even have a blender… I'm kind of a die hard margarita aficionado," he explained genuinely.
Happy hour is Monday through Friday from 3 p.m. until 7 p.m. and includes $4 margaritas, $4 draft beers, $6 house wine and sangria, and complimentary chips and salsa. There's also a selection of $2 snacks available such as chips and queso, fried egg tacos, and chorizo and egg quesadillas.
The restaurant opens at 11:00 a.m. daily and closes at 10 p.m. Sunday through Thursday, and 11 p.m. on Friday and Saturday.
I was invited to stop in and take a look at the space and menu. I snapped some photos while I was there, you can view the full gallery below.
In This Post