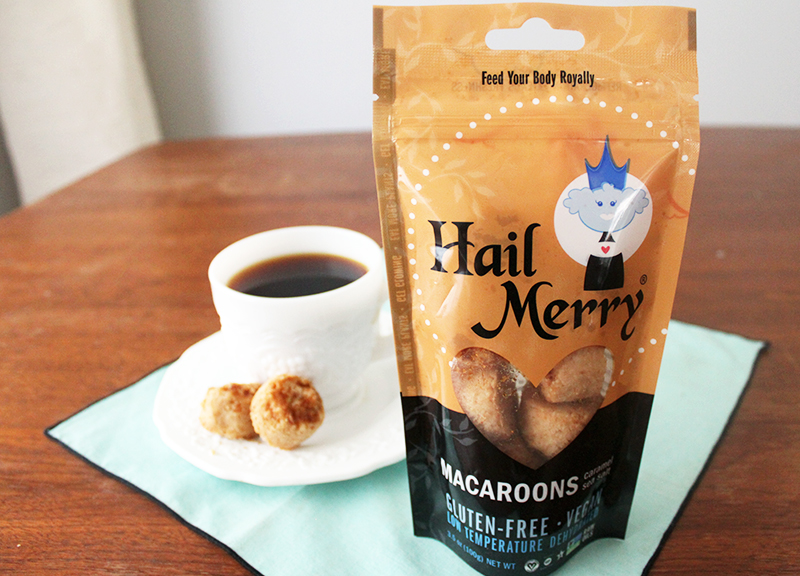 The Localist: Hail Merry Caramel Sea Salt Macaroons
The only thing you need to fall in love with this line of snacks and desserts is a sweet tooth the size of Texas.
It's safe to say that you can be gluten intolerant or vegan and still enjoy Dallas-based Hail Merry's caramel sea salt macaroons. There is actually a pretty good list of dietary restrictions that Hail Merry caters to. Along with being gluten-free and vegan, all products are non-GMO, kosher, paleo-friendly, and made with pure, natural ingredients, and raw oils.
I learned about Hail Merry through a friend of mine who has several food allergies. Like myself, she is a lover of desserts. One night after dinner I was secretly trying to scour her kitchen with my eyes, hoping to find something sweet, albeit knowing she was sensitive to different grains and sugar. Apparently she could tell what that look was and immediately grabbed a little bag from her refrigerator. I will admit, I was a bit weary of how much she praised the cookies because, well, they were cold cookies. Oh, and, she said I would only need one to be satisfied. To my own shock, she was correct. One little caramel sea salt macaroon was enough to satisfy the deepest craving. Pair that with a cup of coffee and your life will be changed forever.
Clearly I am a fan of Hail Merry but not just because they make great food, they also have a great story. Susan O'Brien, founder, started testing recipes in her Dallas home with the single goal: to make raw foods taste better. She later trained her children's nanny, who is now the chief mixologist, how to prepare and package the food so she could spend her time selling and marketing the brand.
The company's website plainly states "Hail Merry exists to help people achieve higher health. It is a category redefining snack-food company born out of the yoga culture that is owned and led by women who seek to nurture each other, our employees, our partners, our families and our customers." You can find their products at several locations in the Dallas area including Whole Foods, Central Market, Green Grocer, Urban Orchard Market, and many more.
To read more about Hail Merry you can visit their website here.