Cabernet Franc is perhaps best known as a blending grape. A French variety that ripens early and thrives in well draining soils and cooler climates, making its original home on the Right Bank of Bordeaux and Loire Valley the ideal climate for this red wine grape. It can be produced on its own, a way I personally love, but when improperly managed or in difficult vintages herbal, green, pepper notes  can overtake the tasty fruit, making many winemakers simply use it for blending. Whether you are a fan of the single variety production as well, or just getting to know this grape, here are a selection of wines that showcase the beauty of Cabernet Franc.  A few were sent for editorial consideration or were tasted with the winemaker in their tasting rooms gratis.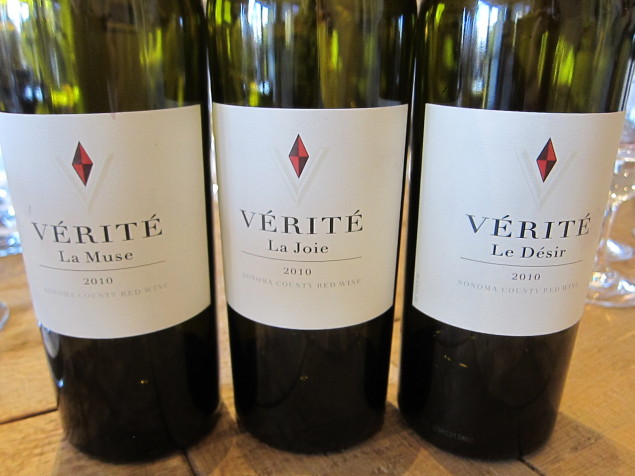 When Jess Jackson, founder of Jackson Family Wines, asked winemaker Pierre Seillan to join him in making high quality Cabernet Sauvignon and Merlot in Sonoma County, California in the early 1990's Seillan was intrigued. He, of course, loved creating quality Merlot and Cabernet Sauvignon, they were two of the most loved and respected varieties of his native France that he had been working with almost since his birth.
But his true love lay in Cabernet Franc, the other dominant grape of Bordeaux's Right Bank. He knew this variety had the ability to produce world class wines either on their own, as evident in the great reds of Chinon in Loire Valley, or when blended with a touch of its Bordeaux siblings. It was a variety he had been working with since growing up on his family's estate in Armagnac, in early years of his career in the Loire Valley, and a focus for him in the two decades he spent working at various chateau throughout Bordeaux.
The first vintage of the Merlot dominant Vérité (French for truth) was produced by Seillan for Jackson Family Wines in Sonoma in 1998, adding the name La Muse (as the inspiration of the partnership between Jackson and Seillan) a few years later. That same year Cabernet Sauvignon based Vérité La Joie was also released.  It took a few more years for Pierre to create Vérité Le Desir, the Cabernet Franc based wine created out of his passion for the variety, from low yielding, meticulously farmed Jackson estate vineyards in Alexander Valley, Chalk Hill, Bennett Valley and Knights Valley. Highly concentrated and refined, Seillan blends Merlot and Cabernet Sauvignon to the earthy, floral, licorice and leather filled Cabernet Franc variety to round out the overall flavor and give balance to the wine.
The first vintage of Vérité Le Desir, in 2000, earned a respectable rating in the 90 range from top critics. Since then the wine continues to receive high accolades, receiving multiple 100 point ratings in the past few years. The most recent release, 2011, was a difficult vintage for many Northern California wineries as the conditions were much cooler than normal for the region. These conditions actually bode well for the wine, as the early ripening variety actually does well in cool temperatures and rainy weather. Filled with black cherry, black licorice, purple wild flowers and a touch of sweet herbs the elegant wine is easily one of the best from the region in a difficult year. The wine is available through allocation via their website.
On the other side of the mountain Jackson Family Wines set out to make the very best wines from the mountain fruit of Napa Valley. Highlighting Bordeaux varieties planted in key mountain ranges in Napa Valley, standing on their own with their Lokoya wines and blended together into their Cardinale wine. They also highlight individual variates from vines on Mount Veeder with their Mount Brave wine and Howell Mountain with their historic La Jota wines.
I am a fan of almost anything made with Howell Mountain fruit, to then isolate the well structured Cabernet Franc in a balanced, elegant wine is truly a home run. The La Jota Cabernet Franc vineyard was planted in 1976 on phyloxera resistant St. George rootstock, making it one of the oldest Cabernet Franc vineyards in Napa Valley. Because of their age the vineyard has the ability to self regulate, producing concentrated, balanced and delicious wines, capturing the true masculine character of Howell Mountain, while highlighting a softness and delicate nature in the variety. La Jota Cabernet Franc opens with violet and rose petal aromas, followed by blue fruits like blueberry and blackberry, mingling with spice, pepper and chocolate with mineral influences of the terroir. $75, available via their website.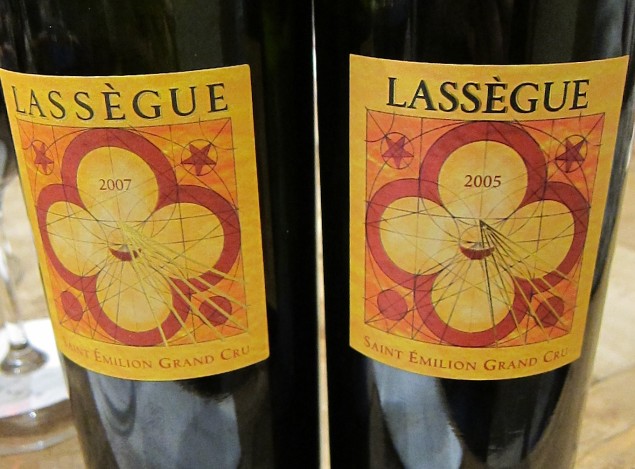 For the truest expression of Cabernet Franc head to its home, the Right Bank of Bordeaux with another wine from winemaker Pierre Seillan. In 2003 Jess Jackson and his bride, Barbara Banke, purchased Chateau Lassègue in Saint Emilion joining with Seillan and his wife, Monique, for a shared family project. With 40-50 year old vines planted in limestone filled soils, they found the vineyards, just outside of the town of St. Emilion, to give the Merlot, Cabernet Franc and touch (5%) of Cabernet Sauvignon minerality and earthy richness that defines great Grand Cru Bordeaux.
Lassègue St. Emilion Grand Cru highlights what makes this region so special, creating a wine with expressive intensity and complexity, yet also a delicate elegance and well structured balance. Dried herbs, ripe plum and cherry, dark chocolate and espresso fill the palate of this powerful wine that is ready to drink upon release, but will continue to soften for years to come. $80, available here.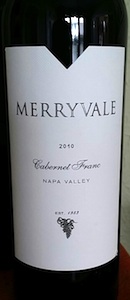 Twenty three months aging in 75% new French oak adds weight and texture to the richness of Merryvale Cabernet Franc, along with the addition of about 20% of Cabernet Sauvignon and Merlot, to round out the robust flavors of this hearty unfined and unflitered wine. With fruit grown on their Merryvale St Helena Estate in Napa Valley, as well as their estates in Carneros and southern Napa allows for a combination of soil types and climates to add an additional layer of complexity to the wine. Dried cherry, raspberry and balsamic notes fill the palate, followed by coffee and tobacco notes. $90, available in limited release via their website.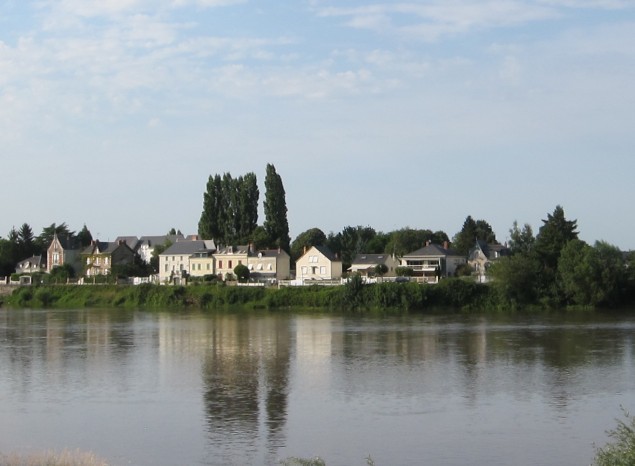 In the Loire Valley Cabernet Franc is known as Breton, but it is still the same red fruit, floral and herb filled wine. Made in either a youthful, approachable and refreshing style from gravel filled terraced vineyards or from vines grown in tuffeau (marine sedimentary rock) slopes with mineral rich soils for an earthy, forest floor and black fruit filled wine. The Loire Valley, from Anjou to Saumur to Chinon, excels in showcasing this early ripening variety. The more youthful style is actually quite nice served slightly chilled, perfect for summer barbeques. More robust styles from Loire are perfect with roast lamb, grilled steaks or roasted mushrooms. Chinon Cabernet Franc often favors using very little new oak on their wines to highlight the freshness of the fruit.
A few well made wines that are available locally include a youthful Cuvee Signee by Romain Parisis Chinon, filled with bing cherry and spice notes, available for $13 at Total Wine and More, and a slightly heartier La Varenne Chinon Tradition from 20-35 year old vines grown by the Gouran family, 5th generation Chinon vintners. Filled with black and blue fruits with dried herbs, licorice, eucalyptus and wet earth, this balanced wine will pair nicely with richer food. $20 at Spec's.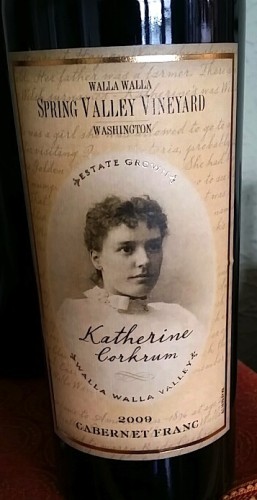 Though not the main variety grown in Washington State, a few producers have proven how the warm days of cool nights of Eastern Washington help this early ripening variety thrive. Spring Valley Vineyards in Walla Walla is best known for their blends, like their flagship Merlot based Uriah blending 46% Merlot with 34% Cabernet Franc and a touch of Petit Verdot, Malbec and Cabernet Sauvignon for an inviting, balanced blend.
A few years ago they began bottling Cabernet Franc on its own with their Katherine Corkrum. Named after patriarch Uriah's wife Katherine, who immigrated from Wales to Walla Walla in 1897. Like Katherine the 100% Cabernet Franc is vibrant and rugged, yet still subtle and elegant. Floral aromas of violets with dried herbs and dried berry lift from the glass, followed by red cherry, strawberry and cassis. The wine is aged for 18 months in only partially new French oak (about 45%,) keeping the freshness of the fruit intact, while allowing oxygen in the wine to help soften the fruit tannins. $50 via their website.
The prestigious Vanderbilt family had the gift of hospitality and entertaining, making all that were welcomed around their table feel like family. Biltmore Estate wines carry on this legacy of entertaining and enjoying fine wines with friends in their Vanderbilt Reserve wines. The Vanderbilt Reserve Cabernet Franc from fruit grown in Dry Creek Valley, Sonoma reflects a complex, robust version of the variety. Black and blue fruits fill the palate with leather, vanilla and smoky tobacco notes. $27 available via their website.
Get the SideDish Newsletter
Dallas' hottest dining news, recipes, and reviews served up fresh to your inbox each week.