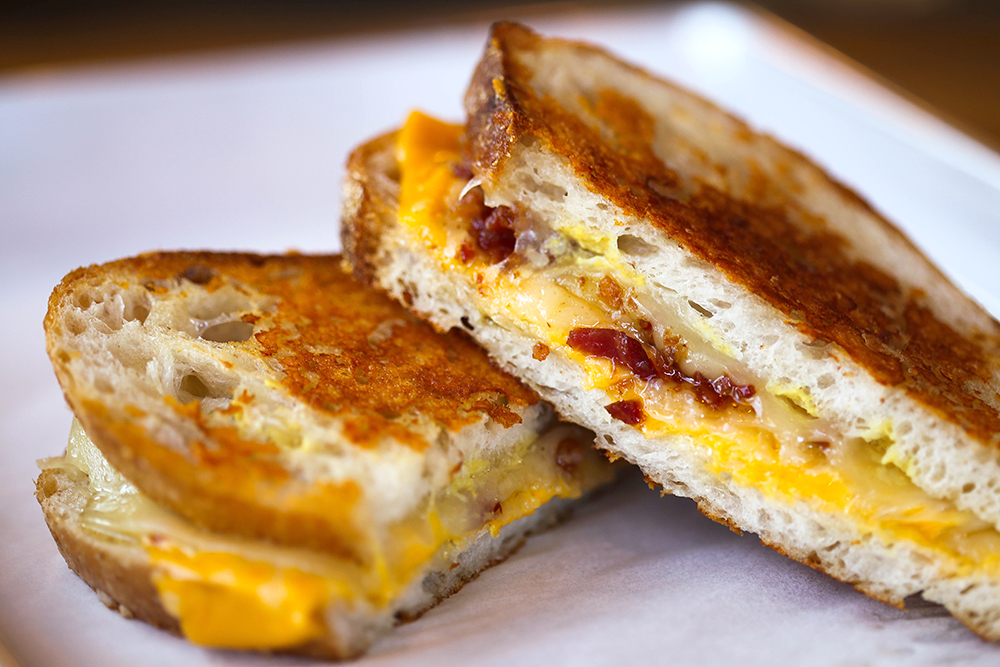 A Sneak Peek Inside Dallas Grilled Cheese Company
There are 16 different cheese-filled sandwiches to choose from.
Mack Simpson has dreamed of opening a restaurant for a decade. Now, his dream has materialized into a cheese-filled reality. Simpson and a team of partners have transformed the old Book Doctor space at 310 W 7th St. into a rustic-chic grilled cheese restaurant, aptly named Dallas Grilled Cheese Company.
The dining room, which is adorned in wood paneling and steel, is the work of Gary Buckner of STASH (who has done work for Stampede 66, Chicken Scratch, Oddfellows, and more). "The partners and I had a hidden Pinterest board where we'd share ideas for the design," Simpson explains of the space's aesthetics.
There are 16 different cheese-filled sandwiches to choose from. Highlights include the Corleone with capicola, Genoa salami, pepperoni, sliced mozzarella, provolone, red pepper relish, lettuce, tomato, and red onion on grilled sourdough; the reuben with house-made Russian dressing, sauerkraut, corned beef, Swiss cheese, on grilled rye; and the Grilled PB&J with peanut butter, cream cheese, and a choice of grape or strawberry jam. Jennifer Kunze, who is the kitchen's "Grilled Cheese Master" recently moved to Dallas for the job. Less than two months ago, Kunze (who previously worked in multiple kitchens at Cape Cod resorts) left the Atlantic for the Bishop Arts District.
The bar, which Buckner crafted out of wood from an 18-wheeler, includes 22 beers on tap, 13 variations of wine and bubbles, and 12 signature cocktails. Standouts are the Cinnamon Girl made with house-infused Marker's Mark, maraschino liqueur, muddled pineapple, pineapple juice, and club soda; the Jennifer's Kir Royalé with St. Germain, Chambord, and champagne; and the mysterious Wedding Punch. A boozy mixture of, well, there's no telling.
While Grilled cheese sandwiches are the main draw, the menu offers a selection salads, soups, appetizers, sides, and of course, desserts. Also, guests can add bacon to anything. Even the milkshakes.
Grilled Cheese Company opens Monday, January 19. Hours are Sunday through Wednesday from 11 a.m. until 10 p.m. and Thursday though Saturday from 11 a.m. until midnight.