You've got a crowd of wine drinkers joining you for your holiday gathering. You want to impress them, but you don't want to spend a fortune. We are here to help. I recently offered a selection of red wines for a reasonable price.  Here are a selection of delicious whites, all under $20 that are sure to please without sending you to the poor house in 2015. A few selections were sent for editorial consideration.

Bubbles are the ideal way to start any holiday celebration, but they don't have to cost you a fortune. As I have noted, just look for the bottle to say that the sparkler is made in the traditional method, or Méthode Champenoise, where the second fermentation occurs in the bottle leading to a varied period of aging. Different sparklers have different lengths of aging time, generally with a longer aging period leading to more complex wines with richness and depth. Mumm Napa is an excellent option from Napa Valley. Their entry level, easy, fresh and delicious Mumm Napa Brut Prestige is a perfect wine to serve a crowd, and please a wide array of palates. Balancing freshness with creamy notes the 18 month aged in bottle sparkler leaps from the glass with hints of lemon, peach and apricot with toasted hazelnuts and spice. A great wine to start a night with, available for $16 at Spec's, also available at various Central Market locations.
The sparkling wine region of Franciacorta, located north of Milan in Lombardy is dedicated to producing high quality, exceptional sparkling wines that will rival the best from Champagne. Two pioneers of the region were Guido Berlucchi and Franco Ziliani. The Berlucchi Cuvee 61, honoring the first year Ziliani released his Franciacorta wine, celebrates the idea that premium sparkling wine could be made in this region, with exceptional flavors that will rival any other as the region is inherently warmer than some producing sparkling wine (like Champagne) allowing fruit to fully ripen with ease. The result, sparklers with elegance, a bone dry, classic flavor profile, but also softness and freshness. $19 at Total Wine and More.
If you are preparing your feast of seven fishes, you are obviously first going to need your fish, so head over to our friend Jon Alexis' TJ's Seafood for a little bit of everything fresh from the sea that you will need. I will be getting fresh oysters on the half shell and a platter of their luscious, giant boiled shrimp, both holiday staples that will pair nicely with a bottle of Broadbent Vinho Verde from Portugal. Known as "green wine," the juicy citrus, tropical fruit filled white, with the faintest of lime green tints, leaps from the glass with youthful, refreshing punch. With a slight effervescence the wine also makes a fun aperitif to start the night. $19, available at TJ's. Also available at Goody-Goody stores.

Just up from Portugal's Vinho Verde vineyards lies Galicia where Albarino of Rias Baixas thrives. Warm, wet and very green, this part of Spain is known for their fresh white wines with briny salinity from the close proximity to the sea. Condes de Albarei Albarino melds this brininess of the sea with layers of honey, lemon-lime, melon, soft herbs and mineral notes creating a wine that was meant to be enjoyed with seafood. $15 at Spec's.
For lovers of Texas wines it is exciting to see the non-traditional varieties of the world that continue to thrive in our soils, like Vermentino. The Italian variety, also known at Rolle in France, has found a home here in our Texas Hill Country and High Plains soils, producing wines with character and great flavor. A consistent favorite is Duchman Family Wines Vermentino. The light bodied, refreshing wine is perfect to start an evening, or to enjoy with a light first seafood course or salads, filling the palate with tropical fruit, herbaceous notes and fresh citrus. $17 at Spec's.
Another perfect seafood wine that will surprise your guests is a lean, steely and often aromatic Grüner Veltliner. The traditionally Austrian variety thrives in California's Central Coast thanks to Zocker Winery. The warm days and cool nights of San Luis Obispo County, CA allows the Zocker Paragon Vineyard Grüner Veltliner fruit to fully ripen, yet maintains fresh, high acidity thanks to the drop in evening temperatures. The age of the vines, now over 40 years old, planted in 1973 by Jack Niven, adds depth and complexity. The resulting wine is fresh, food friendly and filled with citrus, stone fruit and steely mineral notes with a well-rounded palate. $20 available at Pogo's or via their website.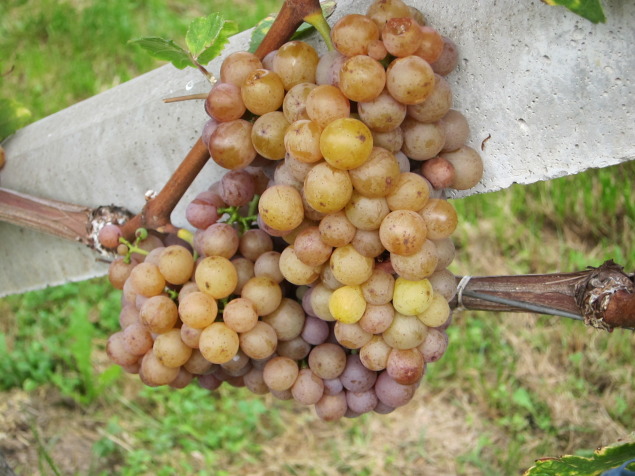 The white wines of Alto Adige, Italy combine bright acidity with spot on flavor for impressive, delicious wines, each with its own special story. J Hoffsteter Pinot Grigio proves how special Pinot Grigio can be. Though some may find the variety to be too fruit forward, the acidity present in the wines of the region, thanks to cool evenings, keep the wine juicy without being overly fruit filled, with a well rounded palate and a lush finish, making it perfect for pairing or enjoying on its own. Usually retailing for around $18, it is $9 at Wine Therapist right now.
Garofoli has been making wine in Italy for over 140 years, originally with Antonio Garofoli producing wine to give to pilgrims traveling to visit the church of Loreto in the Marche region. Antonio's son, Gioacchino Garofoli, founded the commercial winery in 1901, with a focus on Verdicchio. Today the still family run winery celebrates this heritage by creating special wines from the same variety, selecting the best plots of vines on their 128 acre estate for each wine. Garofoli Macrina Verdicchio dei Castelli di Jesi comes from the hills of Montecarotto and Serra de'Conti, both with clay and sandy soils. The wine created is juicy and fresh with ripe golden apple, white peach and spice with balance and a lively, rich character. $14 at Pogo's.

Sauvignon Blanc from Sancerre elevates the grape variety to a smoky, spicy, special place proving how delicious is when grown in ideal conditions for the grape. Guilbaud Sancerre Les Chenes Vieux is a steely, mineral and flint stone filled for a lively wine without too much citrus to overwhelm the palate. Fresh and inviting, a great wine with anything from seafood to roast chicken or pork. $20 at Spec's.
If you like your Sauvignon Blanc with a bit more punch, chose one from New Zealand like the very affordable Makara Sauvignon Blanc from Marlborough. Grapefruit, lychee, passion fruit and lemon fill the palate of the mouth-watering wine, with the slightest touch of honey and smoke on the finish to round out the palate. $14 at World Market.

Chardonnay is always a popular choice for entertaining as the dry white wine can be easily enjoyed on its own or with a wide array of foods. Sustainably grown Lange Twins Chardonnay is a balanced and inviting wine made with a variety of techniques to ensure the best tasting product is produced, including partial stainless steel aging, along with partial oak aging, using both French and American oak. The wine also undergoes malolactic fermentation, transforming harsh malic acid to creamy lactic acid, and aging the wine on the fine lees, or yeasts, to add richness and texture. The result, a quality wine for a great price, about $12.50 at Spec's.
For a crisp, clean and light Chardonnay consider Joel Gott Unoaked Chardonnay from fruit grown in Monterey, Sonoma and Napa Valley. Taking more of a Burgundian/Chablis style approach by aging the wine completely in stainless steel, without undergoing malolactic fermentation, the Chardonnay remains crisp and light with tropical fruit, melon and green apple notes. Balanced acidity, minerality and  citrus round out the palate of the wine. $15 at Total Wine and More.
Get the SideDish Newsletter
Dallas' hottest dining news, recipes, and reviews served up fresh to your inbox each week.