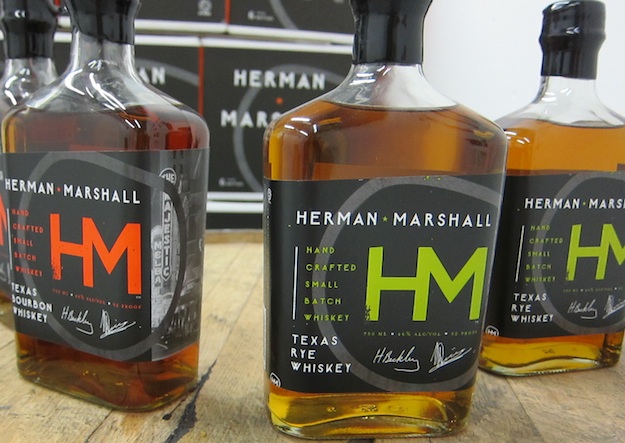 Last week we shared some delicious wines that anyone would love to receive under their tree. Now we have a fun list of spirit suggestions, sure to please your scotch, bourbon, vodka or tequila-loving friends.
Woodford Reserve Master Distiller, Chris Morris, was in Dallas recently to share their newly released Woodford Reserve Master's Collection Sonoma-Cutrer Pinot Noir Finish Bourbon. This is their 9th special Master Series selection, this one created by aging their premium Kentucky Bourbon in Pinot Noir barrels previously used, for three vintages, by Sonoma-Cutrer winery in California. Taking the barrels as is, without additional toasting, keeps the wine flavors created from the extended aging time of the Pinot Noir, in tact, melding into the bourbon. The result is a very special, cherry, berry and caramel filled spirit perfect for holiday sipping. $99 available locally at True Spirits Liquor in Carrollton.
If Rye is the go to for your favorite spirits lover give one made right in our own backyard. Herman-Marshall was the first bourbon distiller in Dallas County, creating their incredibly smooth Bourbon, Rye and now Single Malt Scotch in their Garland warehouse. Their Herman-Marshall Rye is earthy, spicy and balanced, making the perfect base of a Manhattan. $55 at Sigel's.
For the Single Malt fan The Macallan recently introduced their Macallan Rare Cask, a ruby colored single malt aged in handpicked, Spanish sherry seasoned oak casks. The use of both Spanish oak and the extensive aging of Oloroso Sherry prior to aging The Macallan adds an richness to the single malt, creating flavors of dried orange peel, brown spices like nutmeg and clove, vanilla and toasted caramel. Available here for $270.

Tequila lovers will rejoice when they receive a bottle of premium 100% organic, 100% blue agave and 100 proof Dulce Vida Extra Anejo Special Edition 5 year aged tequila. Aged five years in American oak, that was previously used by Rombauer for aging wine in Napa, the spirit balances floral and spice notes with dried citrus and caramel for a smooth, lingering, and delicious finish. A Texas based spirit with complexity, character and great personality truly reflecting the best of the state. $169 available at PK's.
Patron recently released their Incendio Liqueur, an ideal spirit to enjoy on a cold evening as the premium Patron tequila based, Criollo chocolate enhanced liqueur also contains Mexican arbol chile, making it both sweet and spicy. This is the perfect spirit for those who love an after-dinner liquor, as it is tasty on its own, poured in an evening cup of coffee, or shaken until very cold with vanilla vodka for a sweet holiday treat. $21 at Spec's.

I love a gift that gives back, and tastes good. Snow Leopard Vodka does both with a clean and slightly nutty, Spelt based, six-times distilled Polish vodka that donates 15% of all  profits, as well as money raised by our fundraising activities, are given directly to snow leopard conservation projects through the Snow Leopard Trust.  Their goal is to sell 150,000 cases a year, hoping that this will save the snow leopard population, now critically close to extinction with only 3,500 estimated to be remaining in the wild today.  $40, available at Spec's.
I just got word that one of our favorite vodka producers in the state is adding a new flavor, Deep Eddy Lemon Vodka. Known for utilizing quality ingredients in their Austin distillery, I haven't tried this one yet, but based on how refreshing their Grapefruit Vokda is, and how wonderfully southern their Sweet Tea Vodka is, their Lemon is sure to he a hit. This gift may need to be an I.O.U. though as it is set to hit stores in early January. It is available at their Austin distillery though if you happen to be in the area, will retail for about $20 a bottle.

Brandy lovers know the delicate flavor of Calvados is one of the finest treats in the world, especially when distilled by one of the finest producers of beloved French beverage. Made by fermenting apples into dry cider, then distilling to an eau de vie and aged, with the best Calvados brandies being those that are aged for a significant time to add depth while enhancing a smooth, velvety texture. Traditionally Calvados was used as drink to reawaken the palate during long meals, but today the fruit-filled, yet not overly sweet, drink can be enjoyed as an aperitif mixed into cocktails, and carried all the way through to dessert as a digestif served simply with an orange twist. Calvados Boulard was founded in 1825 by Pierre-Auguste Boulard and is today run by 5th generation family member Vincent Boulard. The Boulard Calvados V.S.O.P. is aged four years in French oak, layering in toasted caramel and hazelnut notes with the dried apple and orange flavors.
Martin Miller's utilizes some of the finest spring water for their premium Gin, pure Icelandic Spring water. Founded in 1999 the English distilled gin specializes in producing a refreshing spirit, filled with traditional herbal flavors, without being overwhelming. Using pure Icelandic Spring water, the cleanest, purest water available, allows the true herbal and botanical flavors to shine through the spirit. Along with a London Dry Gin, Martin Miller has two distinct spirits in their portfolio, an 80 Proof and the 90 Proof Westbourne Strength, a nod to where the brand was conceived, Westbourne Grove in London. The Westbourne Strength is the richer of the two, perfect for creating cocktails, but if the straight Gin and Tonic lover is on your list, the 80 Proof will please. Both available at Spec's, the 80 Proof is $34, the Westbourne Strength is $36.

An interesting spirit was recently introduced in Dallas, with history that dates back to the 1400's. In 1498 an Irish monk found that adding a bit of a special, pure grain spirit to otherwise undrinkable, and rather harsh, whiskey made it smooth, rich and delicious. The secret ingredient has been protected for over 470 years, but is now used to produce Ké Spirits, including Mysterious VKé of the secret recipe, neutral grain spirit Ké blended with vodka, Mysterious WKé with whiskey and Mysterious TKé with tequila. The spirits are very smooth, rich and true to their spirit profiles, but the real story behind this is the history, and the honoring of tradition. The Mysterious VKé is available at Goody-Goody for $22.