The thing I've discovered about fruitcake over the past couple of years is that people tend to love it or hate it. That became even more evident with this week's taste test. While one staffer fist-pumped his way over to the cakes, others turned them down completely. "I'm starving, but I'll never be that hungry!" one colleague snipped while turning her nose up at the loafs, another handed off the task of tasting them to one of our lovely, wide-eyed interns.
The traditional holiday cake comes in a variety of colors and consistencies. Some are dark and rich with molasses, while others are flecked and sweetened with corn syrup. One commonality, however, is that every fruitcake is loaded with an assortment of nuts, dried fruit, spices, and if you're lucky, brandy.
Some eager (and not-so-eager) D Magazine staffers bit into a handful of store bought fruitcakes for this week's blind taste test. Here's what they thought.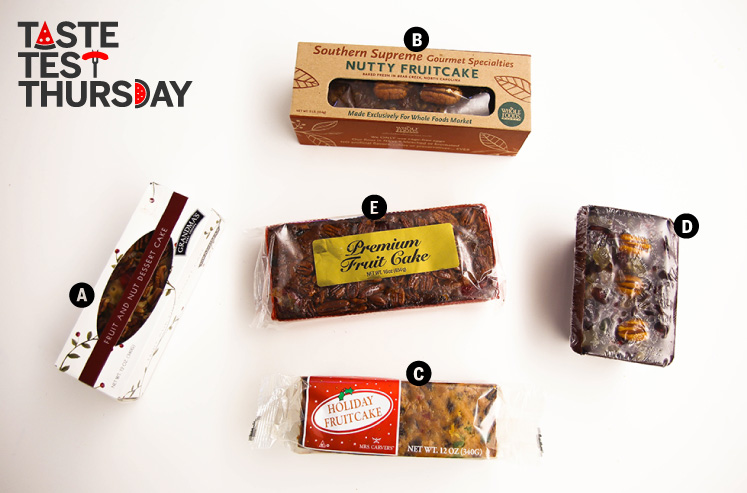 The fruitcakes:
A. Fruit and Nut Dessert Cake (Grandma's Bake Shoppe)
B. Southern Supreme Gourmet Specialties Nutty Fruitcake (Whole Foods)
C. Holiday Fruitcake (Mrs. Carver's)
D. Fruitcake (Whole Foods)
E. Premium Fruit Cake
Tasting notes: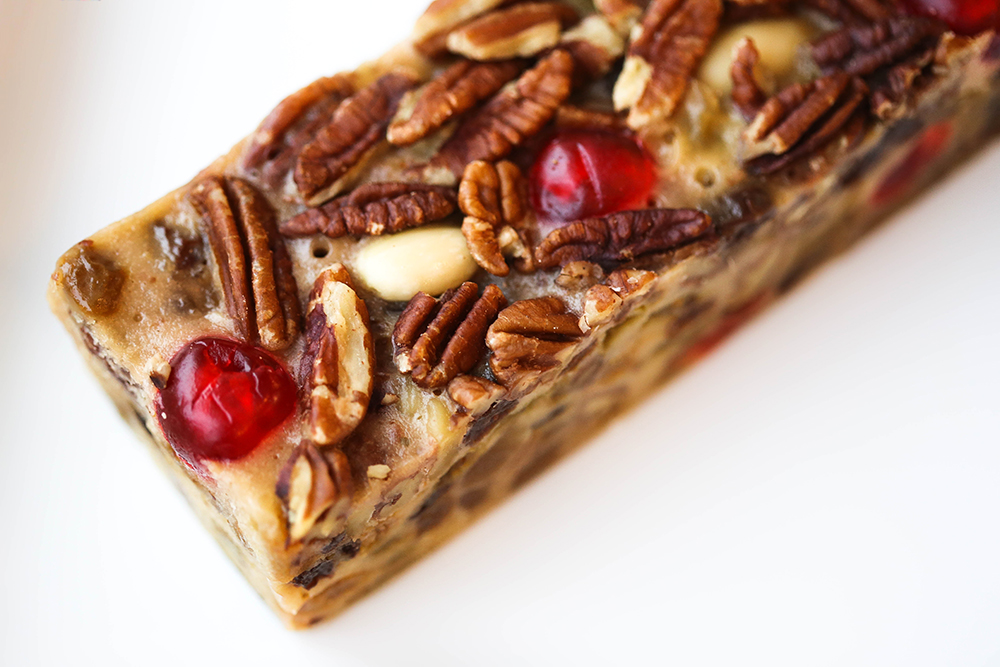 Fruit and Nut Dessert Cake (Grandma's Bake Shoppe)
Too sweet and sticky.
Don't like the bitter taste of the "fruit" in this fruitcake.
This seems paneled in on each side with a white fudge or white chocolate shellac. This is a great way to start because it dispelled my fears of the crumbling and unappealing nature of fruitcake. I would continue to eat this, were I not having to consume four more cakes.
Tastes a little bit like rum. Liked the nut in my bite.
A slightly boozy taste. I liked this because if I eat, like, eight cakes I can probably catch a quick buzz.
Reminds me of when I would get a nasty cold and my mom forced me to take cherry-flavored cough syrup.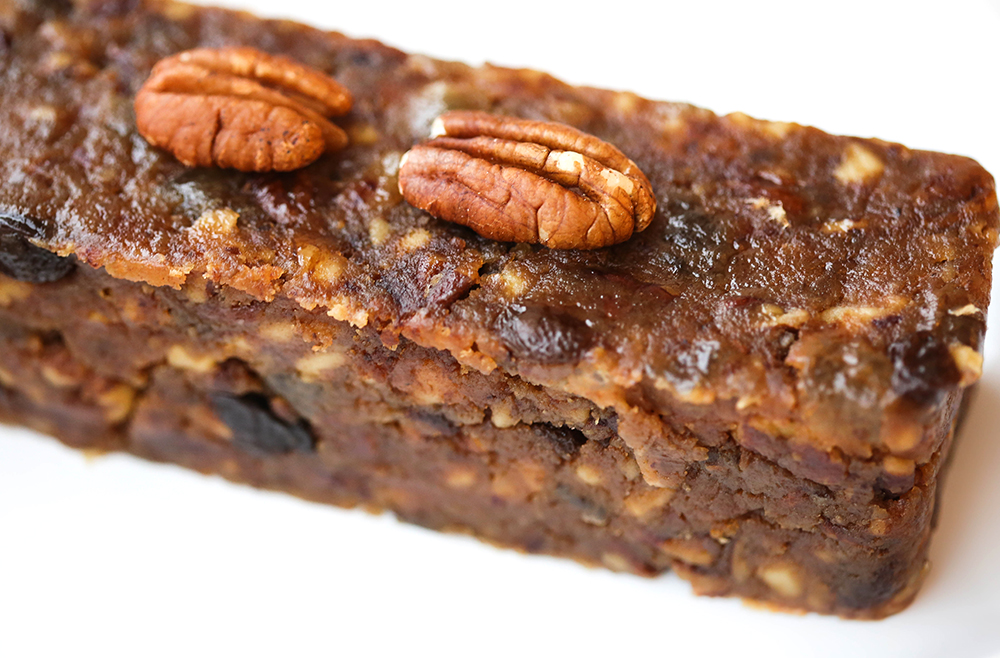 Southern Supreme Gourmet Specialties Nutty Fruitcake (Whole Foods)
I like this one. Maybe because it tastes like a Clif Bar.
Liked the moistness, also liked that it was very pecan-y.
This is more what I was expecting. This looks like a fruitcake that the Brawny paper towel guy would send in the mail. Firm. Solid. Dependable.
More mild. Kind of like an oatmeal cookie.
Visually, this looks like a wet cigar in a gutter. Taste isn't much better. Bland, like a terrible Clif Bar.
I like this one for its lack of tasting like a fruit that came from a laboratory.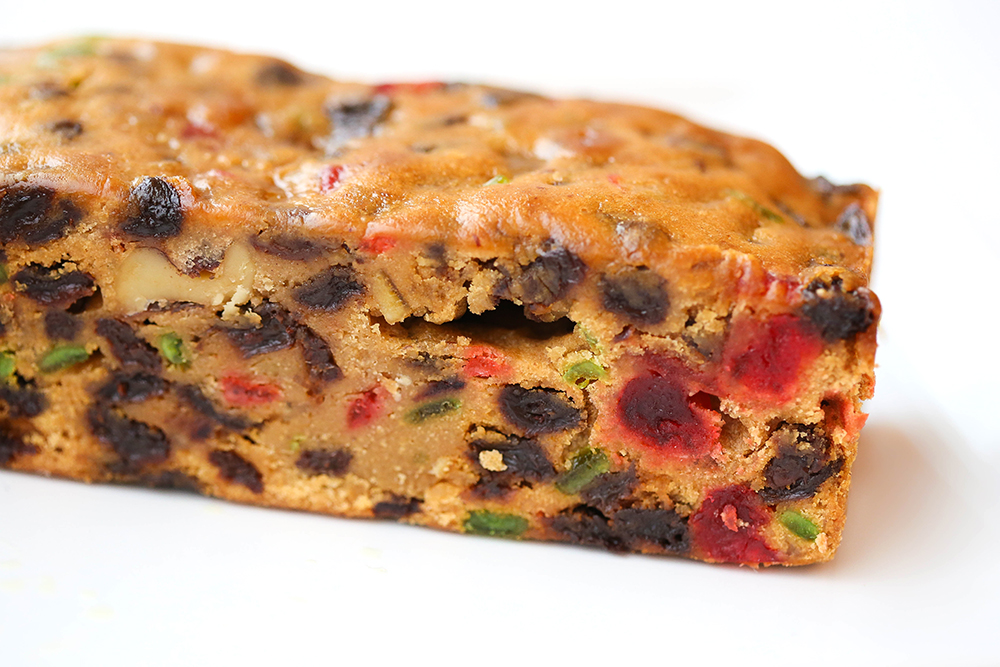 Holiday Fruitcake (Mrs. Carver's)
More of a bread than a cake. No wait, it's a Fig Newton.
Looked like I was about to eat the best cookie ever, turned out to be an OK one.
The fruit is drawing everything off-sides here. It's too fragrant and I'm going to blame a rogue fig for stealing all the attention with a licorice-like fade.
Reminds me of cereal, but not the kind I would eat.
Way too dry. Flavor is OK.
Great blend of aromatic, Christmas spice. Also the most cake-like texture, but I'm not sure if fruitcake is supposed to be like that.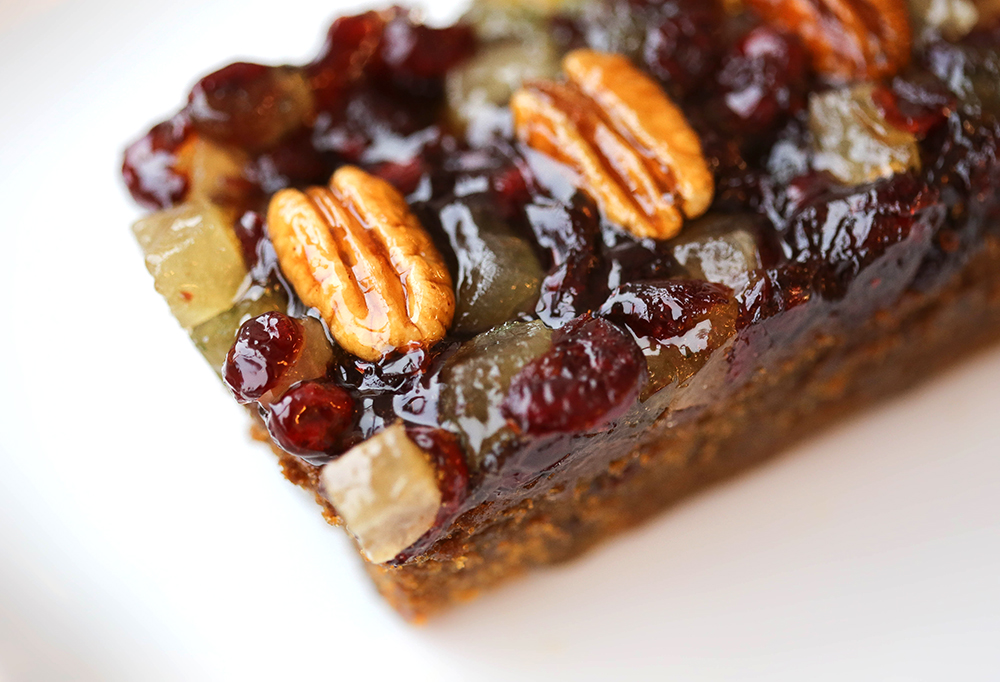 Fruitcake (Whole Foods)
One of the prettier ones. Tastes OK.
No. Too much baked fruit for this gal.
Is not a fruit cake still fundamentally a cake? This cake aspires to be composed almost entirely of fruit. And candied fruit at that. Even to a sweets addict like myself, I feel challenged to love this more.
So bad.
Very pretty, tastes the freshest. Least fruitcakey, which is maybe why it's so good.
Completely crumbled apart when I cut into it. Oozing in syrup, sheesh.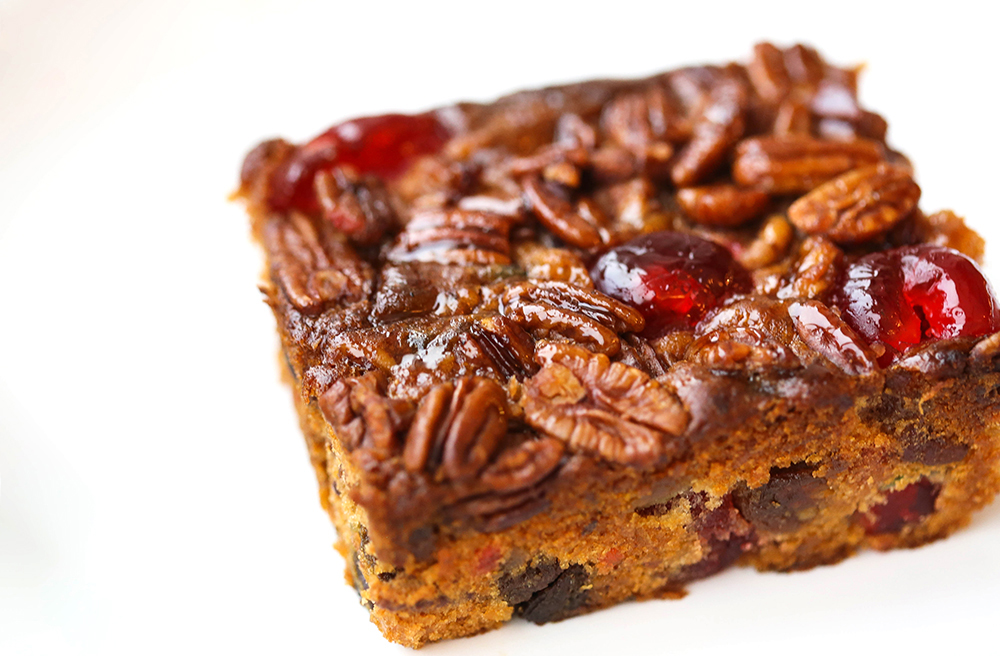 Premium Fruit Cake
Really dislike cherries in these.
The cherries made this one too medicinal.
The pecans are tightly interlocked that form a roof topping this war bunker of a dessert. That's to distract you from the hollow taste left this fruitcake leaves behind. You know that sugar grain mystery nougat at the center of a pastel-colored, cellophane-wrapped Easter candy? It's as if someone baked that into a cake. Everything that's happened to Jesus since his death hasn't been all that much gentler, to be perfectly frank.
Tastes like a Twizzler, but in a cookie form?
Inoffensive, but not very good.
The taste of artificial fruit flavoring is strong in this one. Like a Jolly Rancher.
Tally up:
Fruit and Nut Dessert Cake (Grandma's Bake Shoppe) 1
Southern Supreme Gourmet Specialties Nutty Fruitcake (Whole Foods) 3
Holiday Fruitcake (Mrs. Carver's) 1
Fruitcake (Whole Foods) 1
Premium Fruit Cake 0
The winner is:
The Southern Supreme Gourmet Specialties Nutty Fruitcake won over this week's taste testers. The dense loaf, which was baked in Bear Creek North Carolina, is packed with pineapple, walnuts, pecans, raisins and dates. The cake costs $17.99 and can be found in the bakery section of Whole Foods. So, how do you feel about fruitcake? Let us know in the comments below.
Get the SideDish Newsletter
Dallas' hottest dining news, recipes, and reviews served up fresh to your inbox each week.