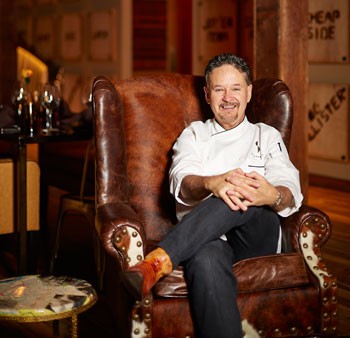 The other day, I heard from an arts community friend that Stephan Pyles is opening a restaurant at the Crow Collection of Asian Art.
I walked over there today and asked a museum employee about the rumor; turns out it's true. The Asian restaurant is slated to open in the downstairs, Snuff Bottle Court space (across from the Dallas Museum of Art). This will be Pyles' fourth downtown restaurant.
We reached out to Pyles and will update this post as soon as we learn more.
Update: Since yesterday I've heard from other people who work in the Arts District that they've know about the restaurant project for quite a while. However, we also heard back from Pyles. He says the deal has not been finalized. In the meantime, keep fantasizing about Pyles' creative take on Asian cuisine.
Editor's Note: I emailed Stephan Pyles twice to confirm this situation. He returned my email after the post and said: " I assumed if I didn't confirm, that meant it was not time to report yet." The deal for this restaurant is under discussion. Chefs and restaurateurs please take note: when we email you for confirmation of a rumor (especially one that is coming from multiple sources in an organization), please reply with a yes, no, or not ready to talk at this time. We want to get it right.–NN
Note from Pyles' PR team: "The Crow Collection of Asian Art has had the desire to create a dining destination within its space. Many scenarios have been discussed and taken into consideration. We are still in a discussion stage and no decisions or plans can be confirmed at this time."
Get the SideDish Newsletter
Dallas' hottest dining news, recipes, and reviews served up fresh to your inbox each week.