Thanksgiving is this week, which means Christmas isn't far away and New Year's Eve is right behind. Whether you are cooking a big bird, a crown roast, a pile of short ribs, or a perfect beef tenderloin, a great bottle of wine should be on the table to accompany your dinner party. Last week I posted on a full list of food friendly Pinot Noir options, ideal for Thanksgiving. Here are a few more options to make your holiday complete. A few selections were sent for editorial consideration.
I love to start any festive occasion with a sparkling wine, and Biltmore Wines Blanc de Blanc Brut consistently delivers a crisp and lively, traditional method sparkler from Chardonnay fruit grown in Russian River. Filled with fresh green apple, juicy lemon and a touch of toasted brioche, the 2 year aged on the yeasts sparkling wine is a great option for preparing the palate for a delicious meal. $25, available via their website.
For something a little bit richer that can carry you from appetizers through the whole meal open a bottle of Domaine Chandon Etoile Brut Rose. A blend of 49% Chardonnay, 45% Pinot Noir and 6% Pinot Meunier the elegant and refined sparkler subtlety fills the palate with layers of strawberry, ripe plum and sweet spice making it a perfect pairing with anything from baked brie to roasted duck to grilled salmon, or simply enjoyed on its own allowing the juicy red fruit aromas to dance with thousands of tiny bubbles. $50, available via their website.
We may think the sweet Muscat wine as something to sip with dessert or with very spicy dishes, however the Southern Rhone region of Beaumes de Venise AOC is out to convince wine enthusiasts that this pear, apricot and honey filled vins doux naturels fortified wine is perfect as an aperitif to wake the palate up and prepare it for an evening of feasting and celebrating. In the region, the small berry Muscat grape, or Muscat de Frontignan, with an alcohol level of at least 15%, is used for the production adding a small amount of 95 proof neutral spirit to the wine during mutage to create the fortified product. Though strong, the sweet juicy fruit flavors are not cloying or syrupy, making it an appropriate go to for cocktail hour.  One of the best is Domaine de Durban Muscat de Beaumes de Venise, a winery founded in the 12th Century, but managed since the 1960's by the Leydier family with their 93 year old matriarch still watching over the vineyards at the foot of the limestone filled Dentelles de Montmirai. $20 for a 375ml bottle, available at Pogo's.

The Chenin Blanc grape variety has been a little bit misunderstood by some as the variety can range in flavor profiles from sweet to very dry, kind of like a Riesling. Loire Valley makes this variety shine in both styles, however the dry style found in Vouvray and Saumur are some of the most delicious, food friendly wines filled with subtle citrus, floral and herbal notes with layers of crushed rock and wet stone enhancing a mineral driven flavor profile that will elevate anything it is paired with from creamy pasta dishes to your Thanksgiving turkey roasted with fresh herbs and citrus. Domaine Huet Le Haut-Lieu Vouvray, $29 at Sigel's, and Domaine des Hauts de Sanziers Saumur, $15 at Sigel's, both represent the variety well with notes of dried herbs, wet stone, honey and wild flowers enhancing layers of juicy lemon, apple and baked pear.
I love a Chardonnay when it gets a little bit cold outside, especially one that has been aged on the lees (yeasts) or even for a bit in oak, helping round out the flavors, adding depth and texture to the wine. One of Napa Valley's most loved comes from beloved producer Mike Grgich of Grgich Hills. Barrel fermented and aged for 10 months in partially new French Oak the native yeast fermented, creamy, golden apple filled Chardonnay has a warming affect, even when served chilled. The wine doesn't go through malolactic fermentation, keeping acidity bright and fresh, creating a wine filled with ripe pear, apple and melon, creamy cashew butter and lemon peel. $42, available at Pogo's.

Rich, juicy and hearty describes Pahlmeyer Jayson Chardonnay. Native yeast, barrel fermented fruit from vineyards scattered throughout the North Coast of California undergoes full malolactic fermentation (where tart malic acid is changed to soft and creamy lactic acid,) followed by 11 months of French oak (85% new) aging on the lees. The result, a delicious, very rich, creamy, honey and vanilla cream filled wine that can pair beautifully with white fish in a butter sauce, or roasted chicken or turkey, or even heartier proteins like pork or duck, perfect for serving all winter. $52, available at Total Wine and More.
Some may think that Rose is only for the summertime sipping. I don't agree, especially when you opt for a Rose made from food friendly varieties like Grenache or Pinot Noir that can handle the flavors of your holiday meal. I recently returned from traveling to Provence as a guest of Wines of Provence, enjoying a week of Rose wines in cooler, rainy, seasonal temperatures of November, pairing Rose with autumn inspired fare. The wines proved to be delicious and the people of the region were charming.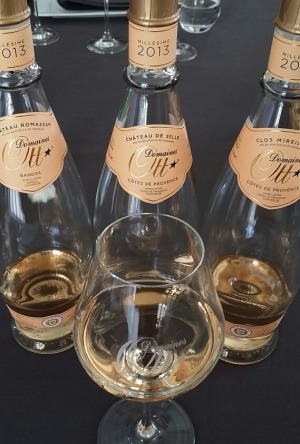 One of the best came from Domaine Ott, one of the most prestigious wineries of the region producing high quality Rose from three different vineyards, each very special and surprisingly different. There are two of the three available in Dallas, both carried at Spec's for around $50 each, the Domaine Ott Chateau de Selle blends low yielding Grenache with Cinsault, Syrah and a touch of Cabernet Sauvignon, grown in limestone and clay soils on a sunshine filled hillside in Cotes du Provence for a tangerine, juicy peach and toasted vanilla filled Rose with richness, weight and character. The Domaine Ott Château Romassan from the Bandol AOC blends spicy Mourvèdre with Cinsault and Grenache from nutrient poor limestone and sand filled soils, creating a wine filled with more berry, spice and citrus flavors with floral and herbal aromas. Both distinct and interesting, either would be a welcome addition to any holiday table for enjoying on its own as an aperitif to serving with a fish or salad course, or even simply with cheese and charcuterie.

Luminary is a Cabernet Sauvignon based blend that will be better paired with your beef tenderloin than your holiday turkey, but is truly an all American wine, produced in a decidedly New World manner. Made by Micahel Beaulac of Pine Ridge in Napa Valley, Jason Ledbetter of Double Canyon in Washington, Fintan du Fresne of Chamisal Vineyards in Edna Valley, and Ted Seghesio of Seghesio Vineyards in Sonoma blending together the best fruit and varieties from their respective regions to create a their American blend. Cabernet and Merlot from Napa Valley, Syrah from Horse Heaven Hills, WA and Edna Valley, and Zinfandel from Alexander Valley for a luscious wine that showcases the best of what each region has to offer. Nicely concentrated and balanced the wine is filled with bright red cherry and berry notes, hearty baking spice, licorice, smoke and pepper. $45 available via their website.

Sequoia Grove celebrates their Rutherford roots, as well as fruit from key vineyards in Atlas Peak and Oak Knoll, by creating earthy, dusty, black fruit filled Cabernet Sauvignon that is bold without being overwhelming, making it a wine that can be enjoyed on its own or with pairings like pork tenderloin, braised beef or roasted lamb. Filled with sweet spice like nutmeg, clove and cinnamon with blackberry and dried herbs the wine is a great go to for holiday sipping. $38, available at Total Wine and More stores.
If Merlot is your go to red for any meal, go with one of the best at producing the variety, Duckhorn. The Duckhorn Napa Valley Merlot consistently delivers well structured, balanced wine with layers of ripe fig, plum and black cherry with dried sage and allspice for a complex and interesting wine with character. A delicious wine for pairing with rack of lamb, roasted venison or other game. $54, available at Pogo's.
Juicy, peppery Zinfandel is the wine for pairing, especially with your Thanksgiving meal and all the hearty sides that make your meal complete. For go to Zinfandel Joel Peterson and his Ravenswood winery is an established leader in producing the variety well, especially with some of their smaller production, single vineyard wines, often made from very old vines producing highly concentrated wines. Ravenswood Belloni Zinfandel comes from Russian River, a region known more for their Pinot Noir reds than Zinfandel. However, this vineyard proves that this spicy variety can grow well the region, producing a blueberry, blackberry and mocha filled wine with spice, toasted vanilla and dark chocolate, helped by 20 months of partially new French oak aging. $37 available via their website.
The Dry Creek region of Sonoma is an area known for producing high quality Zinfandel. Fritz Underground Winery Reserve Estate Zinfandel is an excellent example of why. A big, fruit filled wine with a juicy flavor profile, but also balanced, fresh acidity making it excellent with food. Raspberry, pepper, ripe cherry and chocolate fill the palate, finishing with just the right touch of earthiness and ripe tannins to keep the wine balanced and interesting. $50 available via their website.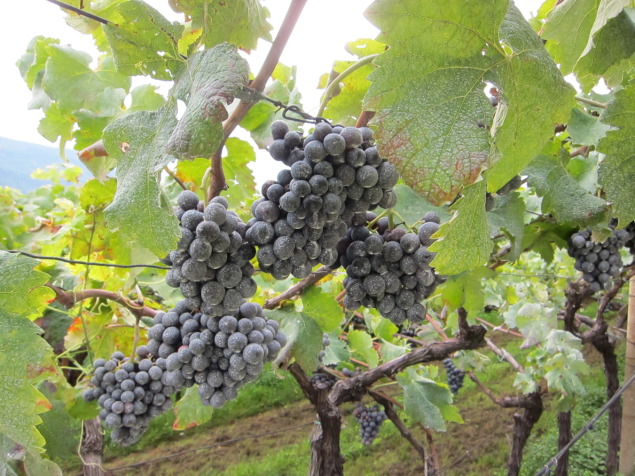 Food friendly Italian wines shine anytime a hearty meal is involved, and when family comes together in celebration. Barbera and Dolcetto from Piemonte are two wonderful, food friendly Italian varieties, and a Chianti Classico always represents Italy's favorite variety of Sangiovese well, however there are many more Italian options to consider when pairing with the bold flavors or a holiday meal. From Alto Adige the favorite red varieties of the region include Lagrein and Schiava. The Schiava variety in particular is a perfect go to for Thanksgiving, as the subtle yet juicy and balanced flavors of the grape will meld nicely with the bold flavors of the meal. Armani Schiava Rose Vallagarina is a light and elegant wine filled with wild strawberry, cherry and herbal notes for a perfect pairing with earthy mushroom dishes, roasted turkey or baked ham. $13, available at Total Wine and More.

Poliziano celebrates their special place in the world of great viticulture in the heart of Tuscany's Montepuliano by creating their Vino Nobile di Montepulciano DOCG. A blend of predominantly Prognolo Gentile, the local variety of Sangiovese, with Colorino, Canaiolo and Merlot the expressive, well structured wine is made to be paired with hearty red meat, lamb and tomato based dishes. The current 2011 release is very robust so consider decanting an hour or so before enjoying. $28, available at Pogo's.
Get the SideDish Newsletter
Dallas' hottest dining news, recipes, and reviews served up fresh to your inbox each week.