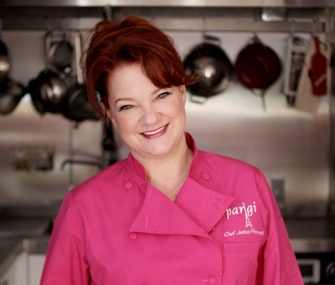 I'll start with my disclaimer, Chef Janice Provost is a friend of mine. Just like she is a friend to so many within our community. She is one of the most giving chefs in the city, adding her name (and her signature pink chef's coat) to charity events all over town. She does this while running her cozy neighborhood bistro, Parigi, sitting on the board for Cafe Momentum, the non-profit organization she co-founded with Chef Chad Houser, and maintaining an ever growing catering business.
Last month Parigi celebrated thirty years of being in business at their Oak Lawn location with a celebration that has now helped create a scholarship for the Food and Hospitality Institute at El Centro.
But her eyes aren't only on nurturing the next generation of chefs, she is also dedicated to promoting the talents of her female counterparts and colleagues, creating a 2014 live auction package for the well loved Cattle Barons Ball benefiting cancer research. In one easy ask she brought together Top-Chef alum Chef Tiffany Derry, Pastry Chef extraordinaire Chef Dunia Borga of La Duni, Chef Joanne Bondy of the soon to open Stocks & Bondy, the talents of mixologist Leann Berry of Komali, and me to handle wine pairings, for a live auction item of the "Finest Female Chefs in Dallas" Dinner at Parigi, raising an impressive $13,000 at the October 18 event.
November 12 Janice adds one more notch to her belt, taking the lead as head chef for a night at the prestigious James Beard House. Yes, Janice has cooked there before as a sous chef, and was a part of the James Beard dinner held in Dallas a few months ago with Chef Stephan Pyles, but now Janice is at the helm. And, furthering her promotion of her peers by inviting the women who mentored her on her culinary journey to join as sous chefs for the night, including Mynetta Cockerell, Lisa Kelley and Melody Wolfertz, along with some of the rising talents of today including Emily Armes, Rosie Delgadillo and Mayra Garcia. The dinner, with wine from Texas native Kathryn Hall and Hall Wines, promises to be a night to remember. If you will be in New York, tickets are still available for the dinner here.
Get the SideDish Newsletter
Dallas' hottest dining news, recipes, and reviews served up fresh to your inbox each week.