On Saturday, the day before Meat Fight, an email was sent to everyone who'd bought a ticket. It read: "Just a reminder that the event is in a warehouse, and we will not have heat inside it. The temperature outside will be cold. We want to encourage you to wear coats, gloves and meat hats to stay warm." It was indeed chilly yesterday in the big green warehouse in Trinity Groves where Meat Fight 2014 went down. You know what, though? Chilly is exactly how you want it when you're stuffing your face with delicious smoked meats and Knob Creek. And once all 750 carnivores in attendance got their jaws moving, anyone wearing a meat hat would have put his head in jeopardy.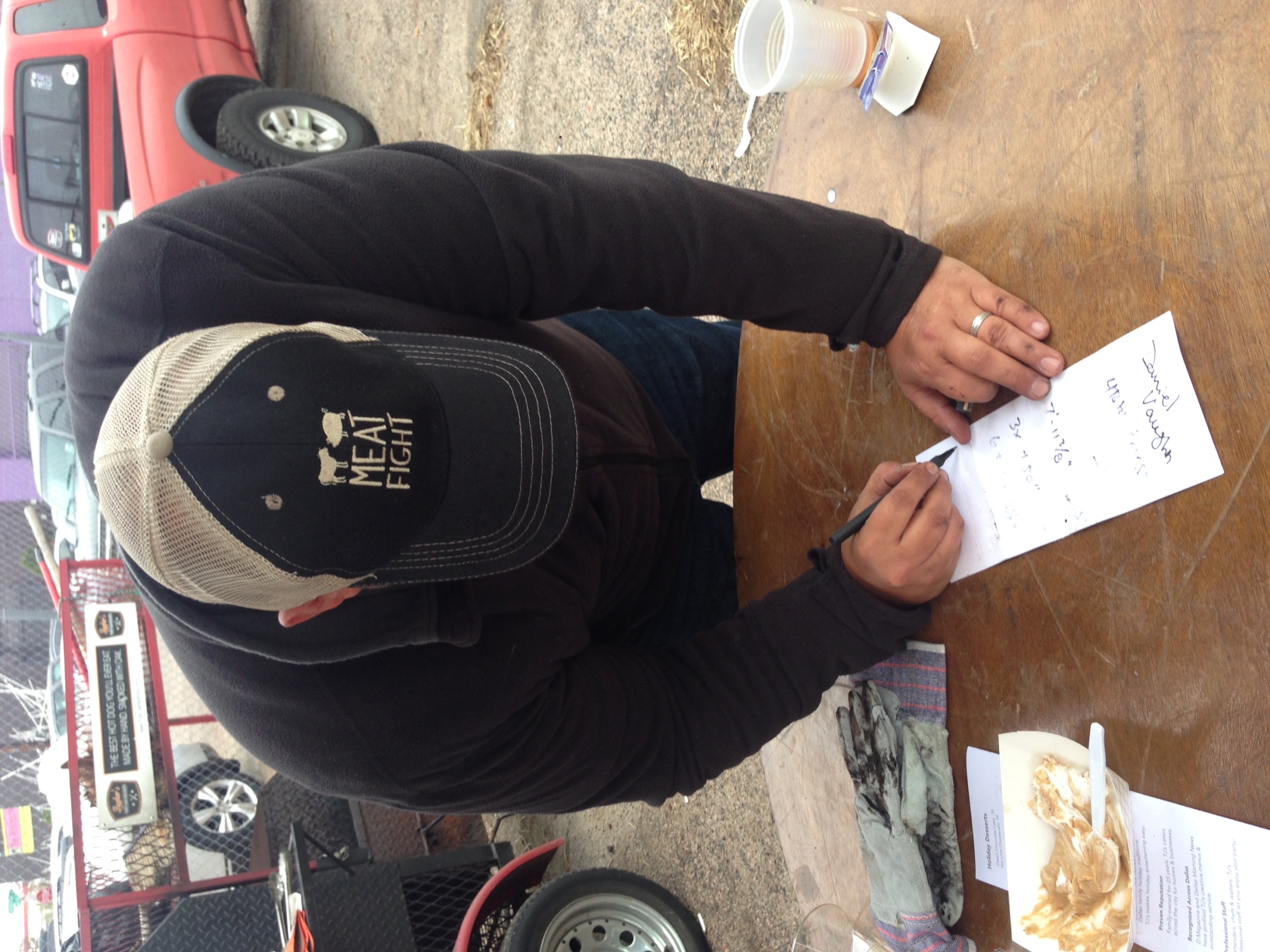 Your reporter spent the bulk of his time outside, watching a Carhartt-clad, Knob Creek-fueled Brian Luscher smoke the longest sausage in — well, not the longest in the world, which was more than 36 miles. It wasn't the longest in Texas, either, which the googles tell me was 1,739 feet. (Appended correction: that sausage was actually made in Croatia.) But that latter sausage was cooked coiled up, in a frying pan. Luscher would never do that to his meat. His all-pork "Sheboygan mix" sausage was laid in serpentine fashion across three shelves in his smoker. I asked him how he stitched together all the casings. "It's a technical process," he said as he used butcher's twine to measure his meat.
A word here about meat puns: if you do not like them, then don't stand around with Jack Perkins while Brian Luscher is measuring sausage. When it comes to meat puns, Perkins is a volume shooter. "It ain't about length," he said. "Next year I'm cooking the thickest sausage." And so on.
Anyway, with help from Daniel Vaughn, Luscher took the full measure of his meat. Roughly 200 pounds of pig wound up making 249 feet, 4 5/8 inches of continuous sausage. Brian's wife, Courtney, was not impressed. [Rim shot! Nailed it!]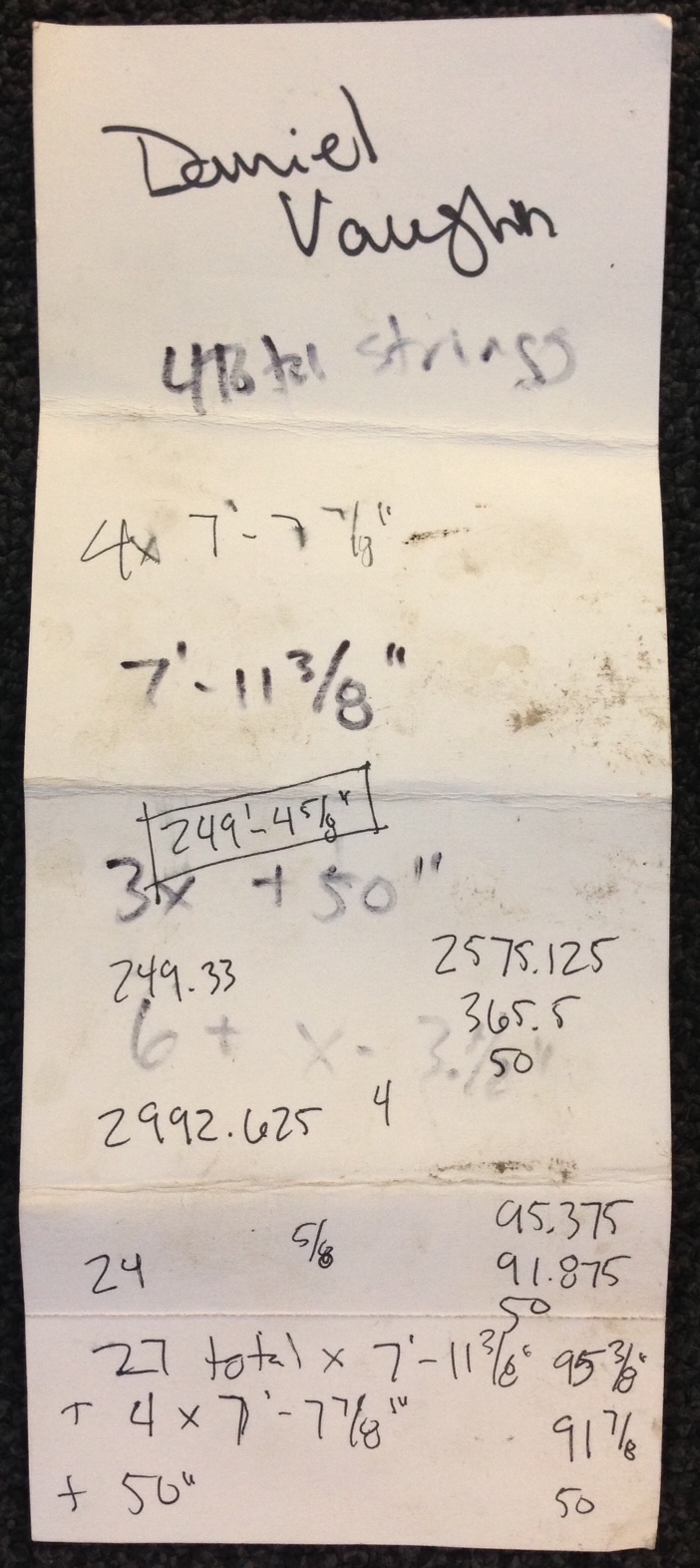 Meanwhile, back inside the warehouse, many things happened. Some of those things happened on the Meat Midway. Certain other of those things happened on the main stage, including a live action that pushed the amount raised yesterday over $100,000, more than doubling last year's take. Here is an actual quote (albeit one sent via email) from Alice Laussade, the badass James Beard Award-winning lady who gave birth to Meat Meat five years ago: "To everyone involved with this event, thank you from the bottom of my meat heart. From large donations to small, we did it big this year. With Meat Fight, it's not just one person making a difference. It takes a meat village."
And here are your winners (with their corresponding meat team names in parentheses):
Brisket: Graham Dodds (Meat the Cleavers)
Pulled Pork: Cody Sharp (Notorious P.I.G.)
Sausage: Oliver Sitrin (Fearsome Forcemeat)
Shoulder Clod: Jeff Bekavac (Fearsome Forcemeat)
Team Sweepstakes: Fearsome Forcemeat (Bekavac, McPherson, Sitrin, Dilda)
People's Choice: Fearsome Forcemeat (Bekavac, McPherson, Sitrin, Dilda)
Check out Catherine's gallery, below, after you use your eyes to look at a few of my far less professional shots.
Get the SideDish Newsletter
Dallas' hottest dining news, recipes, and reviews served up fresh to your inbox each week.