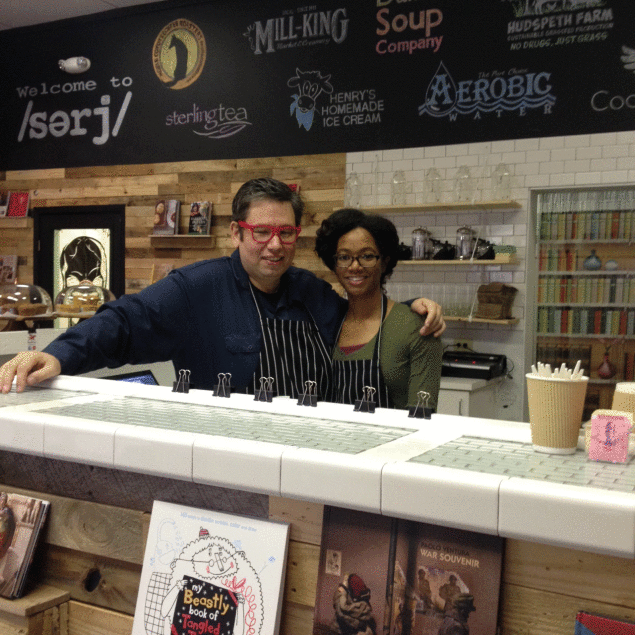 Anne Holcomb spent some time in Argentina, where she fell in love with the bookstores and coffee shops. "They were very much my touchstones in a foreign land," she says. When she left Argentina, she moved to Dallas, where she thought she'd be a theater teacher. But she came to Dallas in the middle of a recession, and things didn't go as planned. She worked at a furniture store, and got into meditation. That's where she met John Walsh. And that's when they hatched the idea to start a business together.
On Halloween, Holcomb and Walsh (who haven't given themselves titles yet, but we'll call them the owners/managers) opened Serj Books, downtown Dallas' newest coffee shop/bookstore. The small space, near the Saint Paul DART stop, is quaint. There's a large bar where Holcomb and Walsh create drinks, a few tables with paper and crayons on top to encourage doodling, wood-paneled walls holding books, and signage with the Joke of the Day listed alongside Soup of the Day (try the chili, Holcomb's recipe).
When you walk in, you're immediately greeted by Walsh, who is eager to tell you the joke of the day. (What do you call bears without shoes? Barefoot.) Be prepared to hang out for a minute—it's a slow bar. Take a look at the books, which is a varied collection, including children's books, pop culture, cooking books, and a book by local publisher Deep Vellum. Holcomb says the collection is something that will evolve as the shop evolves.
The duo recently got permission to use a back area of the coffee shop that can hold up to 100 people. They're planning meet-ups, board games, and hosting watch parties, musicians, and artists. "We just want it to be a gathering spot," Holcomb says. "But nothing too serious. We want well-educated people, but we don't want to be pretentious."
One of the best parts of the shop (at least to those who live downtown) is that soon it will be open until 10 p.m., seven days a week. Being a part of the community, both during the work day and after-hours, is something the duo takes seriously. "We live downtown," Holcomb says. "We had conversations with a lot of people with how Dallas is growing by leaps and bounds. We're meeting a lot of people who are moving here. There are so many great things about urban communities. This was our addition to that progress."
Get the SideDish Newsletter
Dallas' hottest dining news, recipes, and reviews served up fresh to your inbox each week.