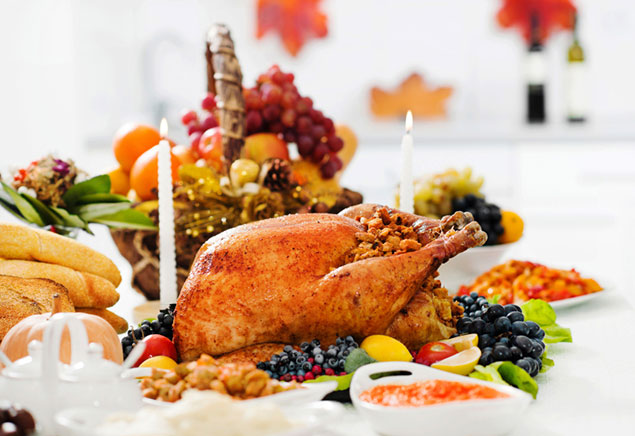 Where to Pre-Order Your Turkey and Sides
The Fairmont Dallas
FM Smokehouse
Urban Rio
Pecan Lodge
TJ's
The Grape
Sonny Bryan's
Olenjack's Grille
Kent Rathbun's Thanksgiving To-Go
Ellerbe Fine Foods
Clay Pigeon Food and Drink
Where to Eat on Thanksgiving Day
The Fairmont Dallas
CBD Provisions
Holy Grail Pub
Cru
Victory Tavern
Princi Italia
Omni
Fearing's
Olenjack's Grille
Second Floor
The Capital Grille
III Forks
Del frisco's
The Mansion on Turtle Creek
---
Where to Pre-Order Your Turkey and Sides
---
"For guests preferring to entertain family and friends at home, The Fairmont Dallas offers a perfect option with Thanksgiving "Turkey To Go" meals, featuring exceptional rosemary roasted turkey, traditional sides and desserts. Savor candied yams with brown sugar glaze, green beans almandine, cornbread, pumpkin pie and brown sugar pecan pie. Guests may purchase full Thanksgiving meals to serve four, eight and twelve people. Prices for full meals begin at $130, serving four people. Turkey and stuffing are also available for individual purchase, beginning at $85, serving four people. For more information regarding Thanksgiving dining at The Fairmont Dallas, please visit fairmont.com/dallas or call 214.720.2020."
---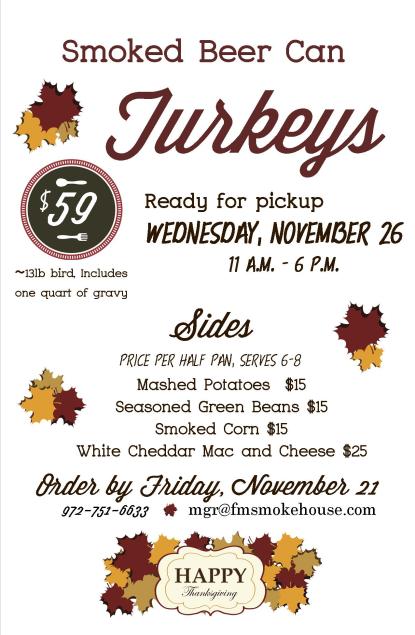 ---
"Group-sized portions will be available for Urban Rio's signature Shea's Tamale Pie casserole or one of their new dishes – Mexican Lasagna – which features fresh, house-made corn tortillas layered with a Rio cheese blend, picadillo beef, refried beans and sautéed peppers and onions. Orders are available for pick up or delivery (additional fee required), and must allow at least 48 hours' notice prior to requested time. The last day for ordering for Thanksgiving is Monday, Nov. 24, for pick up on Wednesday, November 26."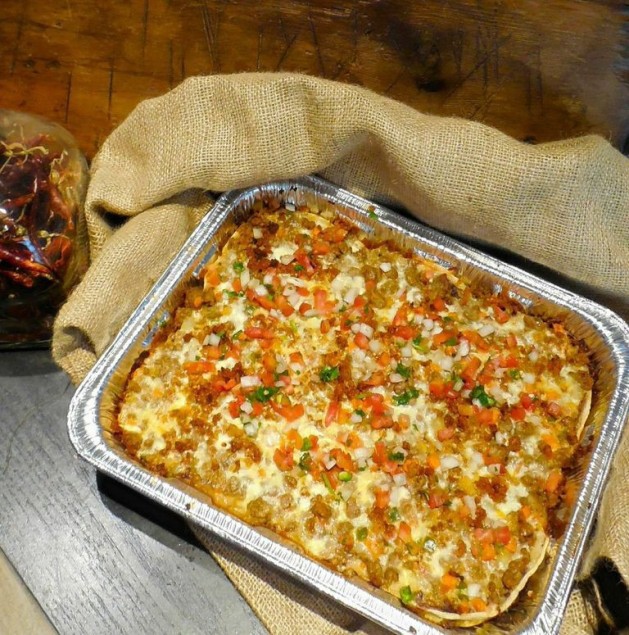 ---
"Pecan Lodge in Deep Ellum is now taking online orders for Thanksgiving, featuring a selection of tasty smoked meats for the holiday table. Choose from traditional smoked turkey, smoked ham with apricot-molasses glaze, spice crusted beef tenderloin, whole smoked brisket, racks of ribs, handmade smoked sausage links ($27-$179).
Last day for ordering is Thursday, November 20 and orders must be picked up on Wednesday, November 26 between 11:00 am – 4:00 pm. at Pecan Lodge. To shop, go to www.PecanLodge.com.
Located at 2702 Main Street in Deep Ellum, hours of operation are Sunday 11:00 a.m. – 3:00 p.m., closed Monday, Tuesday – Thursday 11:00 a.m. – 3:00 p.m. and Friday – Saturday from 11:00 a.m. – 10:00 p.m.. For more information call 214-748-8900."
---
"Chef/Owner Brian C. Luscher and Chef de Cuisine Sarah Snow of The Grape will personally cook your Thanksgiving Feast. With a full range of holiday options, The Grape is now taking orders for natural, smoked turkey dinners, savory sides, and homemade holiday desserts. Don't clutter your kitchen for Thanksgiving, choose from a Post Oak Smoked Natural Turkey Dinner or an A la Carte Turkey Dinner (serves 10-15 or 4-6 from $180-$330) with all the fixings and your choice of sides. Niman Ranch Brown Sugar-Maple Glazed Hams are also available for $85.
A la carte sides including maple whipped sweet potatoes, sour cream and chive mashed potatoes, Luscher's sausage and cornbread stuffing, sage, golden raisin and Texas shiitake bread stuffing, green beans with slivered tomatoes and toasted almonds, The Grape's famous mushroom soup, creamy corn with roasted red peppers are available in small and large sizes ($12-$14).
Traditional desserts including the famed Old Grand Dad Pecan Pie, Pumpkin Pie and a Caramel Apple Crisp ($25 each) serve 8-10 people. Availability is limited. To place a Thanksgiving order call 214-828-1981. All orders must be placed by Saturday, November 22 and will be available for pick-up on Wednesday November 26 between 2:00 p.m. and 5:00 p.m."
---
---
Olenjack's Grille">Olenjack Grille
"Olenjack's Grille is making Thanksgiving a time for rest and relaxation with its Thanksgiving TO-GO menu. Take the pressure off cooking and cleaning this holiday season by ordering a delicious Thanksgiving spread from Olenjack's Grille. Would you rather get out of the house for your Thanksgiving meal? You're in luck! Olenjack's Grille invites your family to Thanksgiving Day Brunch from 9 a.m. – 5 p.m. on Thanksgiving Day. TO-GO orders must be placed by Tuesday, November 25."
---
Kent Rathbun's Thanksgiving To-Go
"Let someone else do your Thanksgiving cooking! Now that's something to be thankful for…. Don't spend hours slaving in the kitchen when you can pick up delicious prepared dishes from Kent Rathbun Concepts for your Thanksgiving meal! This is the perfect opportunity to enjoy Chef Kent's cooking at your own holiday table. Packages come with complete instructions and can be heated in the containers they come in. Whether you choose the traditional turkey, the spiral ham or the hickory grilled beef tenderloin, you're sure to enjoy Chef's favorite holiday dinner. Deadline for ordering is November 21 at 4 pm.
Pick up on November 26
from 11:00 a.m. to 2:00 p.m.
KB's
Granite Park
8100 N Dallas Parkway
Plano, Tx 75024
The Kitchen at 6130
(Formally Rathbun's Blue Plate Kitchen)
6130 Luther Lane
Dallas, Tx 75225"
---
Ellerbe Fine Foods">Ellerbe Fine Foods
"Ellerbe will once again delight the community with the opportunity to enjoy Chef Molly's cooking around the family table by ordering delicious side dishes beginning on Monday, November 3 by phone 817-926-3663. Ellerbe can make Thanksgiving lunch, dinner and left overs easy on the hosts by offering "Everything but the Bird" to make any size Thanksgiving gathering special.
On the EbtB Take Out Menu:
mashed potatoes
savory butternut squash and gruyere bread pudding
creamed spinach
pecan pie
butternut squash and crème fraiche tarts
Orders must be placed between Monday, November 3 and Friday, November 21. For more details, a full menu and pick-up and delivery information, please visit our website.
Dishes will be available for pick-up or deliver on Wednesday, November 26 and until noon on Thursday, November 27."
---
"Chef Marcus Paslay of Clay Pigeon Food and Drink in Fort Worth, Texas, is providing a stress-free Thanksgiving this year with a Holiday To-Go menu. Guests can skip the heavy lifting in the kitchen and still impress with a traditional Thanksgiving dinner made entirely from scratch. With a menu that showcases a variety of choices for a customized dinner, highlights include Turkey or a Whole Grilled Beef Tenderloin, accompanied with traditional fixings like Grandma's Cornbread Sage Stuffing, Green Bean Amandine, and Giblet Gravy. To finish it off on a sweet note, enjoy a traditional pie made from scratch.
All orders must be placed by Noon, Friday November 14, 2014 and picked up at Clay Pigeon Food and Drink no later than 8:00pm Wednesday, November 26, 2014."
Where to Eat on Thanksgiving Day
---
"Celebrate the holiday season with Thanksgiving brunch at The Pyramid Restaurant. Enjoy traditional brunch cuisine including omelets made-to-order, waffles with fresh berries, applewood smoked bacon and house made granola parfaits with rooftop terrace honey. The Thanksgiving menu offers roasted turkey with corn bread and chorizo stuffing, grilled flat iron steaks, pumpkin flan, petite pecan pies and more. Guests will receive their choice of a complimentary welcome mimosa or glass of sparkling wine. Reservations are available for: Adults $69; Seniors $59; Children 6-12 years $35; Children 5 years and under complimentary. Seating times are 11:00am; 11:30am; 1:30pm; 2:00pm. For reservations, please call 214.720.5249 or visit OpenTable."
---
"Executive Chef Michael Sindoni is adding a few special items to the menu for the holiday, including Roasted Cushaw Squash with gulf crab, candied pecans, and house-made ricotta; Roasted Turkey Breast with leg and thigh sausage, cornbread stuffing, and braised collards; and a Spiced Sweet Kabocha Squash Cheesecake with toasted marshmallow, sorghum candied pecans, cranberry graham cracker crust."
---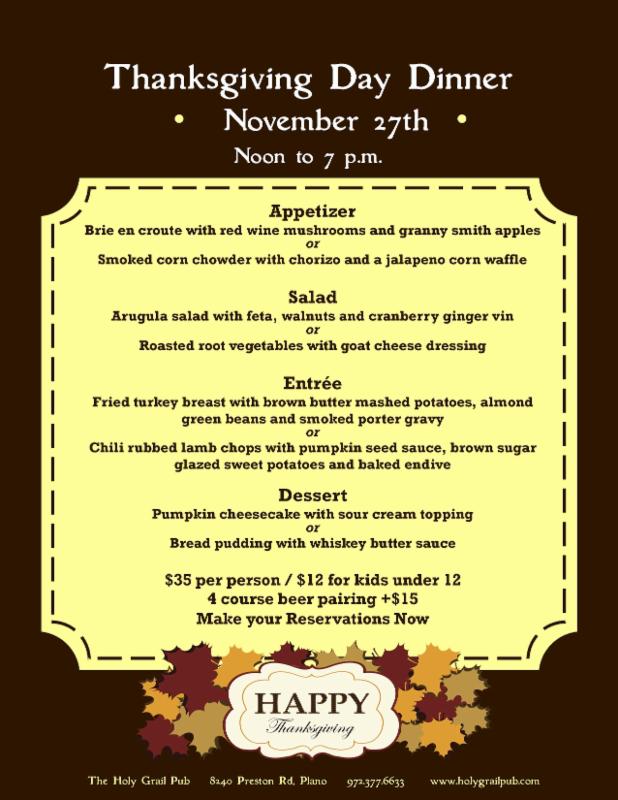 ---
---
---
---
---
"THANKSGIVING LUNCH AND DINNER — Thursday, November 27, 2014
11:15 a.m. to 3:00 p.m. and 5:00 p.m. to 8:00 p.m.
Three-Course Holiday Menu
$100 for adults, $30 for children 12 and under, excluding beverage, tax and gratuity."
---
"Would you rather get out of the house for your Thanksgiving meal? You're in luck! Olenjack's Grille invites your family to Thanksgiving Day Brunch from 9 a.m. – 5 p.m. on Thanksgiving Day. Olenjack's Grille will also open for Thanksgiving dinner after the Dallas Cowboys game."
---
"The Capital Grille, known nationally for its dry aged, hand-carved steaks and extensive, award-winning wine list, will open on Thanksgiving Day. The restaurant will feature its full, a la carte dinner menu, as well as a traditional Thanksgiving turkey dinner entrée option with all the trimmings and a Pumpkin Cheesecake for dessert.
Traditional Thanksgiving Turkey
Slow Roasted Turkey with Brioche Stuffing, French Green Beans with Marcona Almonds, Sam's Mashed Potatoes, and Cranberry Pear Chutney
Price per person:
$36 for adults
$15 for children 12 and under
Thanksgiving Dessert
Pumpkin Cheesecake
Price per person: $10
WHEN:
Thursday, Nov. 27, 2014 (Thanksgiving Day)
12 p.m. – 9 p.m.
Reservations recommended."
---
"Dallas' most iconic destination dining favorite, III Forks, is rarely open for lunch. One notable exception is Thanksgiving Day, which this year falls on November 27 . III Forks will offer its Thanksgiving Feast from 11 a.m. until 8 p.m. that day. The four course special is $45.95 for adults and $16.95 for children."
---
Del Frisco's Double Eagle Steakhouse
---
Get the SideDish Newsletter
Dallas' hottest dining news, recipes, and reviews served up fresh to your inbox each week.