The State Fair of Texas is a meat-lover's wonderland. There's Fletcher's Corny Dogs, brisket, turkey legs and bacon. Oh, so much bacon. But what about the herbivores of the world who want nothing more than to eat something deliciously fried and on a stick? It can be a challenge for vegetarians to find equally exciting bites. Even the fried Sriracha balls have meat in them. This past Sunday, I asked a couple of friends — who also happen to be vegetarians — to join me at the fair, to explore beyond the realm of funnel cakes and french fries, and discover some of the best meat-free options. Here's what we found.
Meet the vegetarians
Stephanie "Stevie" Moore
Age: 25
Favorite food: Salad
Favorite Dallas restaurant: "Origin Kitchen + Bar because they make my favorite salad in town. It's the warm shaved brussels salad."
Krissy Bodge
Age: 30
Favorite food: Salad
Favorite Dallas restaurant: "Oak Cliff Pizza & Pasta. They make really great specialty pizzas."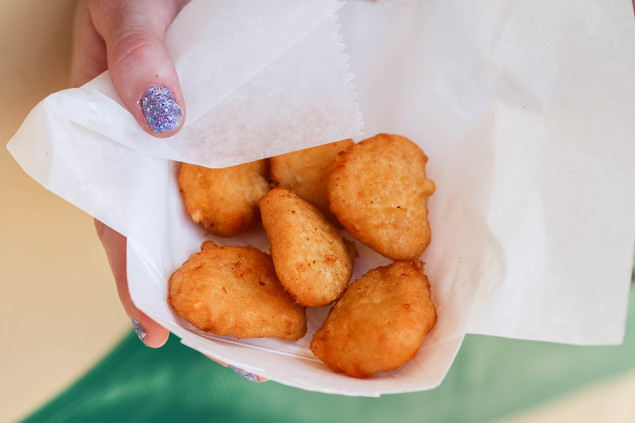 Fried Mac and Cheese
S: Panko batter would have made more sense. I like the fried macaroni and cheese at Scarborough Renaissance Festival better because it comes on a stick. It's more fun that way.
K: I don't like the batter.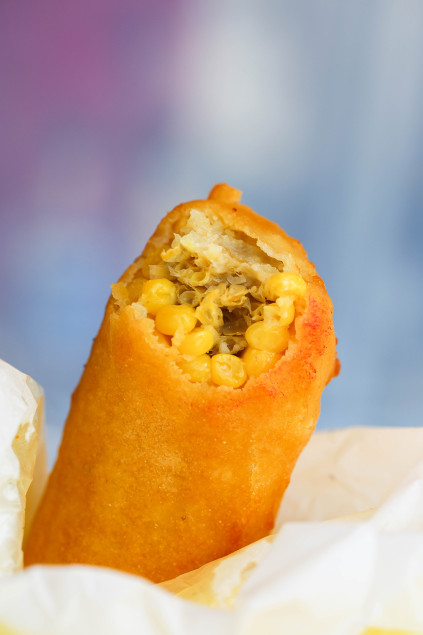 Fried Corn
S: This is actually pretty good. It's fun getting a fried thing on a stick. As a vegetarian at the fair, you want to feel included.
K: I don't like corn on the cob, it gets stuck in my teeth. Where are the elotes in a cup?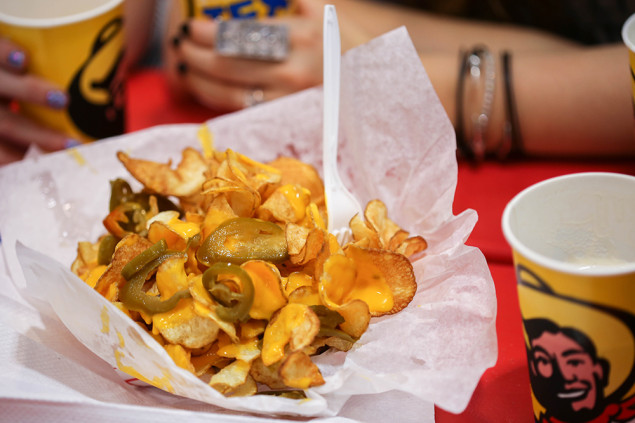 Twister Taters
S: Good as potato chips but the nacho cheese is kinda gross.
K: I'm into it. There's not enough jalapeños, though. We paid an extra dollar for those.
S: I said they're not good but I'm still eating them.
K: We could technically go to 7-Eleven and get a bag of potato chips, open them and pour nacho cheese on top. Actually, I'm going to do that later.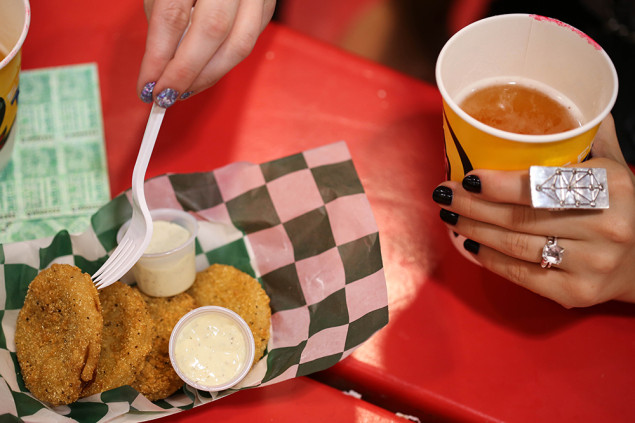 Fried Green Tomatoes
S: These could benefit from thicker slices of tomato. They aren't the best I've ever had, but the jalapeño ranch makes them [delicious]. I'd order them again.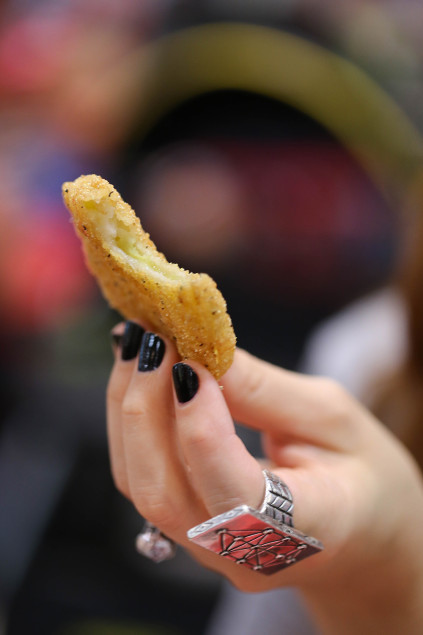 K: I like the breading. They're kind of mushy, though… which was unexpected. They're fine.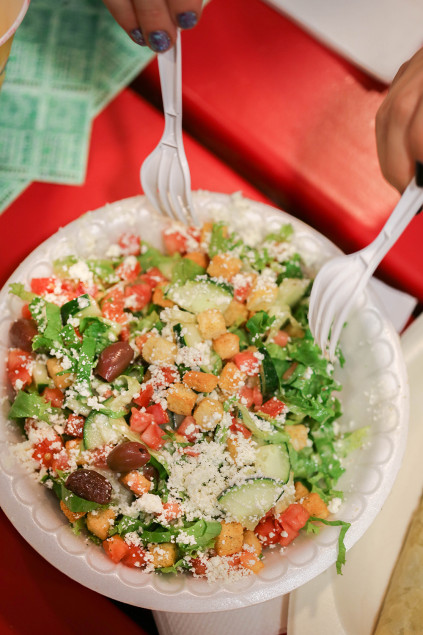 Greek Salad
S: I know the point of the state fair is not to eat a salad, but it feels good. I actually like this, it has a lot of toppings.
K: It's a little heavy on the dressing and I would order it without the croutons, but I'm so happy that it's in front of me.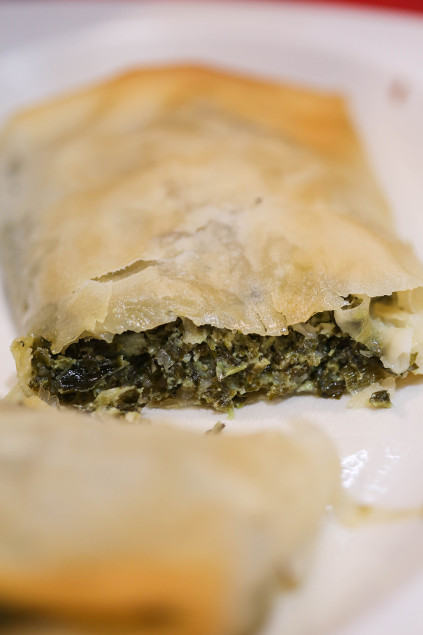 Spanakopita
S: I'm not mad at it. However, it's not as crispy as I would like it. It's impossible to eat with your hands.
K: It's fine. It tastes like a spanakopita. It's better than a microwavable one.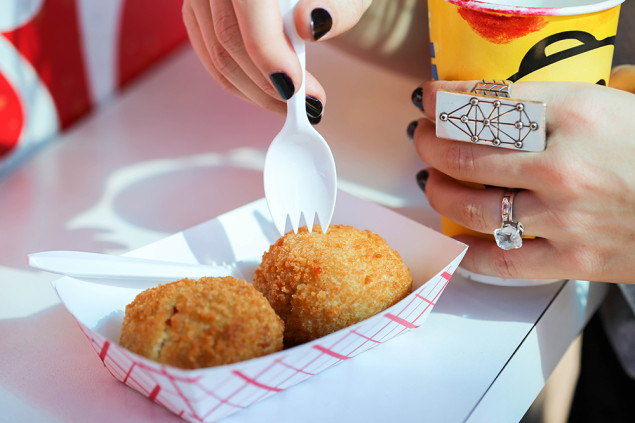 Fried Mashed Potatoes
S: This is good. It tastes like drunk food. This is what I want out of the fair.
K: It's like eating mashed potatoes with a crunchy topping. I'm not impressed but also not underwhelmed.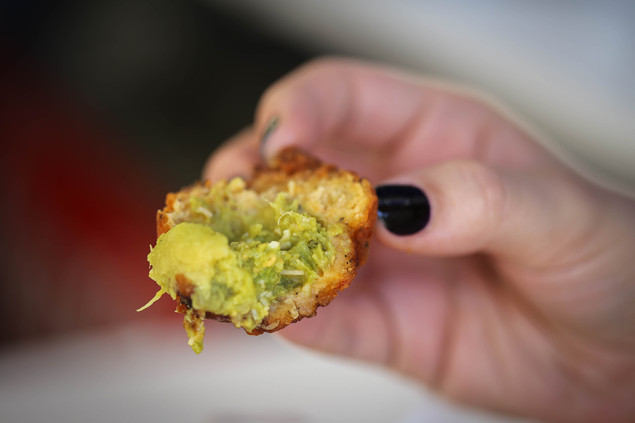 Fried Guacamole Bites
S: These are what I came to the state fair for.
K: These are the best option for sure.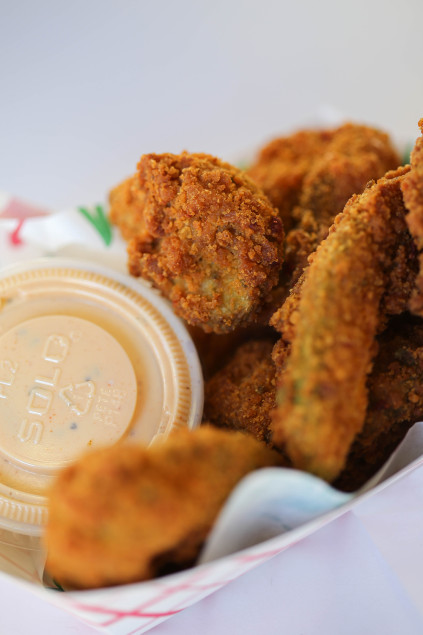 Avocado Fries
S: The breading is thick, like eating a chicken nugget. I like the guacamole bites, personally.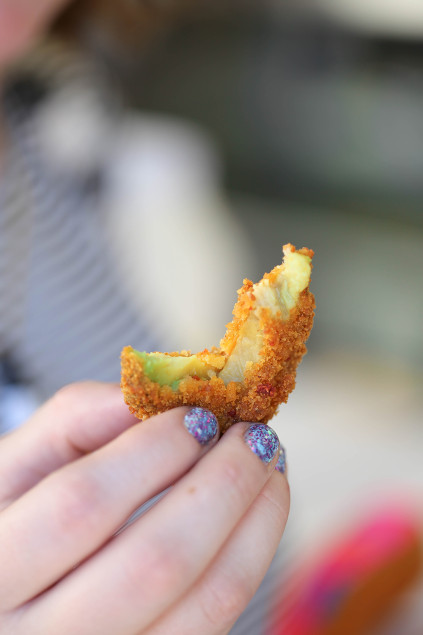 K: Some special stuff! I love them.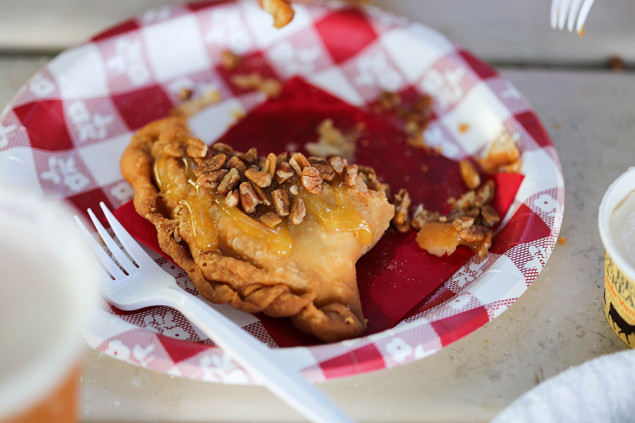 Fried Sweet Texas
S: I only had one bite. I feel like my opinion doesn't matter because I hate cooked fruit. It's raw fruit or no fruit. A fried pecan pie would have done it for me.
K: Amazing!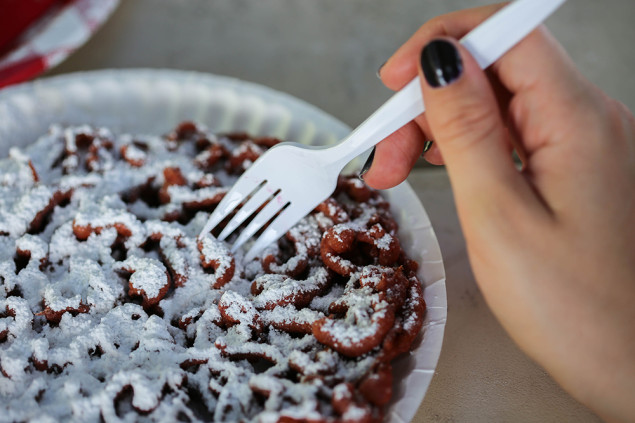 Red Velvet Funnel Cake
S: There should have been cream cheese icing.
K: Fine….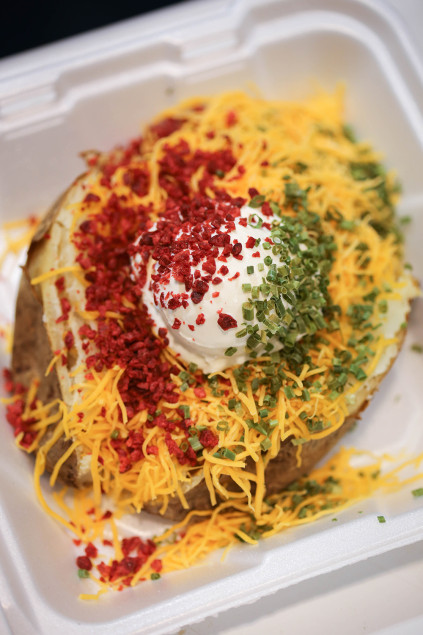 Loaded Baked Potato
We were too full to try this, but it deserves some love. This spud comes loaded with shredded cheddar cheese, sour cream, chives and soy-based "bacon" bits.
Overall, the avocado bites were the winners. Stephanie loved the guacamole bites, while Krissy preferred the avocado fries. Thing is, we barely skimmed the surface. These were the dishes that the two girls really wanted to try, but it was only a fraction of the meat-free choices. "I didn't realize the State Fair had so many vegetarian options," Moore said before washing a mouth full of red velvet funnel cake down with a swig of Community's funnel cake ale.
Get the SideDish Newsletter
Dallas' hottest dining news, recipes, and reviews served up fresh to your inbox each week.