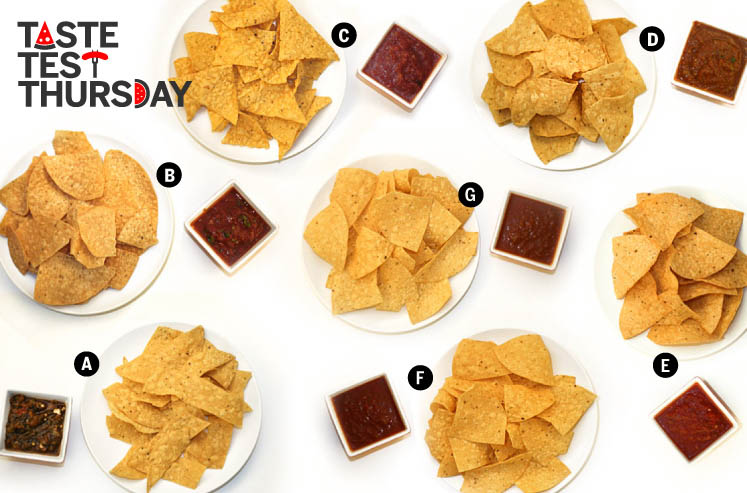 Taste Test Thursday: Restaurant Chips and Salsa
D Magazine staffers tasted chips and salsa from different restaurants around town. Here's what they thought.
It seems everybody has an opinion when it comes to chips and salsa in Dallas, and more often than not, the opinion is a strong one. It's one of those heated issues that can be uncomfortable to bring up in a room full of people — like religious views, or whether or not David Lynch is a sellout for endorsing a line of women's athletic wear (I recently had a friend storm out of a cocktail party in a huff over that particular topic). People hold their favorite chips and salsa combos near and dear to their hearts. And truthfully, the quality (or lack thereof) is enough to lead someone to a specific restaurant, or steer them away.
Ideally, we would have tasted all of the chips and salsas in town for this week's blind taste test, but there was simply not enough counter space, or room in our bellies. So I narrowed down the selection to seven. Here's what happened.
The chips and salsa:
A. Meso Maya
B. Gloria's
C. El Fenix
D. Avila's
E. Mi Cocina
F. Ojeda's
G. Mia's
Tasting notes:
Meso Maya
Dark, kind of sweet at first. Eye watering backend. I liked the thin chips.
Looks like spider guts. Mild and decent. Good, not great.
Fire-roasted deliciousness. Good kick. Subtle sweetness. Chips are too salty for my taste though.
That's some brown, smoky sauce. And I ate it with a chip.
I like when I can see salt on a chip, so heavenly. The dark salsa, however, makes me pause. There was a lot of heat.
Nice, homemade chips that are a good shape for dipping. Not traditional salsa, but tasty! Hot as well.
Salsa's smoky, heavy on the chipotle. Chips are cardboard-ass delivery devices.
Smokey flavor to salsa, but not much kick. I like that it's chunky.
Seems out of place among the others in this group, but it's OK for what it is I guess.
Gloria's
I really like the blend of chips and spice.
Cilantro is refreshing. Chips have earthy aftertaste. Not awesome.
 Mmm, tastes like it was made just minutes ago. Lots of fresh cilantro. Chips seem to be a little over-fried though.
I don't like those chips. Thin, anemic. As a sauce-delivery device, they get the job done, but that's about all I can say for them. Honestly, when I saw this watery sauce, I wanted to dump it out and move on to C, but the flavor was great. Some serious heat, too. I'm a fan.
Not a big fan of this combo.
Really spicy! Very tomatoey, but not bad. Maybe too hot.
Tomato, cilantro bomb, heat. Chips are tasteless and airy.
This cilantro seasoning is wonderful. YAAS SALSA, YAAAAS!
El Fenix
Flaky chips, kind of bland salsa.
Chips are weak-bodied. Tomatoes taste canned, pathetic.
Chips are flaky, but… I kind of like it! Reminds me of Chinese wontons, which may not be what they're going for. Disturbed by the large amount of visible oil in the salsa.
These chips are my friend. Salty-crispy-light-puffy goodness. But I want to punch the sauce in the face. It's like ketchup. It is sweet and worthless.
Bland. Tastes like tomato paste.
Salsa seems more produced, less authentic. The chips were nice.
I know which one this is! Chips are so crispy and good.
I could eat a basket of chips and a bowl of this salsa.Chips are light and airy and the salsa is bright and has a great tomato flavor. Could use more heat.
Salsa reminds me of Pace Picante.
Not spicy enough. Too Sweet.
Avila's 
Mellow up front, full mouth of spice at the end.
Salsa is ugly, smells like refried beans.
HOT. The hottest of the group. Can't put my finger on the strong flavor… black pepper maybe? Not really what I like in a classic Tex-Mex salsa.
HOT! My tongue is under attack.
These chips are greasy and stale, and this sauce is not a good thing. I came to the taste test late. My ravenous coworkers had already had their turns ahead of me. Most of the bowls of sauce were almost empty. Not this one. It was full. There is a reason for that. And that reason is this: it is a bad sauce. This sauce is more like curry than a sauce appropriate for the dipping of chips.
Chips are a bit greasy. Way too spicy to be enjoyable.
Hell yeah. Bold, spicy, a satisfying, sustained burn.
This one has a smokey Southwest flavor to it. Tastes like Texas.
Mi Cocina
Not my favorite, kind of boring.
Slightly astringent. Chips taste overcooked. Forgettable.
Womp womp. Salsa is runny and bland as hell. Is there vinegar in there? Too bad because the chips pack a nice flavor and crunch.
Again, no kick. Tastes like canned tomatoes.
What do these chips have against salt? Salt is a good thing. And the sauce I have no use for.
Sturdy chip. Nice, balanced salsa. Classic.
Yeah, why is this bitter? Why are the chips stale? Catherine, did you buy this about a week ago?
Interesting tangy taste. Don't hate the aftertaste, either.
Ojeda's
Dark red, not a lot of kick.
Nice crunch, rich mole flavor, dense and hardy. Spice at the back is nice.
Dang, I like the thinness of the chips, BUT they taste super oil, yuck. I think they confused salsa with ketchup. The combo kind of tastes like Long John Silvers.
These chips taste like the inside of the plastic bag, and the sauce rivals D in terms of how much I hate it.
Weak chips. Possibly store-bought salsa, it's more like tomato soup.
Like the chips but the salsa fell flat. Would like more chunks.
Too sweet.
Chips are too oily. Or the salsa is. Whatever, this sucks.
Didn't love how sweet this one is. Kind of fruity, almost.
Mia's
Light chip, fresh, mellow flavor to salsa.
Looks pasty, spice profile is hot but boring. Meh.
A+ chip flavor. The salsa is fine, but nothing extraordinary
My palate right now is not to be trusted. That said, I'm onboard with these chips and sauce, which starts off a little watery but packs heat if you give it time. And I need a beer.
Pretty good but have a funny finish.
Just tastes like tomatoes.
I really enjoyed these chips. They're light and crispy. I enjoyed the salsa, it had some good heat to it.
This is the most well-rounded in the bunch. Great balance, flavor. Chips are nothing special, but whatever.
Nice kick to this one! But not too spicy.
Tally up:
Meso Maya 2
Gloria's 2.5 (somebody split their answer — they wanted salsa from Gloria's with chips from El Fenix)
El Fenix 1.5
Avila's 2
Mi Cocina 0
Ojeda's 1
Mia's 2
The winner is: 
Gloria's (by a half vote, so I'm not sure if that really counts). Meso Maya, Avila's and Mia's all came close with two votes each. And poor Mi Cocina is dead last with no votes. So, do you agree with the outcome? Who makes your favorite chips and salsa in town? Let us know in the comments below.