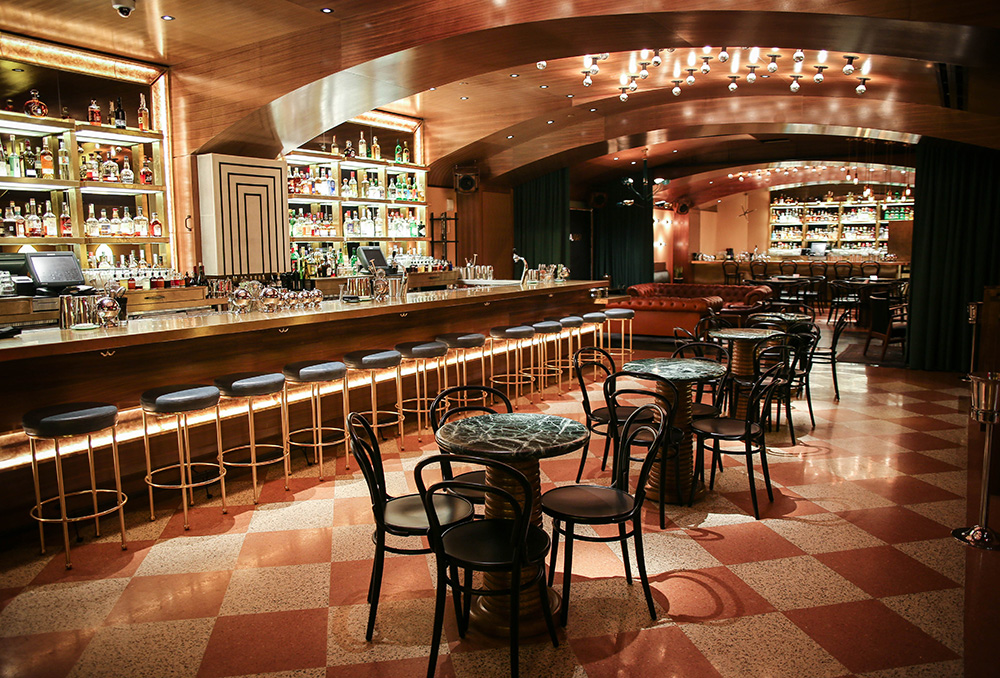 Pour Judgment: Midnight Rambler in the Basement of the Joule Hotel
This cocktail den opened at the beginning of the month, and has been shaking up craft drinks every night since.
Midnight Rambler opened in the basement of the Joule Hotel at the beginning of the month, and has been shaking up craft cocktails every night since. The cocktail den was designed by the team behind trendy boutique — also located in the Joule Hotel — TenOverSix. The aesthetics are as curated as the drinks. The vibe is '60s chic and the space is filled with brass bar stools, plush leather couches, vintage-looking (and actual vintage) tables, books, records, art and plants.
The cocktail menu is expansive. The tiny booklet is filled with pages of original, sometimes tongue-twisting, recipes. Standouts include the Wang Dang Dula; a tequila-based drink with mint, lime juice, poblano juice, ginger syrup, and celery bitters and The Hocus Pocus; tequila, ancho-infused sherry, kummel, créme de cacao, Bigallet 'China-China' Amer and Ancho Reyes. They also offers giant, alcoholic punch bowls for up to eight people to share. I was unfamiliar with several ingredients on the menu, which made the experience all the more exciting. My bartender was eager to educated me on some of the lesser-known elixirs.
While the space has all the bells and whistles of an upscale bar, there is no pressure to don your best attire. The crowd is a hodgepodge of trend-setters, overnighters at the hotel, and casually-dressed drinkers. Also, don't be intimidated by the reserved signs placed on all of the tables. The bar doesn't actually take reservations, this is just their way of making sure everybody is properly seated. Don't want a table? You can pull up a stool at one of two bars.
A selection of food from CBD Provisions is offered until midnight, and includes a house-made charcuterie, whole hog Cuban, chicken liver mousse and a variety of ice cream sandwiches. Midnight Rambler is open from 5 p.m. until 2 a.m. seven nights a week.