The Greenville Avenue Pizza Company we have come to know and love over the past seven years has changed. Put down that box of tissues and rest easy, though, because with this wave of change comes a refreshing interior, innovative range of toppings, and ease in the late-night flow of foot traffic. Pizza maker Sammy Mandell and "First Pizza Lady" Molly Mandell gave us a glimpse into their journey over the years, and and idea of what exactly makes their pizza so enticing. From a menu full of hashtags — like #MeatCandy — to a communal wooden table stretching through the back, this place still delivers that same crisp, cheesy pie-perfection, but with a polished update.
Q: How did GAPC come about?
S: I got all this going when I was twenty-four, and I've been doing nothing but reinvesting in it since. Back then, I owned a majority of the ATM machines down here and when the Arcadia burned up, the only pizza place that was down here was part of that. Greenville went without a pizza place and I wanted to fill that void. I originally started it with my older brother who helped me get it going. Prior to this I didn't have any real restaurant experience, so I learned everything from him. I had the work ethic and drive to push it, but I didn't realize how hard it was going to be. We had the structure of how we would construct our pizza and then over the years I worked to perfect it. It's constantly evolving between the ingredients and new flavors I am looking to bring in.
Q: What's been the most exciting thing about your journey with GAPC?
S: Right now, it's from where it started to where it is now. Being in an area that is so popular and working alongside other business owners that are locally minded as well. The construction through the years completely changed the landscape of what types of owners are down here. There were so many businesses that closed, and we stayed.
M: It was scary down here during the street construction. No one was coming around and we basically relied on delivery. At one point there was so much mud we lined up pizza boxes as our sidewalk. Just [to let people] know, that at point there was literally no street, but we were still here.
Q: What's the story behind your phoenix logo?
S: It embodies our survival of opening down here on Greenville and being reborn. It's that "rising from the ashes" kind of mentality. It's important to us to have a logo that gives that story.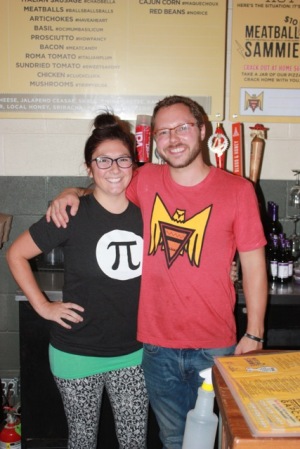 Q: Would you say you sell New York style pies?
S: I never tried to mimic the New York pizza, but out of what we created a lot of New Yorkers will come in saying it's the closest thing they can find that reminds them of back home. Maybe it's the size of the slice or the type of ovens we have. I would say our pizza is more New York style, but I wouldn't call us that. You could call us an East Dallas style pizza.
Q: What separates you from the other places out there?
S: We've been cooking our sauce since day one. It's something most places don't do. It's a long, time-consuming process, but it's what makes our pies taste different than others. All our toppings that we use come in fresh and raw. We season them our way and cook them from raw instead of sourcing them from an outside company. We cook everything up daily. For example, instead of just putting the mushrooms on our pizza, we sauté them in-house to give them a stronger flavor profile. We want to put in that extra yard of work to dish out the best for our customers.
Q: How do you prep for your busy nights?
S: With a lot of staff. We'll sell well over three hundred pizzas on a busy day. When you're doing that kind of output they have to be made all over the place. We want to do everything as fresh as possible, so we have to rely on more bodies. You can't just get all the food ready and have it sit. We make our dough fresh, so we make more as the day goes on. We'll have a dough guy in the back to make it through the night when our busy crowds troll in.
M: Slices are the hardest part to prep for, especially when you want to give the customer the option to build their own. Of course there's the late-night crowds coming in from the bars that want to get in and out and we may not be the fastest stop for them, but they're coming for the quality of the product.
S: I'm always trying to modify the system and make it better, especially as we grow with what's been developing out here on Lower Greenville. With the increase on the block comes a need for more equipment. So, we are continually trying to grow, but maintain those quality standards. I'm in here every day. I like to see the action, so I can see what I can do to make it better.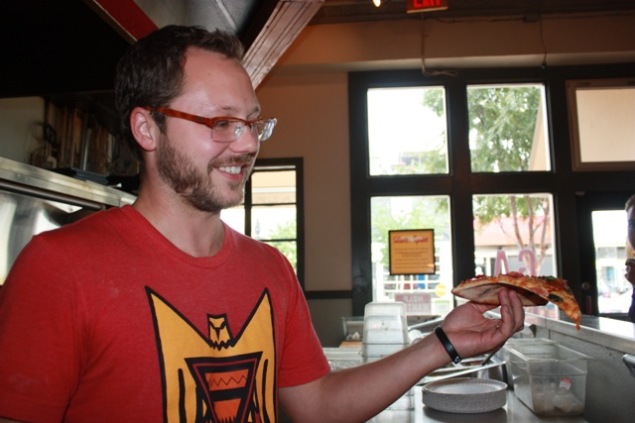 Q: It seems there's been a lot of change not only on Lower Greenville, but also within your shop recently?
S: It's been a vision the past couple years as I didn't like that hole-in-the-wall presence GAPC gave off. I wanted to make it more of a restaurant. We started construction last December and we're about ninety-five percent complete. We've made the table seating more communal. We have plans for different wall art. From what you saw in the past, we moved the register farther back to improve that flow. Before people would stack up at the door and not know which way the line went. Obviously, when we are busy we still get a flood of people, but we'll have two working terminals to help expedite the orders.
M: When it comes to our menu, "The Other" is actually a rotator of toppings, which will change to a "Back to school" theme in a little bit. That means mashed potatoes, corn, and sloppy joes. Growing up we went to DISD schools and on pizza day we would get a side of corn, and everyone would just pile the corn on top of their slice. We brought back that idea a couple years ago and people loved it, so we wanted to make a fun menu inspired by those memories of school lunches. We're really trying to not be boring.
S: We're proud sponsors of SMU now. We'll have our pies on the Boulevard for the games to come. SMU was a big part of our business when we started delivery. SMU will always be a part of our clientele. We try to do as much as we can to stay connected to the community.
Q: You get some pretty wild late night crowds. Any crazy stories from that? How about delivery stories?
M: Generally, our crazy stories come from the delivery drivers. We have a special instructions box for the online orders and typically we'll get SMU students asking us to draw things on their box, but one guy requested us to sing and dance upon arrival. We found our funniest guy and sent him on the mission. I'll just say they weren't disappointed.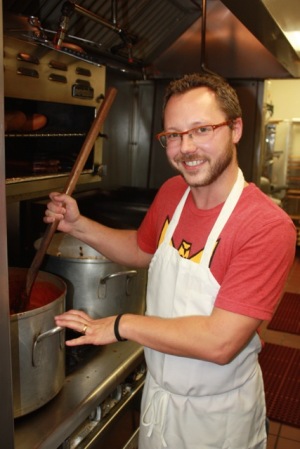 Q: In your opinion what makes a truly great pizza?
S: The number one thing that I try to teach pizza makers is to have hold; to not serve floppy pizzas. You want to make sure that it's thoroughly cooked all the way through. Sloppy pizza takes away from the experience. Obviously, the balance of toppings and flavors play a part, but to me it all starts with serving a crispy pizza. In the pizza world, it's hard to achieve that, especially with deliveries when it's in the box and there's steam along with different outside factors.
M: I love our sauce. It makes our pizza. It's not as logical as Sammy's answer, but I could seriously eat it by the spoonful.
S: To some people it's the dough, to some it's the cheese, and some people it's the sauce. We cook ours, so we are able to make the flavors so much more robust. Everything is quality here. Down to the parmesan on the table that we grate in-house.
M: I always called myself a cheap date. I could eat Cici's or McDonald's, but then Sammy taught me the difference of tasting something that's been frozen and something that comes from fresh ingredients. He ruined me.
Q: What's your perfect slice of pie?
S: I'm a supreme guy. I like it all with added jalapeños. I'm not a dipper, but people swear by our recipe. SMU students spend an ungodly amount of money on our ranch. This one guy told his friend, "DUDEEEE. I only come here for how good their ranch is." It was like that turtle scene out of Finding Nemo. I'm not huge on it, but there are so many customers out there that eat food that's not handmade, so when they come in here and experience something as simple as our ranch they can't get enough of it. Our methods and things we serve are expensive, but we give customers an outlet to get premium options. Be it a slice of pizza or bowl of ranch.
M: I will take any slice from our menu and pour a heavy hand of our "Pizza Crack" on it.
Q: I'm sorry did you say "Pizza Crack?"
M: It started out as just a table topper of a bunch of different spices to add to your slice, but then people got addicted. We had to chain them to the wall because people would steal bottles of it. Eventually, a guy dubbed it "Pizza Crack" and we trademarked the name.
Get the SideDish Newsletter
Dallas' hottest dining news, recipes, and reviews served up fresh to your inbox each week.