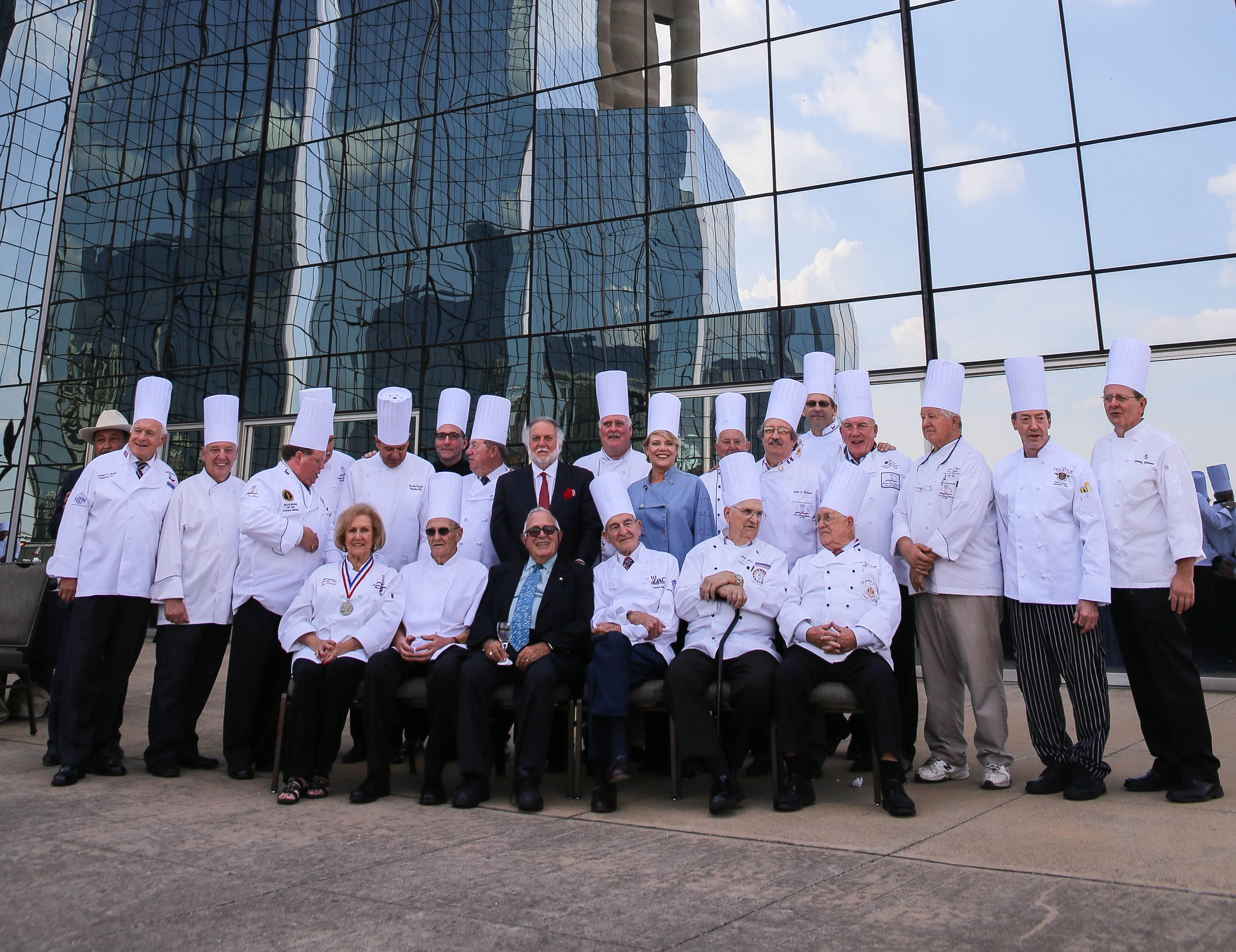 Former Dallas Chefs Gather for a Reunion at Reunion
It's amazing to see the number of esteemed chefs who still call Dallas home.
Last Monday, close to 20 chefs who at one point in their career starred in a high-profile kitchen in Dallas, gathered for a reunion. The event, co-hosted by J.B. Blocker and the Hyatt Regency Dallas at Reunion where executive chef Hermann Hiemeyer and his culinary staff treated the guests to some spectacular food. Most of the chefs not only worked in Dallas, they cooked in fine hotels, resorts, and restaurants all over the planet. It's was amazing to see the number of esteemed chefs who still call Dallas home.
Dotty Griffith, former DMN dining editor and critic, a chef in her own right, was the emcee. Special guests included chef Pat Mitchell (Dallas Chefs Association), chef David Skokol (President, U.S. Chapter Epicurean World Master Chef's Society), and Lucian LaBarba, who, so far, has spent 49 years in food industry American Produce Company, Fresh Point, and Ben E Keith.
SideDish online editor Catherine Downes and I were invited guests. Here is a list of the chefs who attended, their current home town, and a list of their achievements.
Chef Randy Gehman (Irving) Amfac, EPC Four Seasons '85
Chef Peter Curley (Garland) Executive chef Prestonwood CC '88-'14, Dallas Hilton
Chef Klaus Mittlehauser (Dallas) Fairmont, Hyatt Washington, Atl. Fairmont
Chef Bernard Muller (Grapevine) Four Seasons '87 Los Colinas, Ivy Hotel, Bernard's
Chef Ewald Scholtz (Dallas) Stoneleigh the Grape Room, Ewald's, Winn Meat
Gus Katsigris (Dallas) El Centro's Apprentice Program
Chef Andre Bedouret (Dallas) Renaissance, Milestone Culinary
Chef Karl Haas (Garland) Adolphus, Royal Oak, Swiss Chalet, EWMCS
Chef Ernst Gruch (Irving) Dallas Country Club
Chef Rene Weibel (Irving) Opened Four Season Mandalay, American Airlines Center, The Ball Park
Chef Klaus Baumbach (Plano) '72 Twin Sixty, Hiltons, Royal Oaks, Frontier Hotel Las Vegas '69
Honorary Chef J.D. Woerhle (Dallas) Ben E. Keith
Chef John Blaze (Plano) Senior living chef, age 92, prominent in Chicago, Hartford Bldg. and McCormick Place, Food service supply and support in Dallas since '64
Honorary Chef Gay Prewitt (Dallas) Chefs support and food supplier, Circle of Honor
Karl Kuby (Dallas) Kuby's Sausage House since 1961
Chef Joseph Bucher (Dallas) Corporate Chef for Marriott's '60's, Albert Uster Imports, Ben E. Keith.